Punk rock based around The Harp Bar and Good Vibrations record store provides Belfast young people with an alternative outlet.
A Belfast record shop and a punk club are the seemingly unlikely places where bridges are built between young people from different backgrounds.
It's the only place we've got for music. The only place bands can play. And I know everyone here. We all fit in, like.
The Troubles mean that nightlife in Belfast is curtailed, international recognised named acts who would otherwise play live in a city of this size have stayed away.
The punk scene in Belfast is vibrant, and The Harp Bar in Hill Street is busy three nights a week. Punks come here to listen to local bands, dance, and let off steam.
Terri Hooley is the owner of Good Vibrations record shop on Great Victoria Street. It has become a place for punks to meet and talk about music.
I don't think any other record store in Ireland would put up with what we put up with. We've got more people standing around than we ever have customers.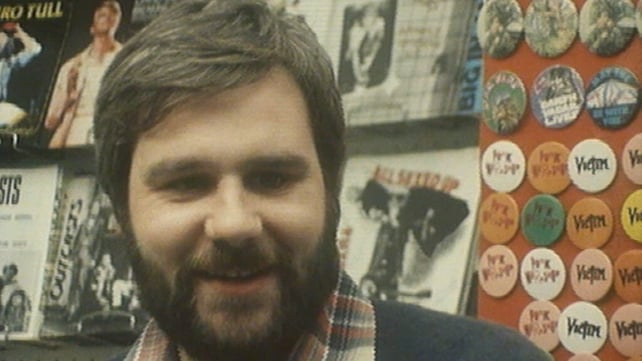 Terri Hooley (1979)
Terri Hooley realised that there was nowhere for punks to go to play music or listen to the type of bands they like. He started running social nights in hotel function rooms in Belfast, which were popular, but they eventually got banned from all the hotels. A punk project night in Queen's University had a similar conclusion,
Five hundred kids turned up to see seven bands, so it was a really good night, but Queens will never have us back.
Six months ago Good Vibrations began recording local bands. The British music press then the big record companies started to express their interest. Terri Hooley knows what the industry is like and is keeping a clear head,
We're not really interested in the sales across the water. It's more for the kids here in Belfast that we put out the records.
The Good Vibrations record label has an alternative business model. Bands do not sign a contract but get fifty per cent of the profits. Mentoring by Hooley is included, as he does not want to see young bands getting ripped off. If a bigger record company starts making overtures, he will act as a conduit between the two. Any profits made by his label goes back into Good Vibrations.
All of this puts huge demands on his own time and personal resources. Terri Hooley is in it for the love of it,
I really do enjoy it...if I wasn't doing it I'd still be down watching the bands.
Greg Cowan, vocalist and bass player with The Outcasts is a house painter by day. One of the first bands to be recorded on the Good Vibrations label, they have built up a large following. Their finest hour to date was playing support to The Clash at the Ulster Hall in October 1978. They were favourably received by the home crowd, but the icing on the cake was using The Clash's own instruments and equipment,
We went on, using The Clash's gear which was excellent. Because the gear was so good it just seemed to lift us up, played...the best gig we've ever played...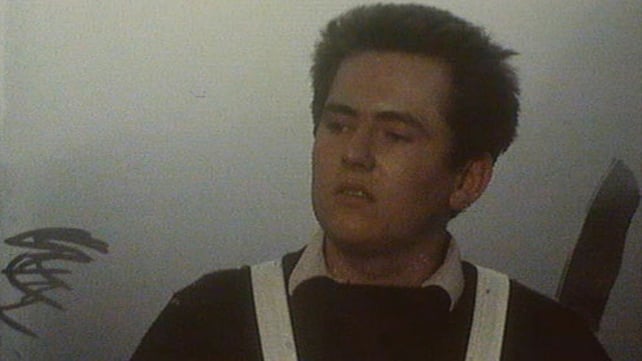 Greg Cowan (1979)
While The Outcasts have ambitions, Greg Cowan is well aware of the drawbacks that fame can bring. A hit record and album would be a good place to start, but in the meantime, being in a punk band provides welcome relief from daily life,
That's what playing's about really anyway, getting off your stresses, your anxieties out, you know, in front of a crowd.
In Belfast, punks do not care where you are from, because it's about the music. Anything that bridges the sectarian divide for those who have deeply ingrained traditions and prejudices is seen as a threat.
There's people here don't want to see religions mixed, and we get hassle from them.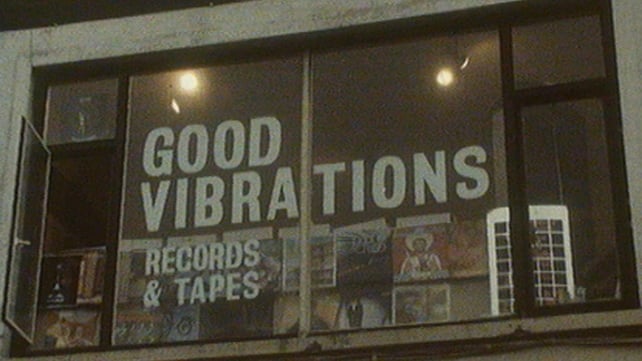 Good Vibrations Record Store, Belfast (1979)
Another young patron of The Harp Bar believes that the scene here is unique,
There's more to it, there's more life in Belfast punk than in anywhere else...they want to bring the two people together...it is mixed.
This episode of 'P.M.' was broadcast on 6 February 1979. The reporter is Nuala Hayes.