Edition 217 of Century Ireland with all the news from 100 years ago.
The main stories include:
Ulster leaders meet in London but are accused of blocking path to a settlement
London, 11 November 1921
The Northern Irish cabinet met in London yesterday and reaffirmed its unwillingness to make any more concessions that might compromise the new-found status of the Belfast parliament.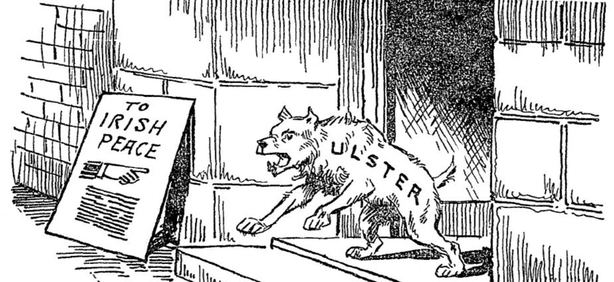 Cartoon depicting Ulster blocking the way to peace.
No further releases expected as desperate plight of 4,615 internees highlighted
The Curragh, 16 November 1921
The announcement yesterday that there will be no further releases of internees from Irish prisons and internment camps is expected to be met with profound disappointment across many parts of the country.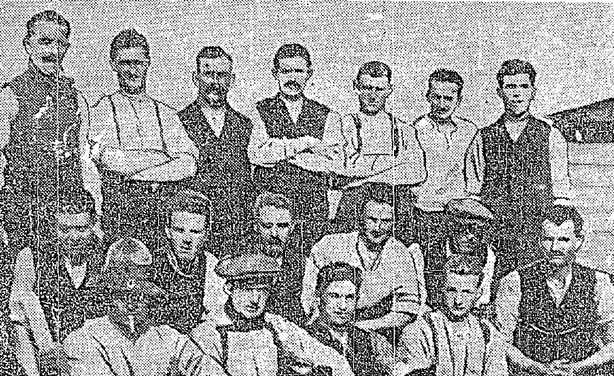 A group of internees at the Rath camp in the Curragh.
Cork councillor Tadhg Barry shot dead in Ballykinlar camp
Ballykinlar, 16 November 1921
Alderman Tadhg Barry, a prominent trade union activist and member of Cork Corporation, was shot dead yesterday at Ballykinlar internment camp.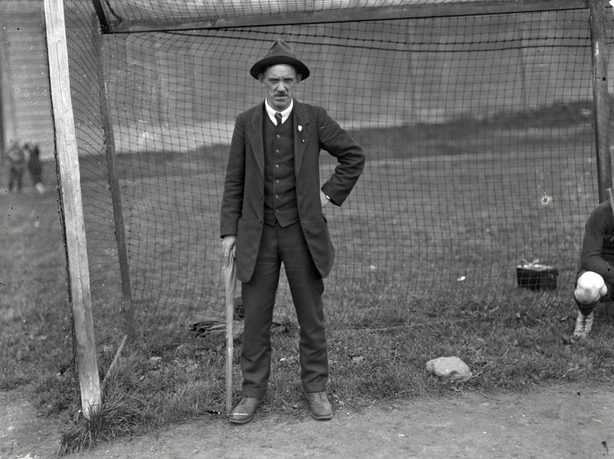 Tadhg Barry in goal at Croke Park (1920).
Third Armistice Day marked in Ireland and Britain but shadow of unemployment looms large
Dublin, 12 November 1921
Two minutes of silence were observed yesterday at 11am throughout the allied countries in commemoration of Armistice Day.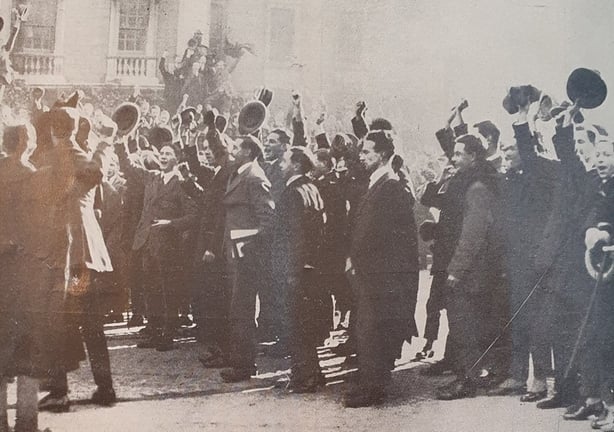 Trinity College students cheering after singing 'God Save the King' in College Green in Dublin.
Bodies of 26 Irish-American soldiers returned to Ireland for reburial
Dublin, 4 November 1921
The bodies of 26 Irish–American soldiers killed during the Great War arrived in Ireland yesterday for burial in the 'soil of the motherland'.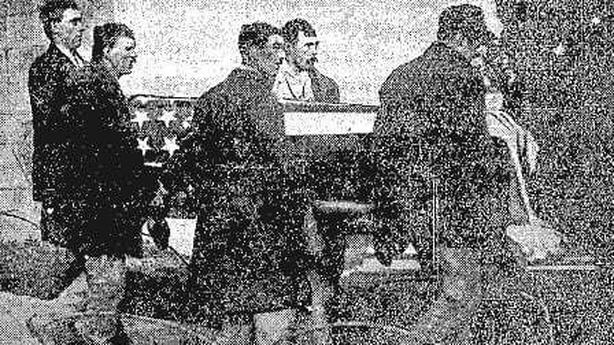 An American flag draped over the coffin of American soldier George Cronin, who was killed during the Great War and was reinterred in his native Dublin.
Indian campaign of civil disobedience gains momentum
New Delhi, 8 November 1921
A campaign of civil disobedience, including the non-payment of taxes, has been endorsed by the All-Indian Congress Committee in Delhi.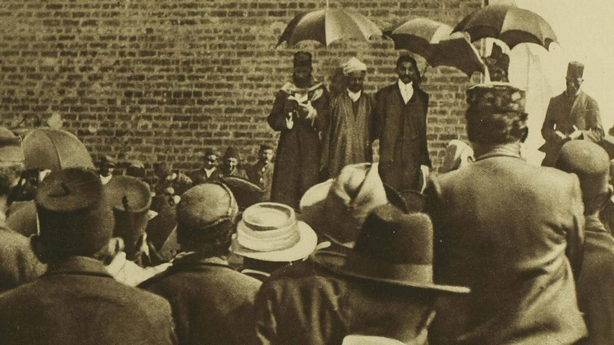 Mohandas Gandhi, on the right of the group facing the camera, addressing a crowd. The caption on this picture referred to Gandhi as the 'Mahatma' of Indian unrest.
Washington disarmament conference hears plans for reduction in naval armaments
Washington DC, 14 November 1921
Michael Collins, Dáil Éireann's Minister for Finance and one of the Irish delegates currently involved in the peace conference in London, recently remarked that the conference on disarmament currently taking place in Washington DC presents an opportunity to rectify the mistakes of the Treaty of Versailles and bring peace and hope to all people.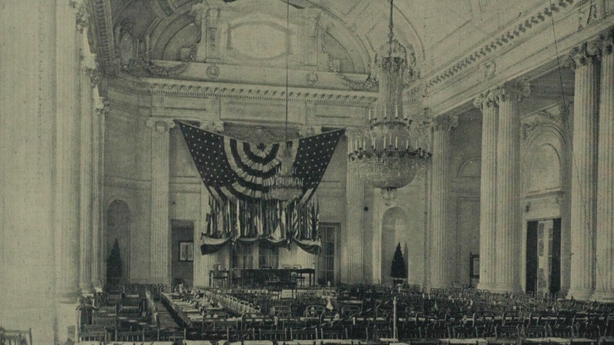 The Hall of the Americas, where the conference is taking place.
For more from Century Ireland visit rte.ie/centuryireland