Edition 210 of Century Ireland with all the news from 100 years ago.
The main stories include:
Dáil cabinet meets to discuss British proposals
Dublin, 28 July 1921
A full meeting of the Dáil Éireann cabinet was held yesterday at the Mansion House in Dublin.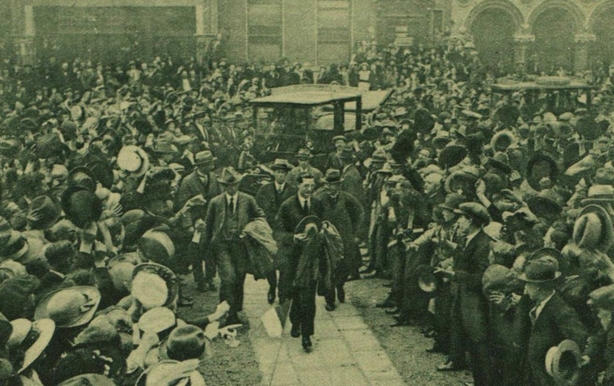 Illustrated London News, 30 July 1921
Éamon de Valera arriving at the Mansion House after returning from meeting British Prime Minister David Lloyd George in London.
33 TDs released from prison, but over 3,000 republicans still behind bars
Dublin, 10 August 1921
All of the imprisoned members of Dáil Éireann have now been released by the British authorities.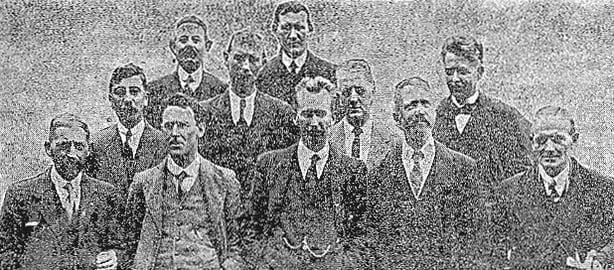 Freeman's Journal, 10 August 1921
Members of the Dáil who were recently released from Ballykinlar prison camp. Front row (left to right): Joseph McGuinness, Séamus Doyle, Fionán Lynch, William Sears, Sean Milroy. Middle row (left to right): Michael Hayes, Alexander McCabe, Joseph Lynch. Back row (left to right): Patrick Joseph McGoldrick, Dr Richard Hayes, Eamon Dee (extreme right).
Trade union membership tops 300,000 in Ireland
Dublin, 8 August 1921
The Irish Labour Party and Trade Union Congress (ILP&TUC) held its 27th annual meeting in the Mansion House in Dublin between 1 and 4 August.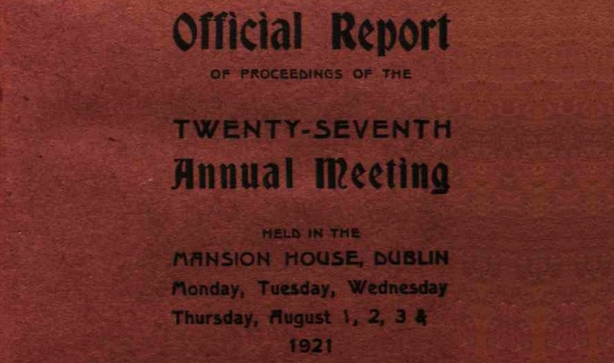 National Archives of Ireland
Cover of the report on the 27th Annual Meeting of the Irish Labour Party and Trade Union Congress.
Tom Barry says complaints about British breaches of truce on the rise
Cork, 29 July 1921
IRA officer Tom Barry has accused British forces of breaching the terms of the ongoing truce in the former martial law areas.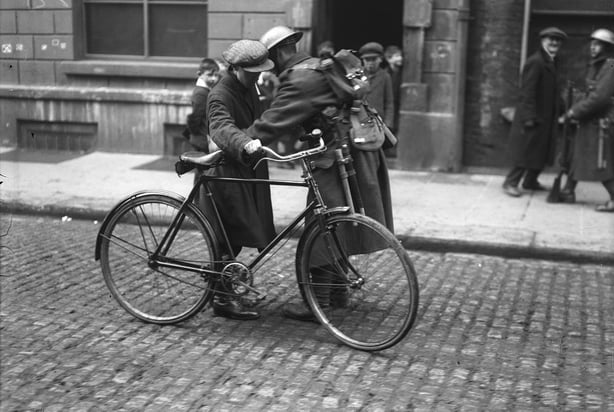 RTÉ Archives 0505/021
British soldier searching a civilian in Dublin in 1921 during the War of Independence.
Second Dáil to convene on 16 August
Dublin, 6 August 1921
A full meeting of Dáil Éireann has been summoned for 16 August and all members are expected to attend. This will be its first meeting since the elections held in May of this year.
Cork woman was 'executed as a spy
IRA expresses regret for woman they 'executed as a spy'
Dublin, 30 July 1921
A Cork woman, Maria Lindsay, was shot by the IRA for passing information to the enemy and in retaliation for the execution of republican prisoners in Cork barracks.

County Cork © 2000 by Cartography Associates
Éamon de Valera addresses Gaelic League Ard Fheis
Dublin, 4 August 1921
Éamon de Valera addressed delegates attending the second day of the Gaelic League's Ard Fheis, held at 25 Parnell Square in Dublin yesterday.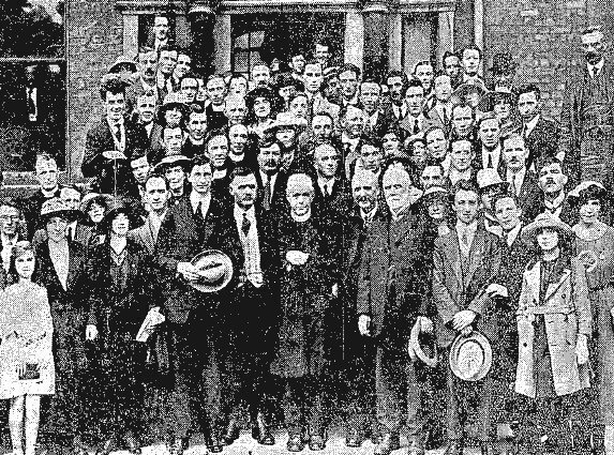 De Valera at the Gaelic League Ard Fheis Photo: Freeman's Journal, 4 August 1921
Guard the Gaeltacht
Mr de Valera suggested that special attention be paid to areas bordering the Gaeltachts as a way of both protecting established Irish speaking districts and extending their reach.
Horse Show opens at the RDS
Dublin, 10 August 1921
The Dublin Horse Show opened yesterday in the RDS.
The Horse Show, which is an important event on the Irish social calendar, is considered by the organisers to be the greatest of sporting and agricultural carnivals.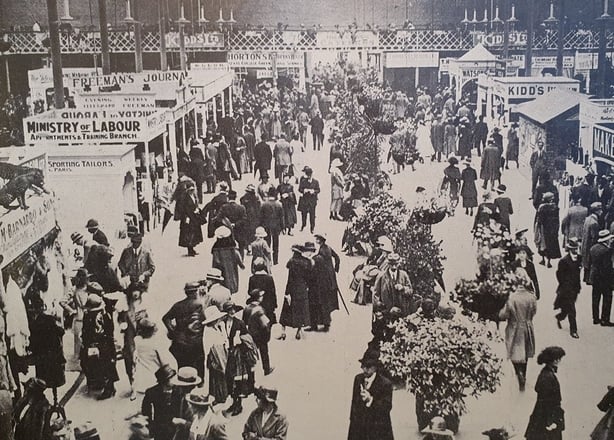 Irish Life, 19 August 1921. Full collection available at the National Library of Ireland
Central Hall at the Dublin Horse Show.
For more from Century Ireland, visit rte.ie/centuryireland