The Late Late Show celebrates musician and producer Donal Lunny.
Donal Lunny a former member of Planxty, The Bothy Band, Moving Hearts amongst others, is often reluctant to put himself in the limelight. However a Late Late Show special pays tribute to him.
We want to pay respects to the great musical talent of Donal Lunny.
Donal Lunny steps into the studio with his bouzouki in hand to rapturous applause from the audience who have gathered to celebrate his music.
Accompanied by members of Altan, Ronnie Drew and Gilles Servat, they perform 'Dirty Old Town'. Giilles Servat sings the French translation of the song 'Vieille ville de merde'.
Donal Lunny met Gile Servat while working on the project 'Heritage de Celt' in Brittany and the pair decided to make an album together.
Other guests who appeared and performed on the show included Davy Spillane, Christy Moore, Máire Brennan, Sinéad O'Connor, Brendan Power, Liam Ó Maonlaí, Mark Atkins, Sharon Shannon, Brian Kennedy, Shara Nelson, and Óisin Lunny.
This episode of 'The Late Late Show' was broadcast on 19 April 1996. The presenter is Gay Byrne.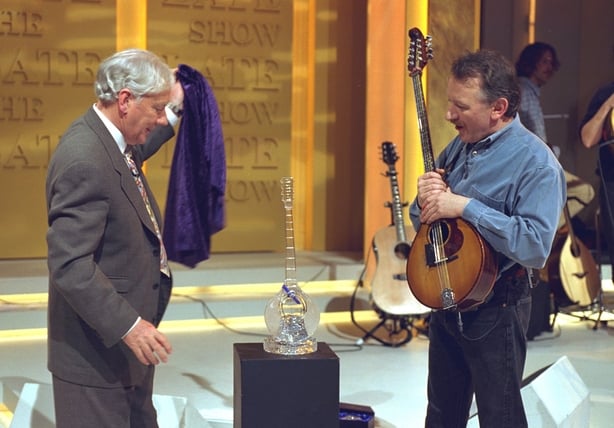 Broadcaster Gay Byrne presents Donal Lunny with a crystal trophy. Photo by Thomas Holton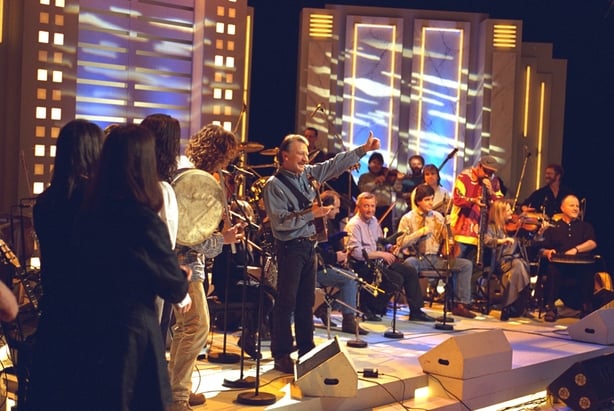 Dónal Lunny and other guest musicians on 'The Late Late Show' in April 1996. Photo by Thomas Holton