Liam Ó Maonlaí talks to Tadhg Mac Dhonnagáin about songwriting, being on the road, and his influences.
This interview with Liam Ó Maonlaí of the band Hothouse Flowers is from 'Seó na Márta', an edition of 'Cúrsaí' geared towards younger viewers that went out on Tuesday nights.
Tadhg Mac Dhonnagáin talks to Ó Maonlaí about the band's first album 'People', which is due for release shortly. Ó Maonlaí says the band wasn't under much pressure from the record company because the songs had already been written. On the subject of songwriting, Ó Maonlaí says it is mainly a group project,
De gnáth...téimid ag seint le chéile, bíonn tuairim againn, tagann tuairim amach uainn, agus téimse b'fhéidir cúpla focail a scríobh. Uaireanta bhí tuairim agam fhéin liom fhéin chomh maith...bíonn slíte éagsúla. Níl aon riail socairte.
Being young, the band don't find the rock and roll aspect of touring too difficult. The large number of their shows gives them a chance to improve their performances all the time. They've been on tour in the UK and hope to try the American market soon.
Dar le Mac Dhonnagáin go bhuil fuaim Mheiriceánach ag an mbanna ceoil, ach deir Ó Maonlaí go bhfuil fuaim Éireannach acu. Seán Ó Riada has been a big influence on him, but he is also a fan of Dé Danann, Paul Brady, Van Morrison, Wilson Picket and Otis Redding.
'Cúrsaí' was an Irish language series which ran on RTÉ Television from 1986 to 1995. In its early days, Cúrsaí was billed as "iris-chlár le béim faoi leith ar chúrsaí reatha an lae agus ar chúrsaí na tíre i gcoitinne" (RTÉ Guide, 17 October 1986). But it covered a wide range of topics and was broadcast four nights a week, from Tuesday to Friday, on RTÉ 2.
The interview from this episode of 'Cúrsaí' was broadcast on 2 February 1988.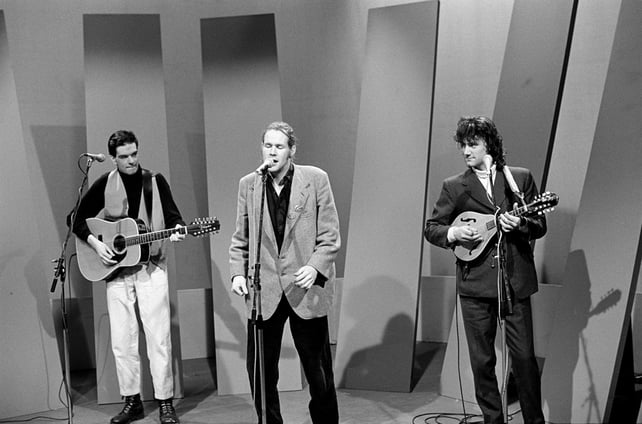 Hothouse Flowers on 'Cúrsaí', photographed by John Rowe.