Liam Ó Maonlaí of the Hothouse Flowers celebrates his 50th birthday. RTÉ News looks back at the early days of the band's career.
Born on 7 November, 1964, Ó Maonlaí is one of the founding members of the Hothouse Flowers. Along with fellow band mate, Fiachna Ó Braonáin, they began busking on the streets of Dublin as the Benzini Brothers, and later became the Hothouse Flowers.
We take a look back to the early days of their career. This RTÉ News report from 1988 shows the Hothouse Flowers busking on the streets of Dublin to promote the release of their debut album 'People'.
The event attracted over three thousand people at lunchtime in the city centre, where the band were mobbed by their growing fan base.
Teresa Mannion reports as the band busk from Henry Street to Grafton Street, stopping to sign records at HMV along the way. Teresa chats to Liam and Fiachna about their success.
This RTÉ News report was broadcast on 19 April, 1988.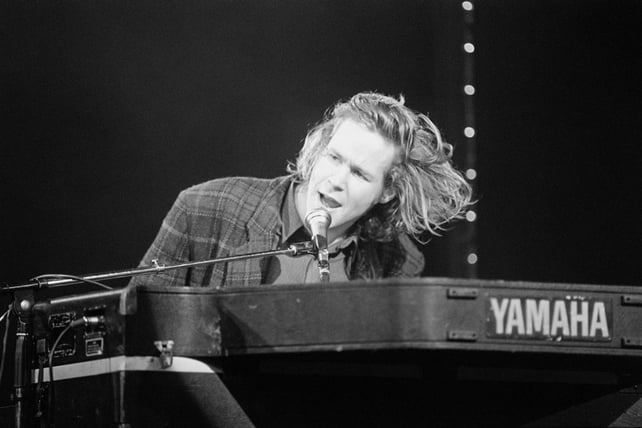 Liam Ó Maonlaí on stage during recording of 'Live in Dublin' in 1987. Photograph by John Rowe.