A song about the marriage of Grace Gifford and Joseph Plunkett just hours before his execution at Kilmainham Gaol in 1916.
Jim McCann joins The Dubliners on stage at the National Stadium for a performance of the song 'Grace'.
The song was written in 1985 by brothers Frank and Seán O'Meara and is about artist Grace Gifford who married Joseph Mary Plunkett in the chapel at Kilmainham Gaol just hours before he was executed by a firing squad in 1916.
Frank and Seán O'Meara are in attendance at the National Stadium.
Introducing the song, Jim McCann describes it as,
A good new song about an old subject.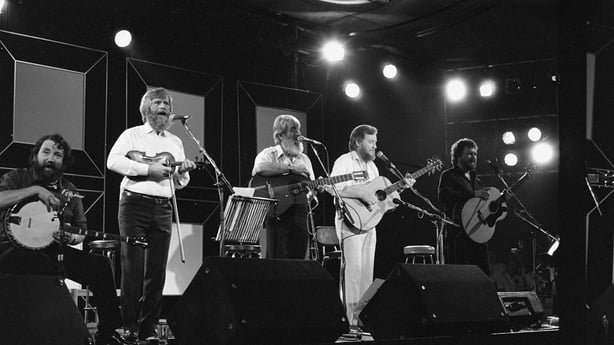 The Dubliners at the National Stadium on 'Festival Folk' (1985)
The lyrics of the song tell the story of their marriage and the impending death of Joseph Mary Plunkett.
Oh Grace just hold me in your arms and let this moment linger
They'll take me out at dawn and I will die
With all my love I place this wedding ring upon your finger
There won't be time to share our love for we must say goodbye.
The song has been recorded by many artists including Rod Stewart.
This episode of 'Festival Folk: The Dubliners and Friends' was broadcast on 2 December 1985.
'Festival Folk' is a six part series featuring The Dubliners, with special guests Jim McCann and Paddy Reilly recorded in the concert at the National Stadium, Dublin.