Live at the National Stadium Dublin The Furey Brothers and Davey Arthur.
Finbar Furey introduces the three tunes they are about to perform, each from three distinct locations. The first, Morning On A Distant Shore' was written by Finbar Furey and folk musician Bob Stewart from Edinburgh.
The second tune, Ringville, written by Davey Arthur and George Furey, originated in the kitchen of Mooney's pub in Ringville, Dungarvan, County Waterford.
They finish off with music from Spain, 'La Volta'.
Finbar Furey performs on uilleann pipes, George Furey on acoustic guitar, Paul Furey on the spoons and accordion, Eddie Furey on bodhrán, and Davey Arthur on mandolin.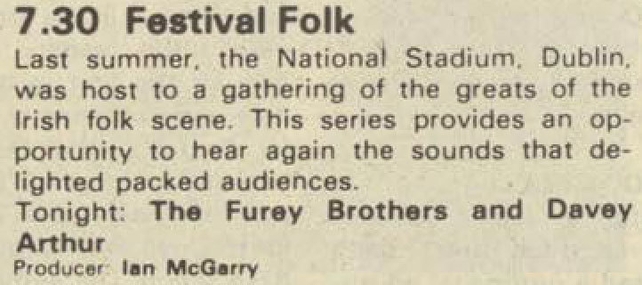 RTÉ Guide (1983)
This episode of 'Festival Folk' was broadcast on 13 April 1983.
'Festival Folk' was a series of concerts recorded in the National Stadium featuring well-known folk singers and musicians. It ran from 1983 to 1985.