A look back to 1981 in the series 'Hand Me Down' where Dolores Keane and her aunts talk about how they learned songs growing up, and perform 'I Am Thinking Ever Thinking'.
The series 'Hand Me Down' looks at how traditional music is handed on from generation to generation. Each programme features a traditional artist and looks at how he or she inherited Irish music from their family. The second programme in the series is a portrait of traditional musician Dolores Keane, from Caherlistrane, Tuam, county Galway, her family, her home place, her music and the music of the area.
In an article for the RTÉ Guide date 17 April 1981 the series 'Hand Me Down' is described as introducing viewers to
The lives and times of six of Ireland's foremost traditional musicians, showing how each of them in turn has received and carried on music and song from families for whom it was a part of daily life.
The six musicians featured in the series are Seamus Ennis, Dolores Keane, Johnny Leary, Josie McDermott, Diarmuid Ó Súilleabhain and Seán Keane.
This episode of 'Hand Me Down' was filmed in August 1980 and broadcast on 27 April 1981. The presenter is Doireann Ní Bhriain.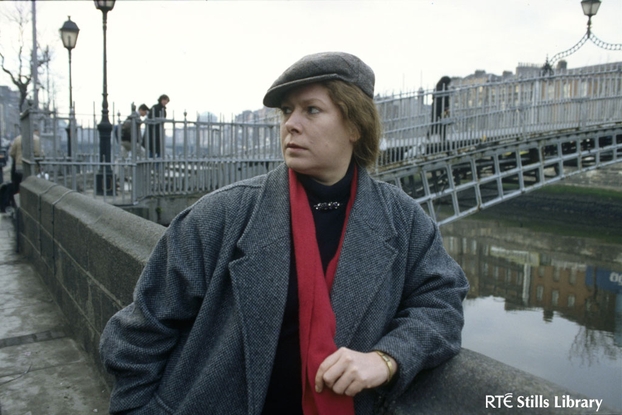 Dolores Keane at the Ha'penny Bridge, Dublin