'Hand Me Down: Seamus Ennis' is a documentary profile on the life, times and talent of uilleann piper extraordinaire, singer and traditional music collector Seamus Ennis.
The name of Seamus Ennis is one of the best known names of Irish traditional music.
The opening performance was recorded at the 3rd annual Lisdoonvarna Festival which took place from 11 to 13 August 1980. Ennis begins his performance with the old set dance 'The Ace and Deuce of Piping'.
Piper, storyteller, singer and music collector
Seamus Ennis was born in Dublin and grew up in Jamestown in north county Dublin. From a very early age he was deeply involved in traditional music. Recalling his early years Seamus says
I'm told that my father used to play the pipes to me in my cradle and that I wouldn't go to sleep until the pipes were played to me.
His father and grandfather were both musicians and his father went on to form the Naul Pipe Band. Naul, a village in north county Dublin, is where Seamus now lives and was the home to his family for quite a few generations. Doireann Ní Bhriain travels to Naul accompanied by Seamus, who shows her some of the historic spots of the town such as The Black Castle. A skilled storyteller, Seamus tells how his great grandfather eloped from Scotland and set up home on a farm in Naul.
Sleepy Naul, they called it then and they still call it now
Presented by Doireann Ní Bhriain 'Hand Me Down' was a six part series of documentaries on local traditions and musicians. This episode was the first in the series and was broadcast on 21 April 1981.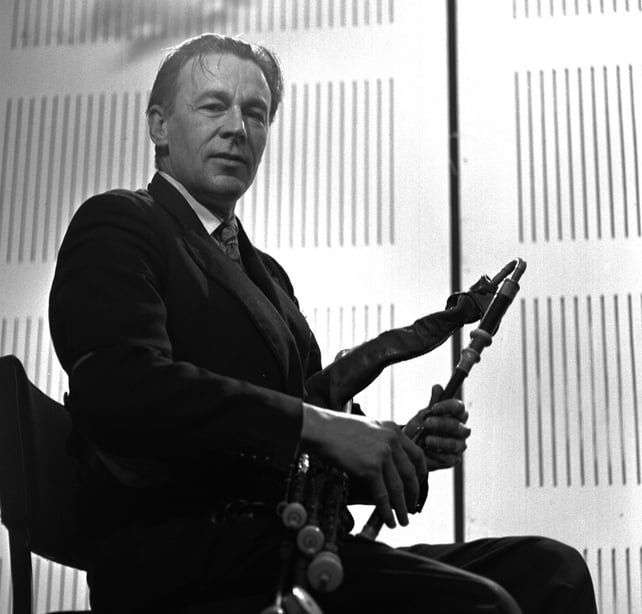 Séamus Ennis (1963) Photo by Roy Bedell.