The Furey Family play 'The Maid of Mount Cisco' recorded at the Abbey Tavern in Howth, Co. Dublin.
Ted Furey is on fiddle and his sons Finbar on uilleann pipes and Eddie on guitar.
The programme is presented by Ciarán Mac Mathúna.
This episode of 'Country Airs' was broadcast on 4 November 1963.
The series 'Country Airs' was one of the first programmes on Teilifís Éireann (now RTÉ) to go on location to record traditional musicians. A television listing from the RTV Guide in 1963 states "Our Mobile Unit leaves the beaten track to bring you the music songs and dances of Ireland from places of unusual interest." The extract shown here is from the third programme in the series broadcast on 4 November 1963.
Finbar and Eddie went on to form 'The Furey Brothers' and later performed as 'The Furey Family'.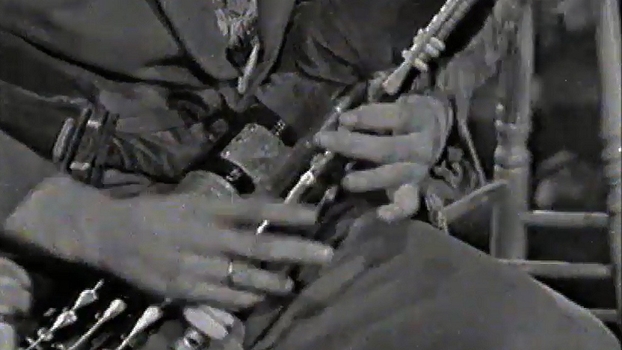 Finbar Furey on Uilleann Pipes (1963)