Discussing protest songs and the nature of folk music in the 1960s.
Singer and musician Jesse Owens performs the folk song 'The Battle of Ballynahinch', which tells the story of George Campbell, a young soldier who fought with the United Irishmen under General Munro in the Battle of Ballynahinch in county Down in 1798.
Frank Hall is joined by music critic Bob Shelton and broadcaster and music collector Ciarán Mac Mathúna who discuss the similarities and differences between Irish and American protest and folk songs. Mac Mathúna says that in America
The protest thing has taken over the folk song.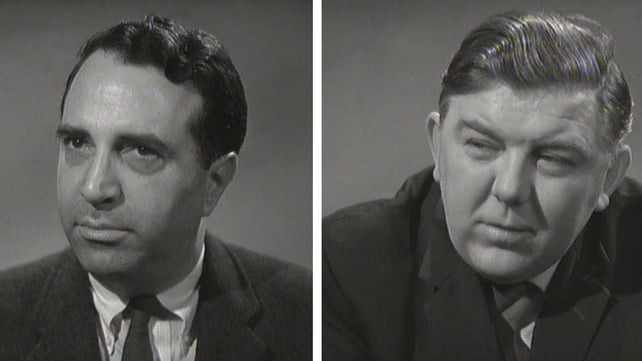 Bob Shelton and Ciarán Mac Mathúna
Shelton refutes Hall's suggestion that American folks songs are ephemeral. He also says that not all American folks songs are about protest and that there are still songs about love being written by young American folk singers.
This episode of 'Newsbeat' was broadcast on 20 January 1966. The presenter is Frank Hall.