Edition 188 of Century Ireland with all the news from 100 years ago.
The main stories include:
British cabinet told that reprisal allegations in Ireland are exaggerated
London, 2 October 1920
The Chief Secretary of Ireland, Sir Hamar Greenwood, and the Commander of the British forces in Ireland, General Nevil Macready attended a British cabinet meeting yesterday at which the deteriorating Irish situation was discussed.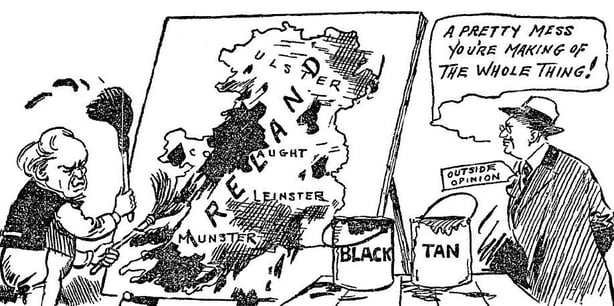 Sunday Independent, 19 September 1920
Sunday Independent cartoon on how the British government was deploying the Black and Tans in Ireland
Belfast deaths rise to 61 as sectarian violence flares once more
Belfast, 29 September 1920
The number of people killed in sectarian disturbances in Belfast since July has risen to 61.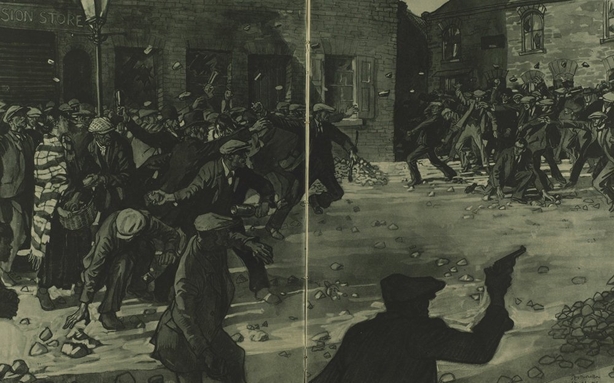 Illustrated London News, 9 October 1920
Drawing showing the violence on Marrowbone Lane in Belfast.
Archbishop Mannix visits MacSwiney in Brixton Prison
London, 28 September 1920
The Archbishop of Melbourne, Dr Daniel Mannix, has described the condition of the Lord Mayor of Cork, Terence MacSwiney, as 'miraculous'.
'We did not come to Ireland for this sort of work' - ex-Black and Tan reveals reasons for resignation
Dublin, 1 October 1920
A former member of the Black and Tans has opened up on his reasons for leaving the force.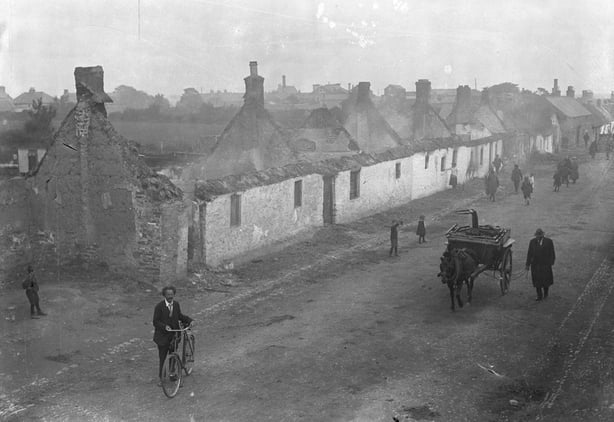 RTÉ Archives 0505/077
Roofless cottages in Clonard Street, Balbriggan, County Dublin, in the wake of the sack of that village after an attack by the Black and Tans on 20 September 1920. There is a man leading a horse and cart loaded with furniture on the right of shot.
Fund launched to relieve Balbriggan distress
Balbriggan, 30 September 1920
An appeal has been launched to assist the families affected by the sacking of the north Co. Dublin town of Balbriggan by Black and Tans earlier this month.
Apology demanded after post office workers accused of tampering with telegrams
Dublin, 2 October 1920
The London-based Daily Chronicle newspaper has expressed regret for any pain or annoyance caused to Irish civil servants after it published an article on 29 September claiming that telegraphists in the Dublin Post Office had tampered with press telegrams in the service of Sinn Féin interests.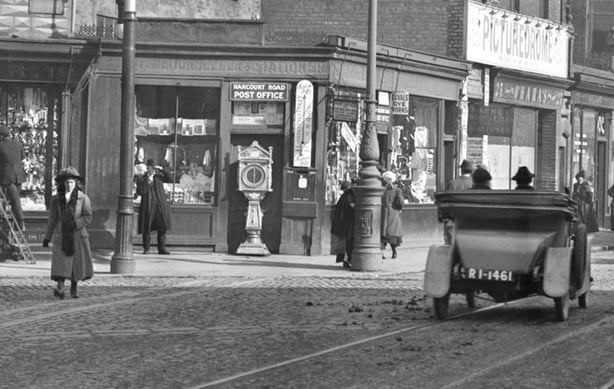 National Library of Ireland, EAS 1781
Post office on Harcourt Road in Dublin City c.1914-1920. This is a detail of a larger image.
Military get tough on republican funerals as Sinn Fein councillor buried in Limerick
Limerick, 27 September 1920
British authorities have stated their intentions to clamp down on large-scale militaristic republican funeral displays in Ireland.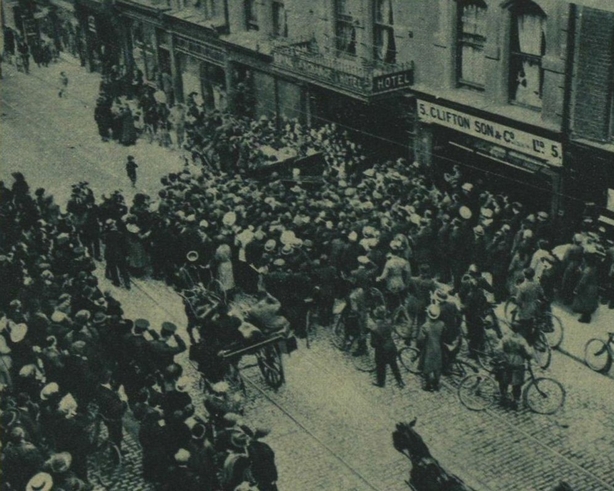 Illustrated London News, 2 October 1920
John Lynch's funeral, leaving the city morgue in Dublin.
Rebuilding of Dublin put on hold as workers strike
Dublin, 5 October 1920
It is understood that a conference of employers and employees to settle a wage dispute in the Dublin building industry has collapsed.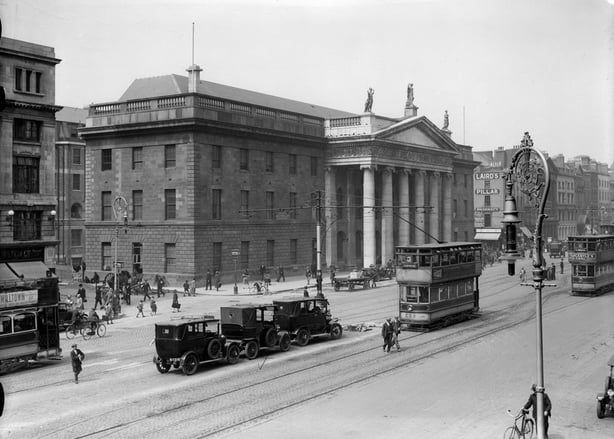 RTÉ Archives 0510/071
Dublin's General Post Office c.1920. The building was destroyed in 1916.
Tourism traffic to Ireland stalls
Bad year for tourism in Ireland
Dublin, 5 October 1920
Concern has been expressed at the low levels of tourism in Ireland this year.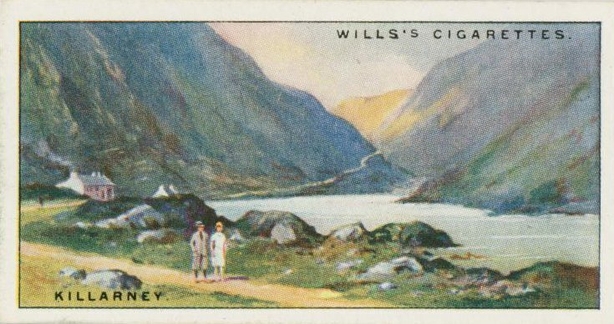 New York Public Library
A picture postcard of Killarney.
For more from Century Ireland visit rte.ie/centuryireland