Edition 185 of Century Ireland with all the news from 100 years ago.
The main stories include:
Hunger-striking Cork Lord Mayor said to be 'dying rapidly'
Brixton, 25 Aug 1920
The Lord Mayor of Cork, Terence MacSwiney, is reported to be close to death having been on hunger strike for nearly two weeks.

National Library of Ireland, NPA POLF 170
The Lord Mayor of Cork Terence MacSwiney (left) and Art O'Brien (right) congratulating JJ O'Kelly (centre) on his re-election as President of the Gaelic League at the Mansion House in Dublin in August 1920
Reprisals continue as General Macready issues order prohibiting looting and retaliatory acts
Dublin, 18 August 1920
Sir General Nevil Macready, Commander of the British forces in Ireland, has issued an order to the troops under his command prohibiting looting and acts of retaliation against the civil population.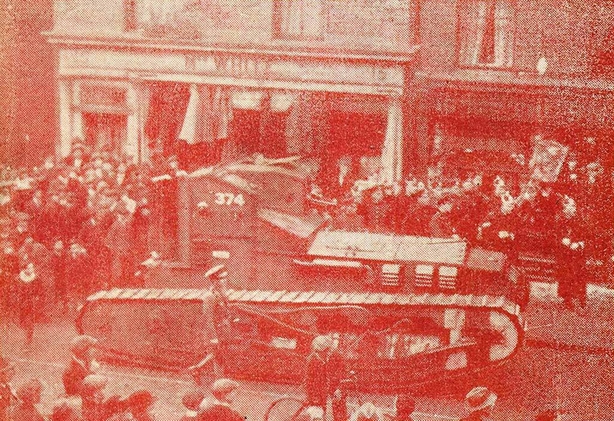 Dublin City Library and Archive
Picture from the cover of 'Military Rule in Ireland' by Erskine Childers
'Religious tyranny' blamed for expulsion of Catholic workers in Belfast
Belfast, 21 August 1920
A fund established for the maintenance of catholic workers in Belfast recently driven from their employment has already been exhausted.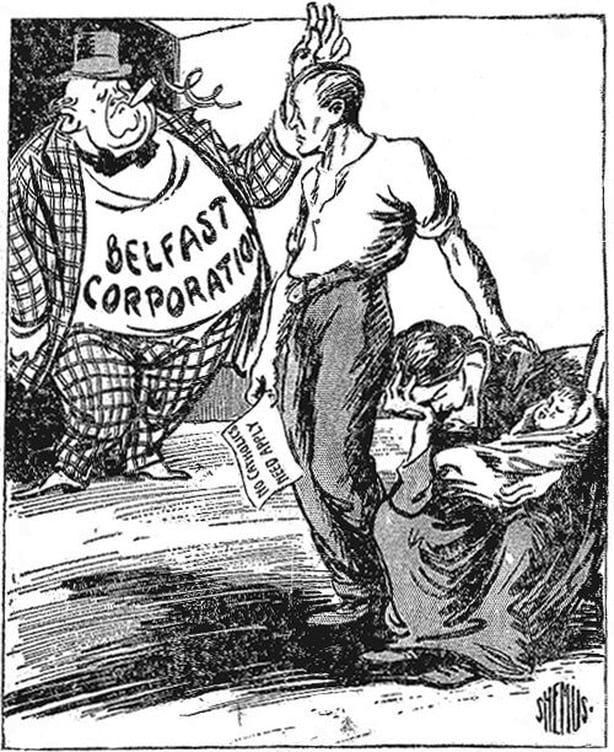 Freeman's Journal, 19 August 1920
The discharged employee: 'Has my work not been satisfactory?' The corporation: 'Your work is good. It's your faith we object to.
Policeman linked to Mac Curtain murder shot dead in Lisburn
23 August 1920, Lisburn
Oswald Swanzy, a District Inspector in the Royal Irish Constabulary (RIC) has been shot dead while returning from a service at Christ Church in Lisburn.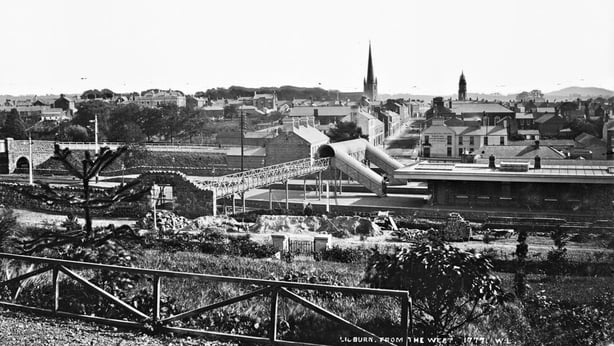 Lisburn, Co. Antrim Photo: National Library of Ireland, L_CAB_01777
RIC numbers set to rise after recruitment drive in England
London, 19 August 1920
A report in Morning Post newspaper states that Royal Irish Constabulary (RIC) numbers are set to be greatly strengthened and that large numbers of officers with army experience have volunteered for service, despite the ongoing campaign of attacks on the RIC in many parts of Ireland.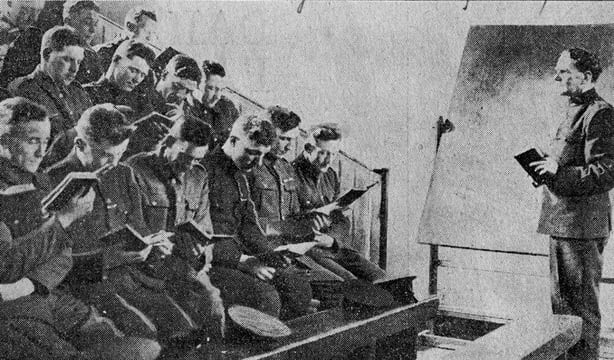 Daily Mail, 1 April 1920 via Bureau of Military History
Irish policemen at school - ex-soldier recruits to the RIC, most of them still wearing their army uniform, in the law school at the depot of the force. They are given six months tuition under a specially qualified tutor.
Irishman wins gold for America at Olympics, but what of Ireland's right to compete?
20 August 1920
Limerick-native Patrick Ryan has won a gold medal for the United States at the Olympic Games in Antwerp, Belgium.
Dubliner killed while attending welcome party for Archbishop Mannix who never arrives
Dublin, 14 August 1920
The funeral of Thomas Farrelly took place yesterday in Glasnevin Cemetery.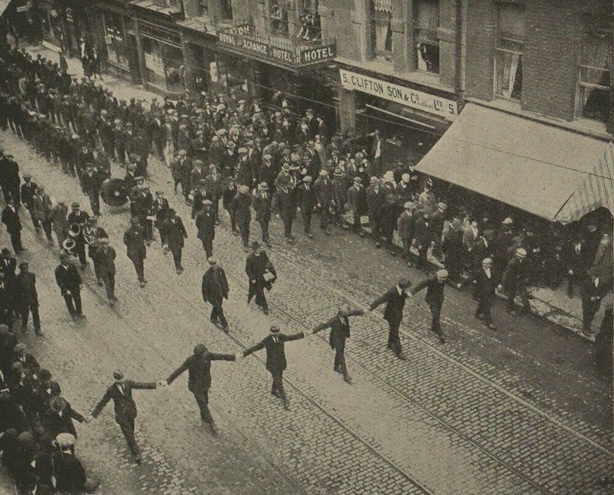 Thomas Farrelly's funeral in Dublin - Photo: Illustrated London News, 21 August 1920
Anti-partition Unionists promote 'dominion home rule' as a way out of Irish 'anarchy'
Dublin, 14 Aug 1920
At a meeting of the Unionist Anti-Partition League (UAPL) in Dublin yesterday, presided over by George Francis Stewart, a motion was adopted that pointed to dominion home rule as the only way to restore calm to Ireland.
Tennessee decision opens ways for votes for American women
Washington D.C., 21 August 1920
American citizens will go to the polls to choose a new president later this year and, for the first time ever, millions of women will be among those casting their vote.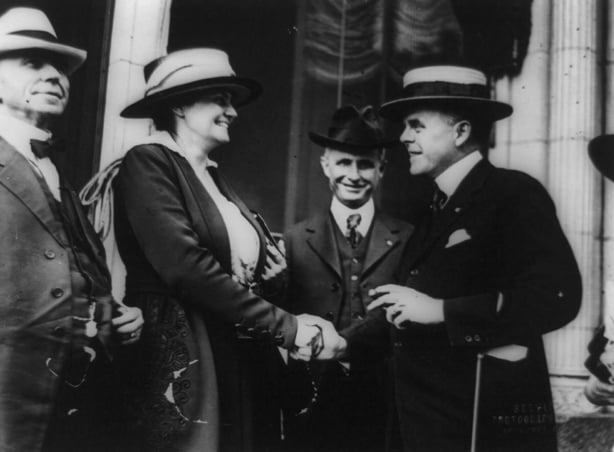 Library of Congress
American suffrage activist Florence Rector consulting with W.D. Jameson on the suffrage amendment in the Tennessee legislature.
Thousands flock to Templemore to witness alleged miracles
Templemore, 23 August 1920
Pilgrims from all over Ireland have been flocking to Templemore, Co. Tipperary, in recent days to witness supposed miracles that have been reported there.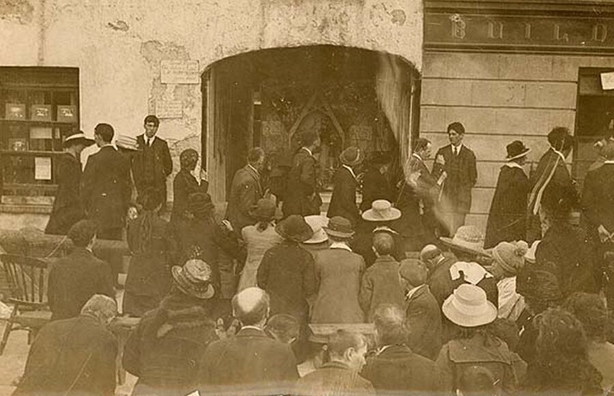 National Library of Ireland
A small portion of the crowd gathered outside Mr Dwan's house on Main Street in Templemore.
For more from Century Ireland visit rte.ie/centuryireland