Issue 178 of Century Ireland with all the news from 100 years ago.
The main stories include:
Hunger striking prisoner dies after Mountjoy release
Last of hunger striking prisoners released from Wormwood Scrubs
Dublin, 14 May 1920
The funeral of a young Irish Volunteer Francis Aidan Gleeson took place on 12 May in Dublin. Francis Gleeson died from toxaemia, following nephritis and acute appendicitis.
Fresh wave of attacks on people and property around Ireland
Dublin, 14 May 1920
A series of seemingly co-ordinated attacks has left a trail of devastation across Ireland.
'Perfect day' out at RDS Spring Show
Dublin, 14 May 1920
Large crowds flocked to the Ballsbridge Showgrounds in bright sunshine for the final day of the Spring Show yesterday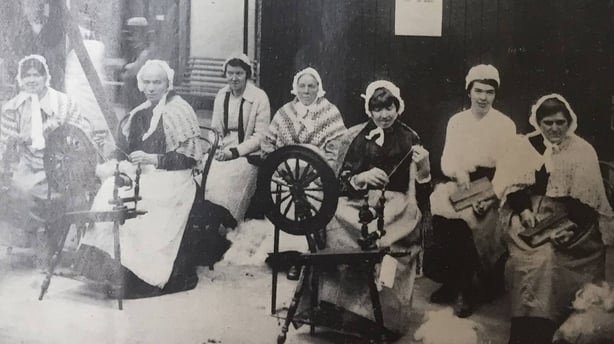 Flax spinners at work in the Art Industries' Hall. Irish Life, 14 May 1920
Young woman's hair cut off with shears for 'going with Tommies'
Tuam, 15 May 1920
Three brothers from Tuam have been sentenced to six months imprisonment with hard labour for cutting off the hair of Bridget Keegan of Cloondarone.
Joan of Arc now a saint
The Vatican, 17 May 1920
The canonisation of the Blessed Joan of Arc took place at a stately ceremony in St Peter's Basilica in the Vatican yesterday.
Sectarian rioting in Derry leaves two dead and many injured
Sergeant victim of 'brutal murder while gallantly discharging his duty'
Derry, 19 May 1920
The city of Derry has been rocked by a prolonged bout of sectarian rioting that saw clashes between republicans, loyalists and the police.
Cecil Leitch wins Ladies Golf championship again
Newcastle, 20 May 1920
The Royal County Down course in Newcastle provided the venue for the first Ladies Golf Championship since the conclusion of the war.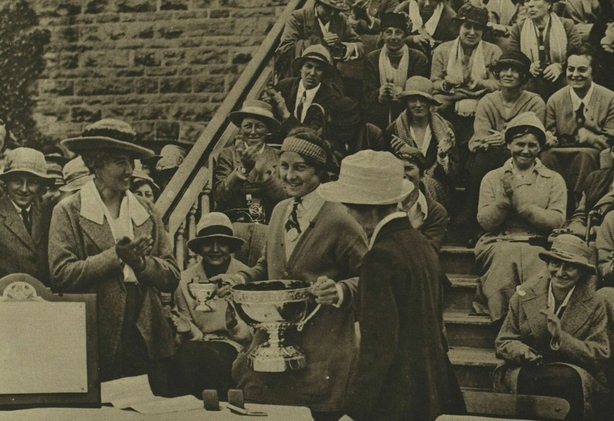 Cecil Leitch presented with the trophy. Illustrated London News, 22 May 1920

For more from Century Ireland, visit www.rte.ie/centuryireland