Sinn Féin and republican demonstrators occupy the British Embassy Passport Office in Merrion Square, Dublin.
Demonstrators rush into the British Embassy Passport Office at 30 Merrion Square North in Dublin and take over the third floor. They hang a Tricolour from one of the front windows.
The demonstrators, all members of Sinn Féin and allied republican organisations, have taken over the building in protest against six Irish political prisoners in British jails. The occupiers say their protest is peaceful and they will stay until they are thrown out.
Outside the building which is just around the corner from the British Embassy in Merrion Square East, other protesters display a banner calling for the release of Irish political prisoners in Britain.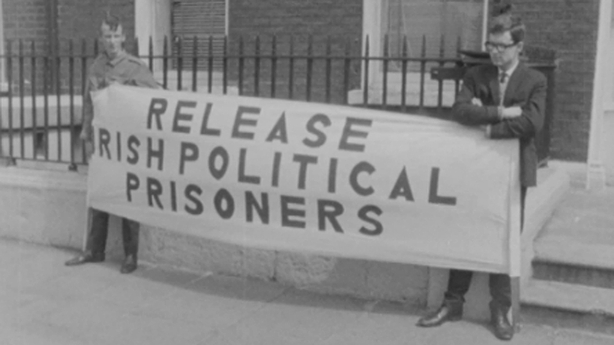 Members of the Garda Síochána enter by the back entrance to British Embassy Passport Office and break down the barricaded doors. Those occupying the building are escorted from the building and taken away in police vans.
Fourteen men and three women appear in the Dublin District Court on charges arising out of incidents at the British Embassy Passport Office.
The ten members of staff at the British Embassy Passport Office leave the building unharmed.
An RTÉ News report broadcast on 20 May 1970.