Students occupying a Georgian building on Hume Street in Dublin discuss the next phase of their protest against the developers.
The Green Property Company, who were behind a controversial redevelopment of Georgian buildings at Hume Street and Saint Stephen's Green in Dublin announced they would be willing to sell the properties for the right price. The company allowed three months for the required sum in excess of £200,000 to be raised.
What will happen to the young people protesting against the redevelopment by occupying number one Hume Street now that the period has elapsed?
Aodán Ó hAodha a student at University College Dubin (UCD) says when they first occupied the building, it was badly damaged. The students have been carrying out repairs and have put in floors and a staircase.
He calls for more people to join their cause. The occupation was discussed in the Dáil and the conservationists dismissed by some as 'belted earls'. Aodán Ó hAodha denies the protesters are an elite group. Some of them are students and others have ordinary jobs.
Máire Mac Mathúna believes ordinary people are supportive because they give donations for repairs to the building. She is keen to point out that this money is only used for repairs and they use their own money for food.
Duncan Stewart, a fifth year architectural student at UCD does not want reveal how many protesters are in the building but there are people present on a 24 hour basis. They operate a rota with people spending a couple of days in the house before somebody else takes over for the same length of time.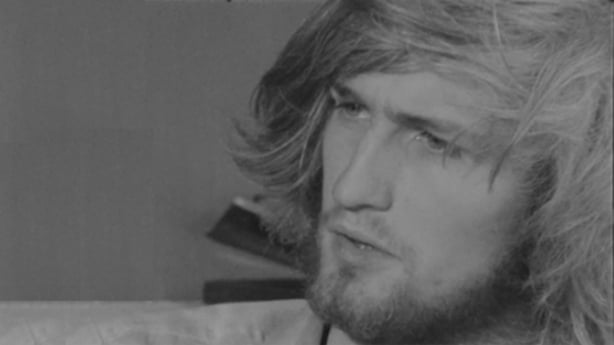 Aodán Ó hAodha is aware the period to raise £200,000 has elapsed but he says the protesters are willing to go to the courts to get the matter resolved. If the Green Property Company try to remove the protesters from the building he believes thousands of students will rally to support the cause.
If the situation turns violent, Máire Mac Mathúna is not afraid. Duncan Stewart has no doubt that the situation will turn ugly, but they will be united.
Ceapaim mise ar aon nós, go mbéidh trioblóid, má tagann trioblóid, béidh orainn seasamh.
The protesters are taking a stand for the people of the Dublin. Their occupation has become known as 'The Battle for Hume Street' however Aodán Ó hAodha is reluctant to find similarities with the people of Derry. The protesters have a plan for the future, but he does not want to make it public.
A 'Féach' report broadcast on 20 April 1970. The reporter is Eamonn Ó Muirí.