The RUC take a tricolour from the window of the Irish Republican Party headquarters in Divis Street, Belfast.
An ongoing issue about the display of a tricolour flag in the Irish Republican Party head office in Belfast comes to a head. During the run up to the 1964 United Kingdom general election in Northern Ireland, the flag was seized by the Royal Ulster Constabulary (RUC) on two occasions, acting under the Flags and Emblems (Display) Act (Northern Ireland) 1954. The flag was subsequently replaced.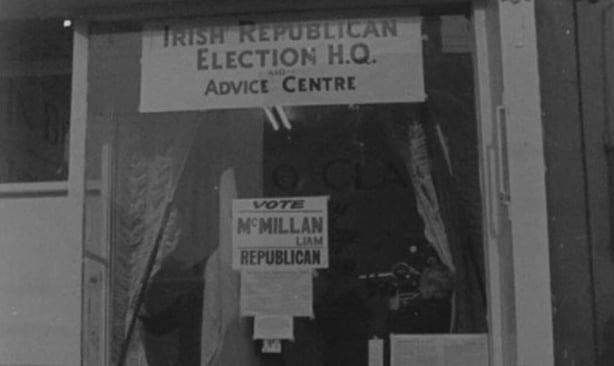 Republican Party election headquarters, Divis Street, Belfast (1964)
Demonstrations and violent clashes with police followed the removal of the flags causing disruption to public transport. The Divis Street area has been being patrolled more heavily than usual by the RUC.
RTÉ News cameras are present at the Irish Republican Party offices when the RUC, armed with crowbars, sledgehammers and pickaxes, arrive following a direction from the Ministry of Home Affairs and cordon it off.
A large crowd have assembled in Divis Street, blocking access to traffic. From an upper story window, the Republican Party election candidate Frank McGlade uses a loudhailer appealing them to disperse.
Finding themselves unable to gain access into the Irish Republican Party premises, officers remove the flag through a broken window. A number of demonstrators arrested by the RUC are taken away in police vehicles.
An RTÉ News report broadcast on 10 October 1964. This report is mute.