The flag which flew over the GPO on O'Connell Street Dublin in 1916 is returned to the Irish on 30 March 1966.
At a ceremony in Government Buildings Taoiseach Seán Lemass is presented with the Flag of the Rising by Comdt Frank Neill accompanied by the Irish Ambassador in London JG Molloy. The flag has been held in the Imperial War Museum in London since the events of Easter Week 1916.
The words "Irish Republic" are emblazoned in gold and white lettering on a bullet holed green background.
Upon receiving the flag Taoiseach Lemass thanks the British government and the authorities of the Imperial War Museum for returning the flag in the year that celebrates the 50th anniversary of the 1916 Rising. Lemass also remarks that this is a gesture of good will by the British government to improve relations between the two countries.
This footage was broadcast as part of an RTÉ News report broadcast on 31 March 1966.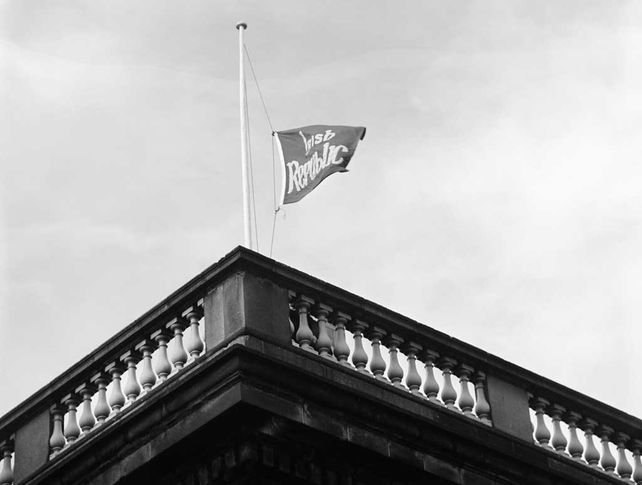 Irish Republic Flag flies over GPO during filming of drama 'Insurrection'. Photo by Thomas Connolly.