A look at the devastation and destruction in Dublin city centre in the days following the Easter Rising of 1916.
The devastation following the Rising of Easter Week 1916 was visible on the streets of Dublin with much of the city in ruins. Presented here are photographs from key locations around Dublin city centre which show the damage caused to buildings as a result of the rebellion. Many of these photographs show the devastation on Sackville Street (now O'Connell Street) where much of the fighting took place.
These photographs are taken from the Shard, Cashman and Murtagh photographic collections acquired by and held at RTÉ Archives.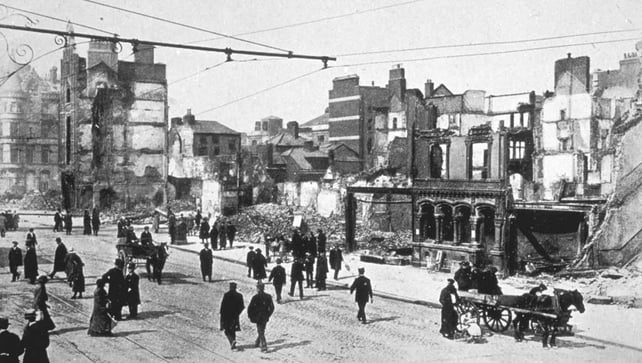 Sackville Street, Dublin 1916 - RTÉ Shard Collection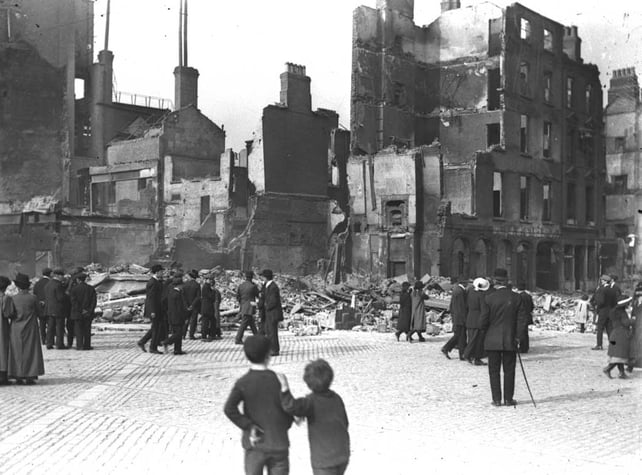 Sackville Street, Dublin (1916) - RTÉ Cashman Collection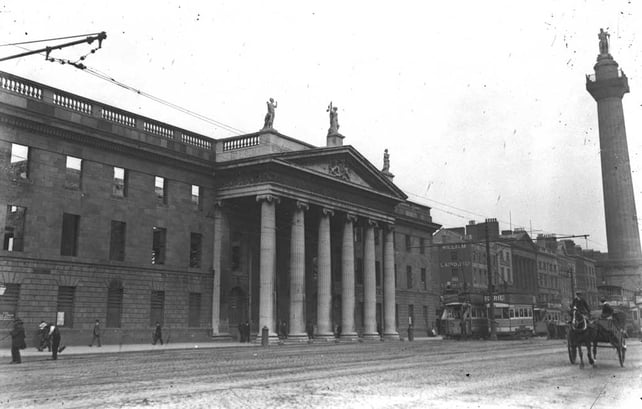 The GPO, Sackville Street, Dublin (1916) - RTÉ Cashman Collection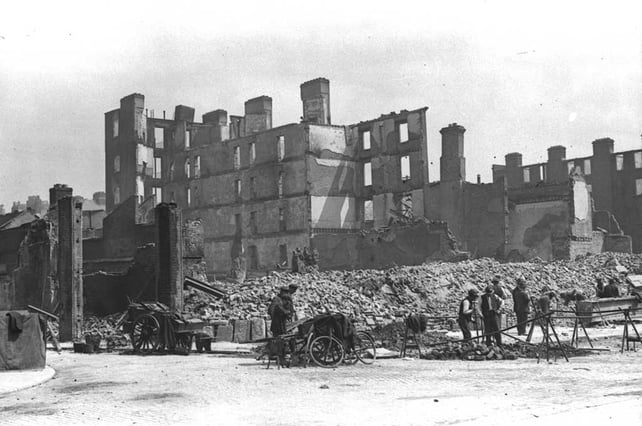 Destruction of the King's Inns, Dublin (1916) - RTÉ Cashman Collection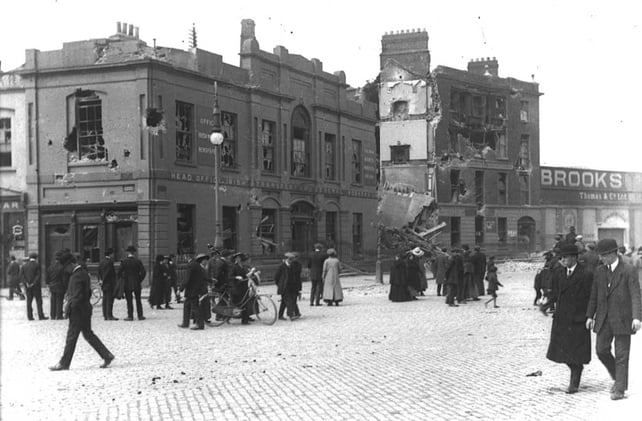 Destruction of Liberty Hall, Dublin (1916) - RTÉ Cashman Collection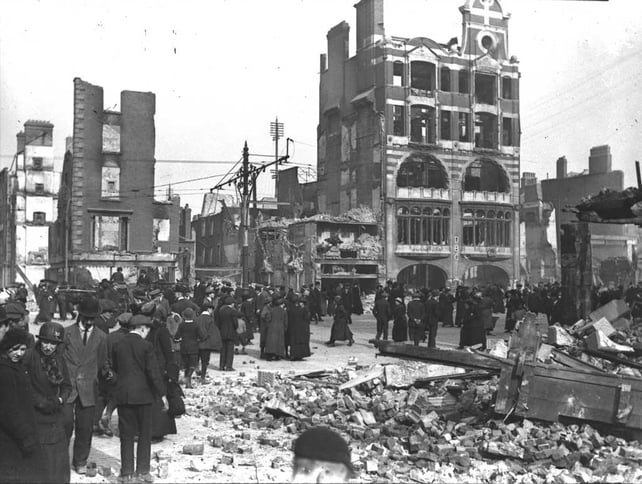 The Dublin Bread Company (1916) - RTÉ Cashman Collection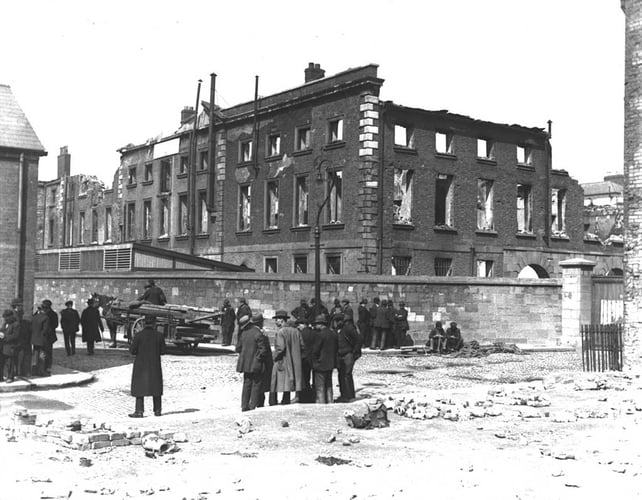 Ruins of Linenhall Barracks, Dublin (1916) - RTÉ Cashman Collection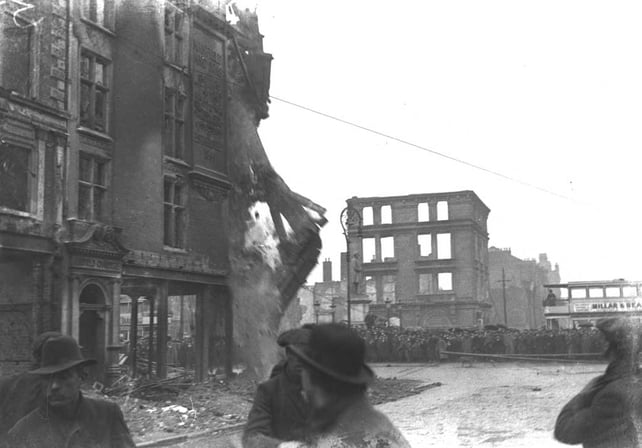 Mansfield's Corner after the Easter Rising (1916) - RTÉ Cashman Collection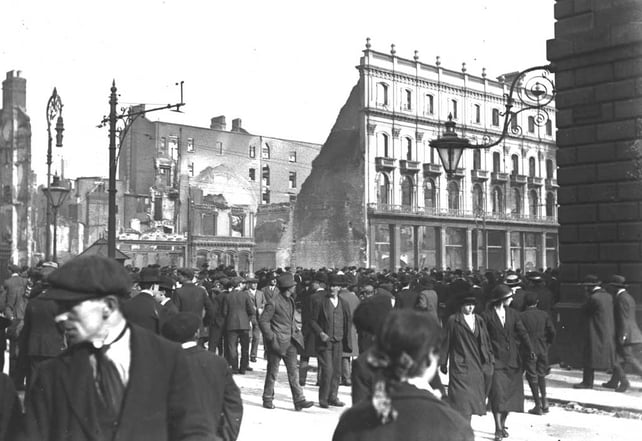 The Imperial Hotel on O'Connell Street, Dublin after the Easter Rising (1916) - RTÉ Cashman Collection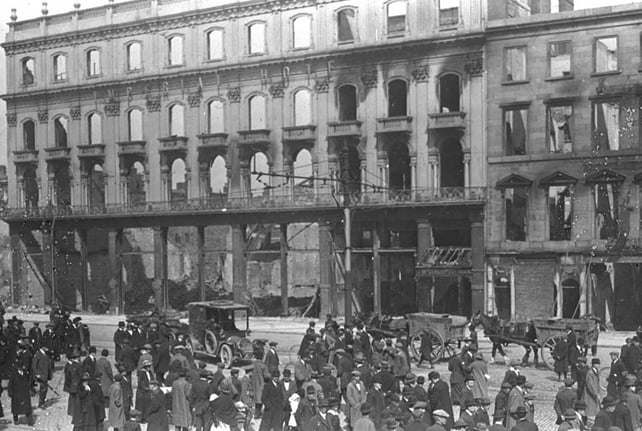 Imperial Hotel, Dublin (1916) - RTÉ Murtagh Collection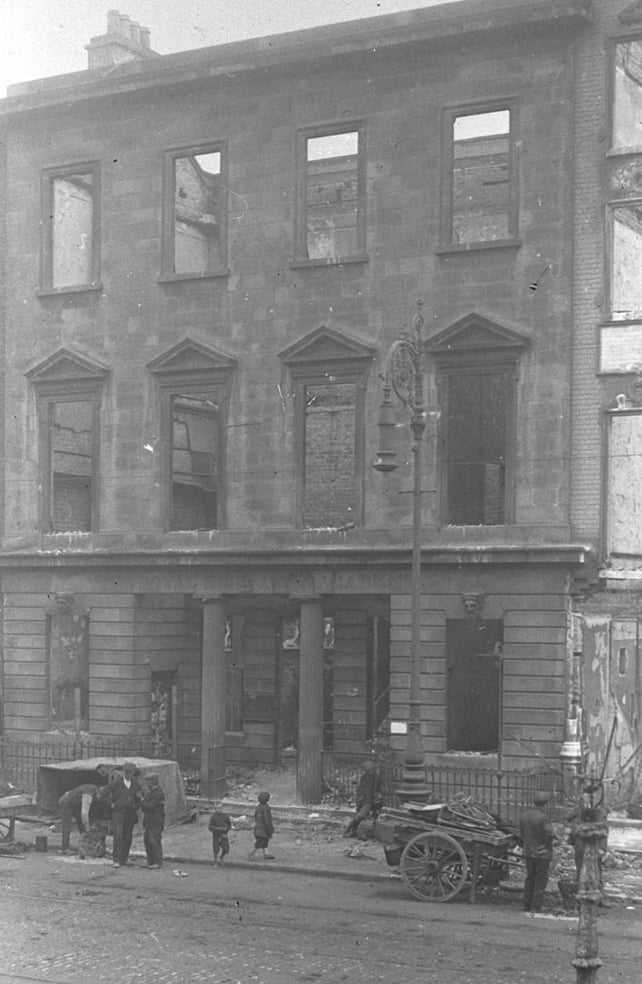 Royal Hibernian Academy, Dublin (1916) - RTÉ Murtagh Collection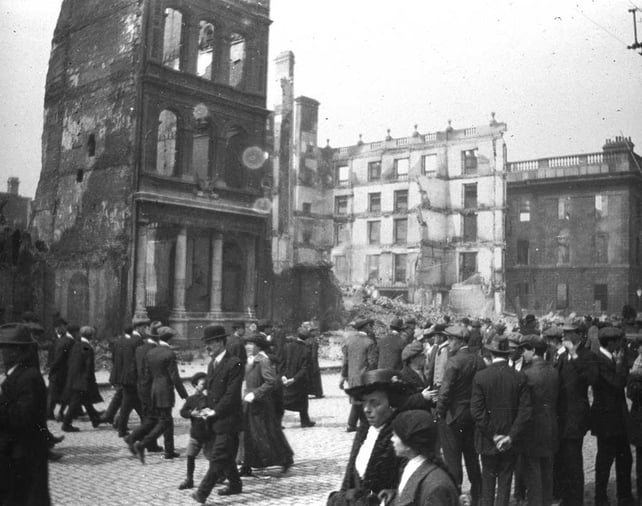 Eason's on Lower Sackville Street, Dublin (1916) - RTÉ Murtagh Collection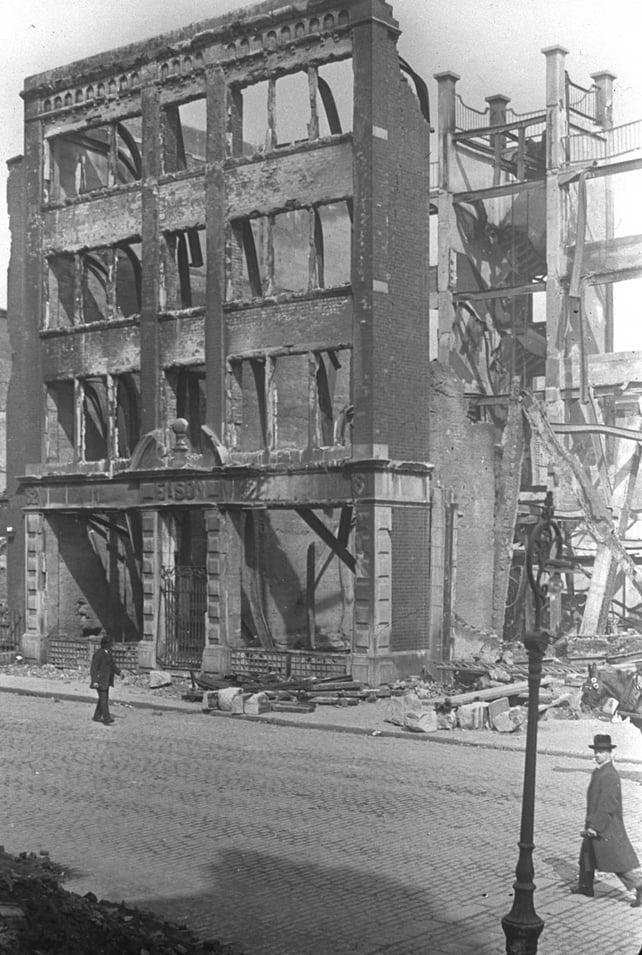 Eason's on Middle Abbey Street, Dublin (1916) - RTÉ Murtagh Collection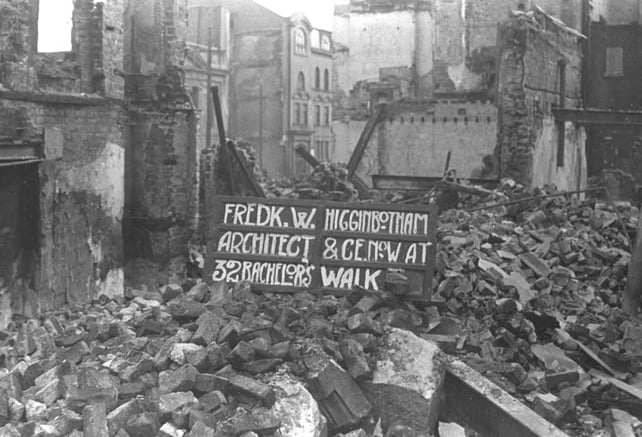 Sign for Frederick Higginbotham, Architect and Civil Engineer located at 9 Lower Sackville Street, Dublin (1916) - RTÉ Murtagh Collection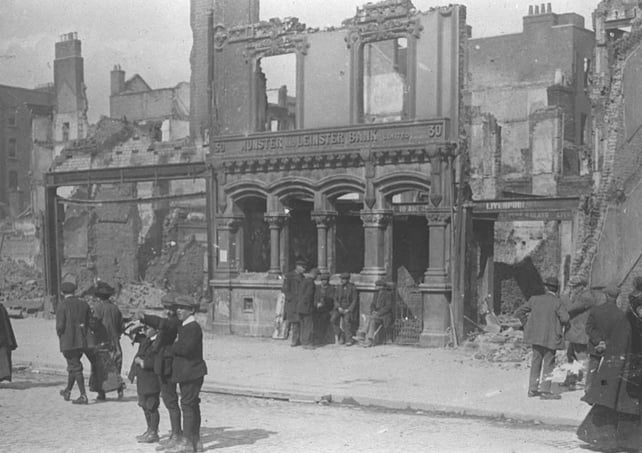 Munster and Leinster Bank, 30 Lower Sackville Street, Dublin (1916) - RTÉ Murtagh Collection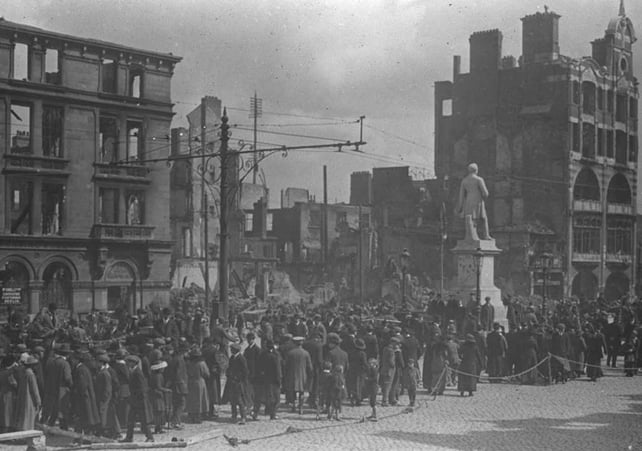 Lower Sackville Street, Dublin (1916) - RTÉ Murtagh Collection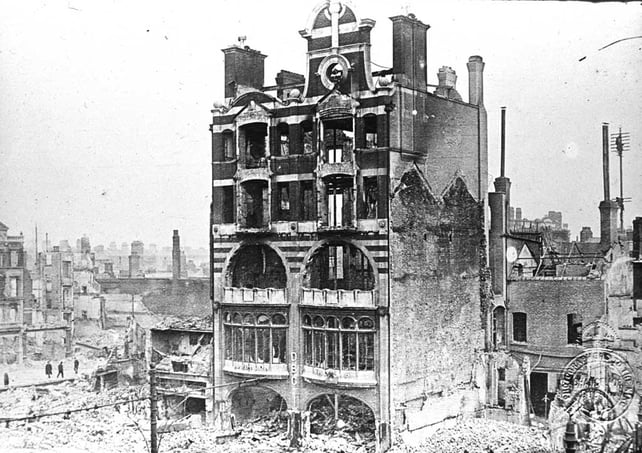 Ruins of DBC Luncheon Rooms, Dublin (1916) - RTÉ Murtagh Collection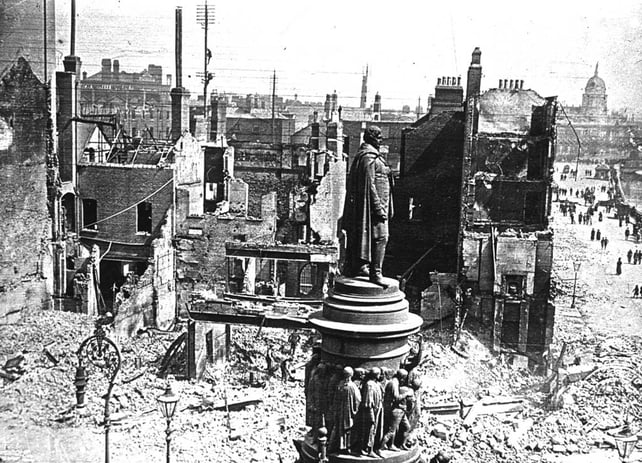 Lower Sackville Street, Dublin (1916) - RTÉ Murtagh Collection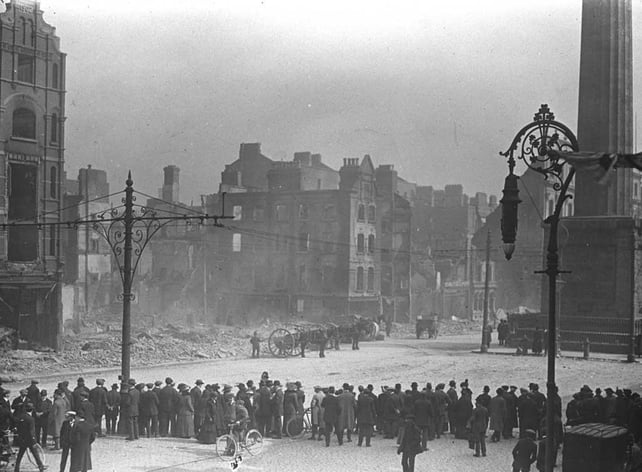 Sackville Street, Dublin (1916) - RTÉ Murtagh Collection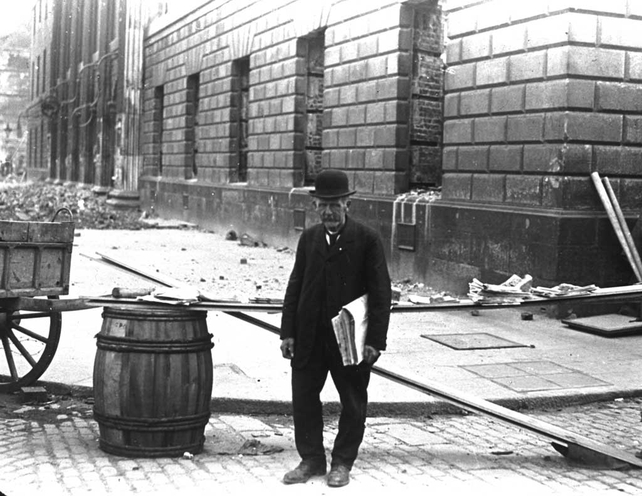 Newspaper Vendor Outside the GPO, Sackville Street, Dublin (1916) - RTÉ Murtagh Collection
Explore our interactive map and watch and listen to personal accounts from men and women who lived through Easter 1916. Visit: www.rte.ie/1916