The British Embassy in Merrion Square, Dublin is destroyed by fire in the days following the events of Bloody Sunday in Derry.
On 30 January 1972 thirteen civilians were killed in the Bogside area of Derry by British soldiers in what became known as Bloody Sunday.
In the days that followed protests took place around Ireland over the deaths. Thousands had been protesting outside the British Embassy since Sunday. On 1 February tensions spilled over and petrol bombs and a gelignite bomb were hurled at the embassy building blowing the door off. Fire engines were blocked from getting through to the fire for several hours and the building was destroyed in the early hours of 2 February.
Tom McCaughren reports on the events at Merrion Square with recordings of the crowd's reaction to the fire.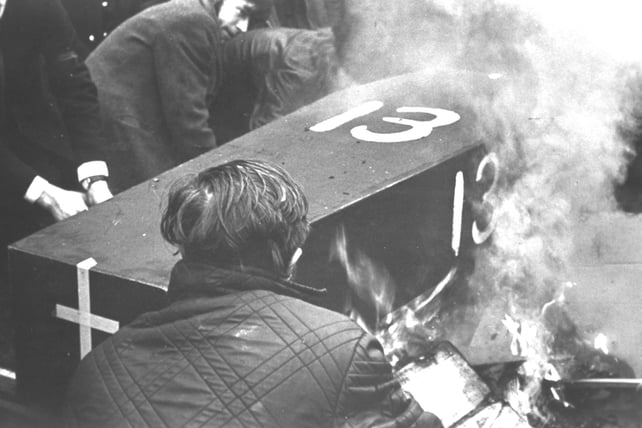 Coffin Burning Outside British Embassy in Dublin in 1972
Afterwards a spokesman told the crowd that the symbol of British imperialism in the twenty six counties had almost been destroyed.
Coinciding with the attack on the British Embassy a number of other buildings with British associations in Dublin had also been attacked.
This RTÉ News report was broadcast on 2 February 1972. The reporter is Tom McCaughren.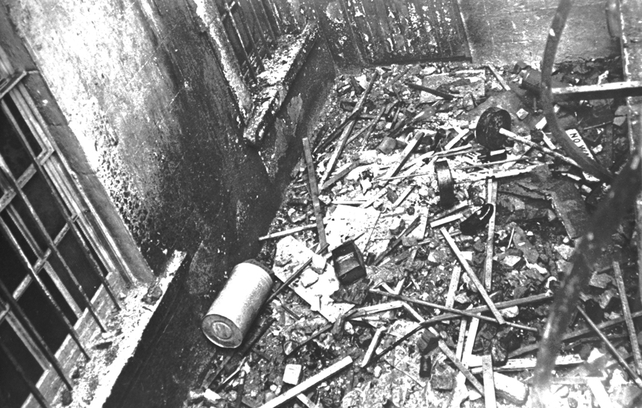 Damage and Debris at the British Embassy (1972)