On Sunday 30 January 1972 British soldiers opened fire on civilians in Derry during a protest against internment. Fr Edward Daly describes the events he witnessed.
There were 14 fatalities as a result of the attack. The victims included John 'Jackie' Duddy, Michael Kelly, Hugh Gilmore, William Nash, John Young, Michael McDaid, Kevin McElhinney, James Wray, William McKinney, Gerard McKinney, Gerard Donaghy, Patrick Doherty, and Bernard McGuigan. Four months later a further victim John Johnston died as a result of injuries he received on the day.
The day after Bloody Sunday, also referred to as the Bogside Massacre, Father Edward Daly told RTÉ News what he had witnessed in Derry. A curate at St Eugene's Cathedral in Derry, he was in the middle of the shootings and describes in detail what he saw as he tried to take cover from the British troops.
Father Daly refutes any claims that shots were fired at the army prior to them opening fire on civilians.
There was no guns fired at the army beforehand. Anything the army say about that it is absolutely untruthful...This is an occasion that I saw completely from the start with my own eyes. I am prepared to swear this. I hope I have an opportunity to do it in front of some international tribunal. Certainly I have no doubt whatsoever and I state this absolutely categorically that there was no shots fired at the army prior to them opening fire.
Caught in the firing line Father Daly, with the help of two others, waving a blood stained handkerchief tried to escort the injured 17 year old Jackie Duddy to safety.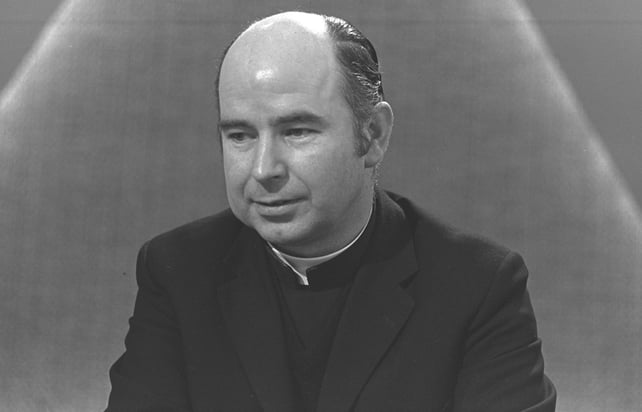 Fr Edward Daly (1972)
Father Daly is now calling for international intervention to find a resolution to the problems in Northern Ireland having been let down by both the British government and the government in the Republic of Ireland.
An RTÉ News special broadcast on 31 January 1972. The reporter is Kevin Healy.