Edition 163 of Century Ireland with all the news from 100 years ago.
The main stories include:
GAA President and newspaper editor face court-martial
Cork, 9 October 1919
Yesterday, a district court-martial at Cork barracks assembled to hear evidence at the trial of three men: James Nowlan, President of the GAA; Edward Keane, editor of the Kilkenny People; and Joseph Martin.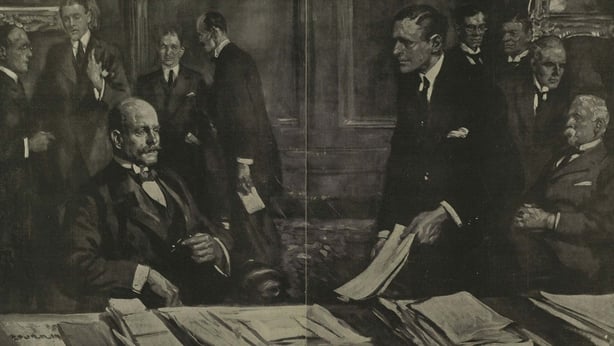 Illustrated London News
Cabinet meeting to find a solution to the Irish settlement.
Partition looms as British cabinet committee established to find Irish solution
London, 13 October 1919
The British government has appointed a cabinet committee to draft a new home rule bill for Ireland. Walter Long has been chosen to chair this committee, whose members include Lord Birkenhead
Irish Times frowns on French professionalism as Olympic Games set to return in 1920
Paris, 13 October 1920
The French government has voted a sum of 200,000 francs to its National Committee of Sports to support the training of its athletes.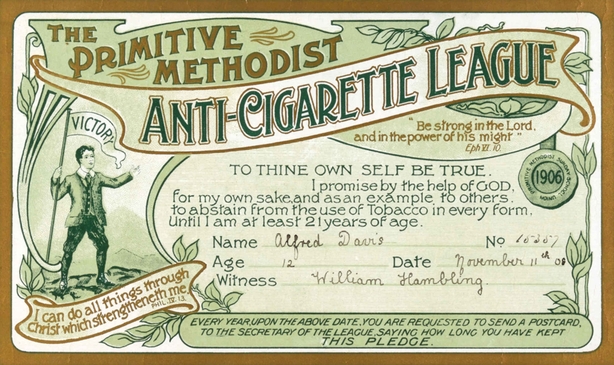 Wellcome Collection
An Anti-Cigarette League certificate in which 12-year-old Alfred Davis pledges to abstain from smoking until he is at least 21
Tobacco industry fights back as anti-smoking campaign launched in US
14 October 1919
Reports from the United States carry details of the launch of anti-smoking campaign which seeks to prohibit the growing, sale and use of tobacco.
Mountjoy prisoners released after many described as being at 'death's door'
Dublin, 18 October 1919
21 Sinn Féin prisoners who were on hunger strike in Mountjoy prison were released in the past week. There are still 25 in the prison, but they are expected
to be released shortly.
Is England strangling direct trade between Ireland and the US?
Dublin, 18 October 1919
The Dublin manager of the Anglo-American Oil Company, P.J. Lawrence, has rejected accusations that his company is involved in an attempt to destroy Irish
direct trade with the United States.
What to do with the poor street children of Dublin?
Dublin, 18 October 1919
The fate of Dublin's street children has been the subject of an interesting exchange of letters published in the Irish Independent.
Fight for Bolshevik-held Petrograd intensifies
Petrograd, 20 October 1919
There is fierce fighting around the Russian capital of Petrograd with anti-Bolshevik forces, commonly known as the White Army, led by General Nikolai Yudenich reported to have reached as far as the suburbs.

For more from Century Ireland, visit rte.ie/centuryireland