Edition 153 of Century Ireland with all the news from 100 years ago.
The main stories from Century Ireland include: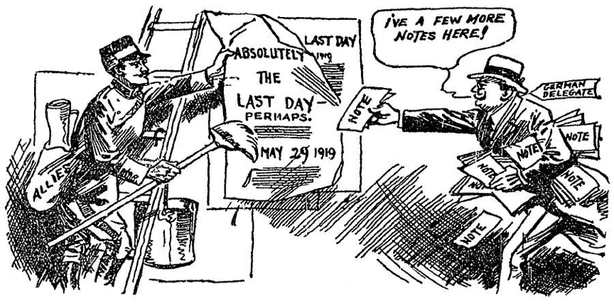 Century Ireland 153 - German Opposition Cartoon, Sunday Independent 25 May 1919
Lloyd George threat to Germans: "If you don't sign in Versailles, you shall in Berlin"
Paris, 31 May 1919
Pressure is building on Germany to sign a Peace Treaty, whose terms they implacably oppose.
Airmen recovered in Atlantic ocean 750 miles from Irish coast
26 May 1919
Two airmen who gone missing during a race to cross the Atlantic in a plane have been found alive and well.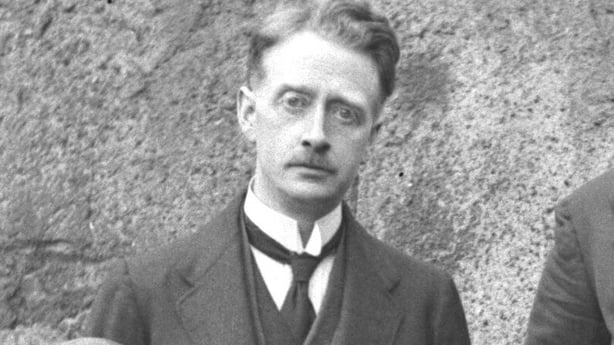 WT Cosgrave
W.T. Cosgrave conferred with Freedom of Kilkenny City
Kilkenny 27 May 1919
Kilkenny Corporation has conferred the Freedom of the City upon Mr. William T. Cosgrave, the Sinn Féin MP for North Kilkenny.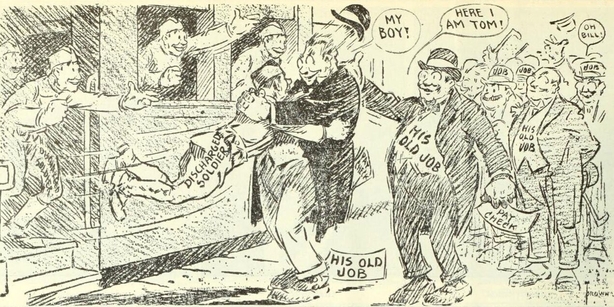 A cartoon that originally appeared in the 'Chicago Daily News - Photo: 'The Literary Digest', 18 January 1919
Police baton-charge discharged British soldiers in London
London, 29 May 1919
A protest by discharged British soldiers and sailors ended in scenes of riot outside the Houses of Parliament in London in recent days.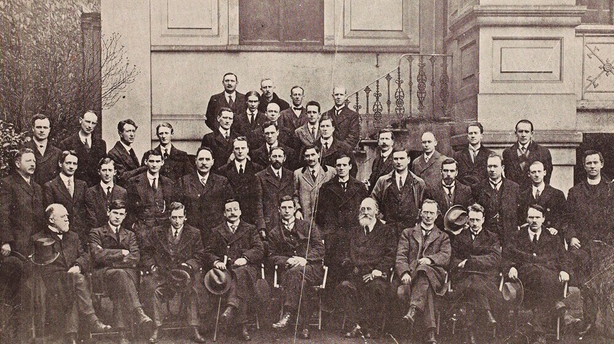 Piaras Béaslaí and Laurence Ginnell among the other members of the Dáil at Mansion House - Photo: National Library of Ireland
A week in Irish politics: Piaras Beaslaí imprisoned, Laurience Ginnell arrested as Knocklong inquest opens
Dublin, 31 May 1919
Piaras Beaslaí, the Sinn Féin MP for East Kerry, has been sentenced to two years imprisonment without hard labour at a court martial held in Dublin.
Ireland joins in tributes on America's 'Decoration Day'
Cork, 31 May 1919
American has held a worldwide day of tribute to its fallen soldiers. During yesterday's American 'Decoration Day' the graves of American soldiers killed in the recent war were honoured all over the world.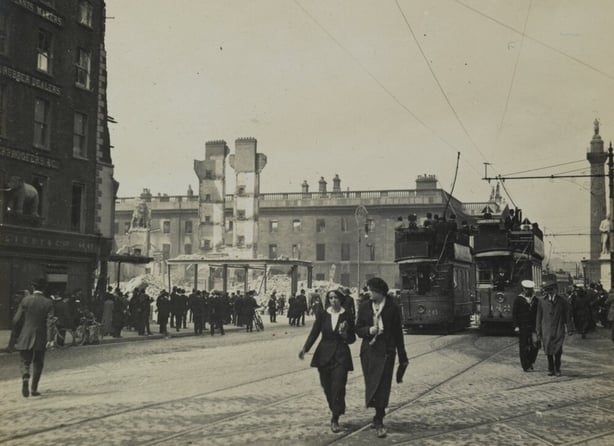 O'Connell Street in a state of destruction, to the left is Elvery's shop. Photo: Trinity College Dublin
Rebuilt O'Connell Street will be better than the one destroyed in 1916
2 June 1919
The work of rebuilding Dublin in the aftermath of the 1916 Rising continues to progress. Of the 190 buildings which were destroyed, wholly or in part during Easter week, 58 have been completely rebuilt.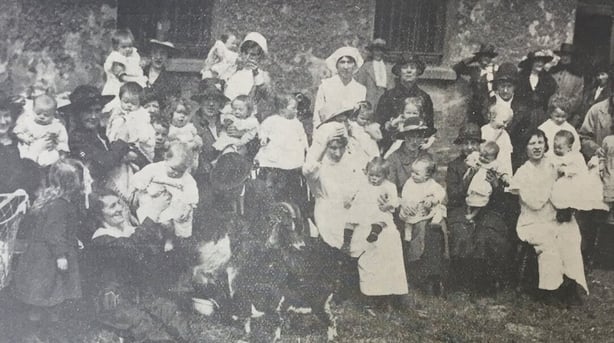 The doctors and nurses who work in St Ultan's Children Hospital. Photo: Irish Life, 30 May 1919.
Dublin babies die because of poor parents - Dr. Kathleen Lynn
2 June 1919
The last play of the late Patrick Pearse, leader of the rebellion in Dublin in 1916 and signatory of the proclamation of the Irish Republic, was performed last at the Abbey Theatre.
A large attendance turned out for the 'The Singer' which was being produced in aid of St. Ultan's Children's Hospital, Charlemont Street.

For more from Century Ireland visit rte.ie/centuryireland