Edition 150 of Century Ireland with all the news from 100 years ago.
The main stories from Century Ireland include:
Turmoil in India amid report of British troops firing on crowds
New Delhi, 23 April 1919
India is in a state of turmoil.
Fierce rioting is being reported across the country. Lives have been lost, buildings have been burned and telegraphic lines cut. Cavalry and police charged demonstrators in Bombay, while in Delhi and Punjab the situation is described as serious.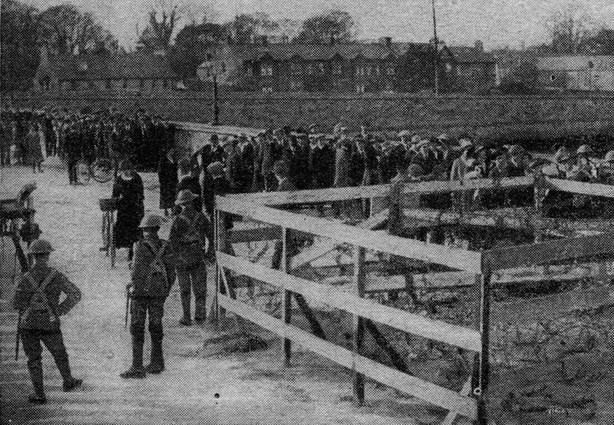 Sentries on Sarsfield Bridge, Limerick - Photo: Daily Sketch, 24 April 1919 via Bureau of Military History
Limerick people locked out of city after attending hurling match
Limerick, 22 April 1919
About 1,000 people were 'locked out' of Limerick city by military force yesterday after leaving to attend a hurling match in Caherdavin without permits.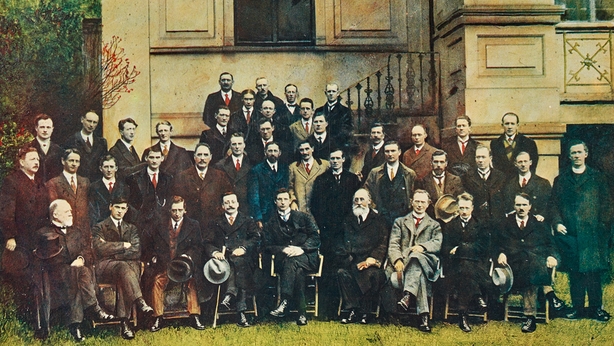 Commemorative postcard featuring members of the First Dáil. Photo: National Library of Ireland,
Sinn Féin gathers for second public session of the Dáil
Dublin, 11 April 1919
The Dáil has met again in public session for the first time since its establishment on 21 January.


The Royal Welsh Fusiliers line a side street in Limerick. Photo: Sunday Pictorial
Seven areas in a 'state of disturbance' as violence spreads around Ireland
Cork, 12 April 1919
The levels of social and political unrest across Ireland are growing.
Seven areas have been proclaimed as being 'in a state of disturbance' and are in need of 'an additional establishment of police'.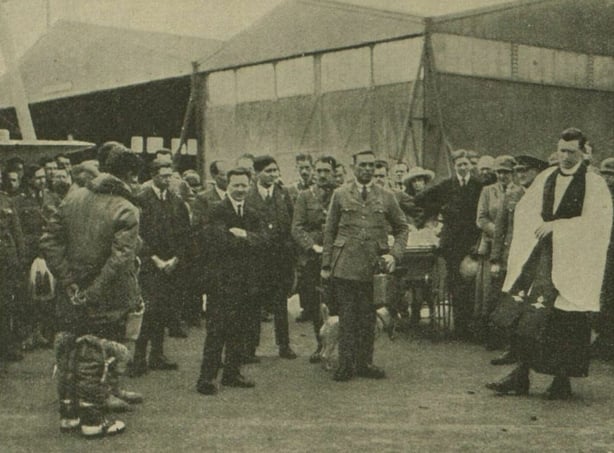 The start of Major Woods' unlucky flight. Photo: Illustrated London News
Aviators in race to fly across the Atlantic
22 April 1919
The Daily Mail's £10,000 prize for the first aviator to cross the Atlantic has drawn considerable attention, and teams from around the world are preparing their machines and waiting for favourable weather conditions.
Dublin's hotels and restaurants closed by strikes
Dublin, 23 April 1919
Dublin's hotel dispute continues after talks between hotel owners' representatives, the Hotel and Tourist Association of Ireland, and the Hotel Workers' Branch of the Irish Transport and General Workers' Union ended without resolution.


Dublin committee of the National Teachers' Congress Photo: Irish Independent
Apathy towards education highlighted at teachers' national congress
Dublin, 23 April 1919
The 51st annual congress of the Irish National Teachers' Organisation (INTO) opened in Dublin yesterday.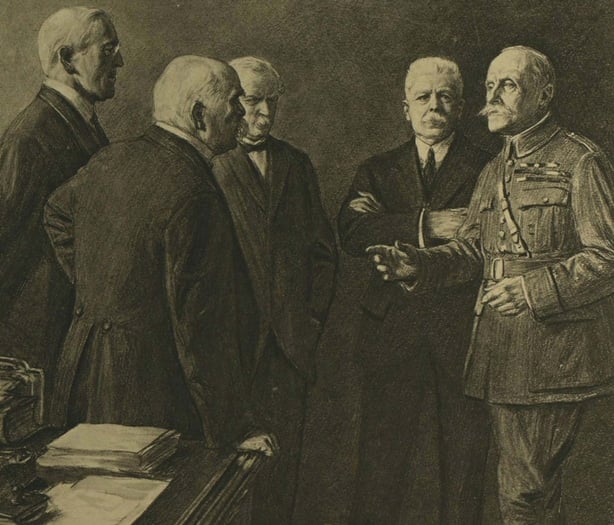 The 'Big Four', Wilson, Clemenceau, Lloyd George and Orlando, standing with Marshal Foch Photo: Illustrated London News,
Germany invited to Paris Peace Conference
Paris, 15 April 1919
Representatives from vanquished Germany have been invited to attend the Paris Peace Conference.
For more from Century Ireland, visit rte.ie/centuryireland