Sculptor Seamus Murphy recalls his formative years in Cork and talks about his work.
According to sculptor Seamus Murphy, his native city of Cork did not always cultivate the arts,
Cork seems to have been a little too busy making money but certainly very little money comes the artist's way in Cork, they have all, as a result had to leave.
The writers Frank O'Connor and Seán Ó Faoláin both left Cork when they were young and their writing shows a love hate relationship with the city. The Cork they write about resonates with Seamus Murphy and evokes the old city that he once knew.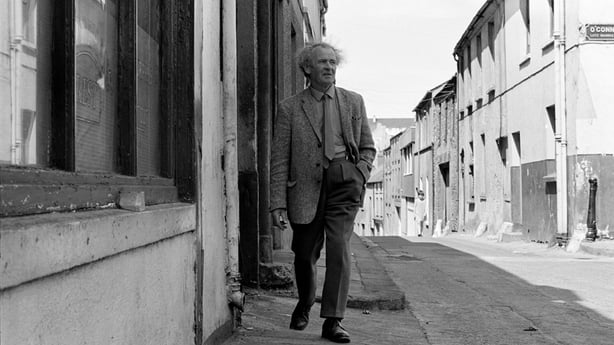 Daniel Corkery, a teacher at St Patrick's National School in Cork was a huge influence on Seamus Murphy, helping him to get a scholarship at the Crawford School of Art. After serving his apprenticeship with John Aloysius O'Connell of St Patrick's Art Marble Works in Blackpool a further scholarship enabled him to go to London and then to Paris. When he returned from Paris in 1932 there was no work.
It was the hungry thirties, no commissions, nothing doing, so I decided I'd have to do something about it.
He set up business next door to O'Connell's creating a large gallery of busts of friends who agreed to sit for him. He could not earn a living from this, but stone carving and monumental work provided him with an income.
Seamus Murphy talks about some of the works in his studio, including those of composer Freddy May, poet Seán Ó Ríordáin, his former teacher, the writer and historian Daniel Corkery, writer Frank O'Connor, stone cutter John Joe McCarthy and his father James Murphy.
Seamus Murphy needs to find a connection with his sitter to achieve a great piece of sculpture.
It takes two people I often said to make a bust, the sitter and the sculptor.
'Stone Mad' was screened as part of the 'Anthology' series of programmes on the arts. The title of the film is taken from Seamus Murphy's autobiography of the same name. Seán Ó Riada composed the score for the documentary.
'Stone Mad' was broadcast 6 October 1969. The producer and director is Seán Ó Mórdha.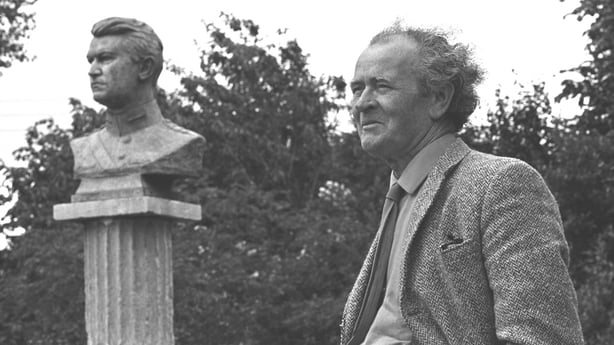 Seamus Murphy, standing beside his portrait bust of Michael Collins in Fitzgerald's Park, Cork city in 1969.