'Writer in Profile' takes a look at the literary contribution made by Seán Ó Faoláin.
This year marks 115 years since the birth of Irish writer Seán Ó Faoláin. We take a look back to 1968 when Seán Ó Faolain was the subject of the programme 'Writer in Profile'.
In this excerpt shows the opening sequence of the programme where he is introduced by presenter Niall Sheridan. Ó Faoláin comments on his dislike for being labelled "an Irish writer" instead preferring to think of writers as "coloured". He thinks of himself as a writer who has been immersed in "the Irish dye". He comments further on growing up in Cork, visiting the Cork City Library, and having a concept of life and reality.
Seán Ó Faoláin was born in Cork on 22 February 1900. As a young man he took part in the War of Independence and the Civil War. In 1932 he became a founder member of the Irish Academy of Letters with W.B. Yeats, George Bernard Shaw, Oliver St. John Gogarty, George Moore and Frank O'Connor. During the 1940s, as editor of The Bell, he became engaged in vigorous controversy on social and political issues. O'Faolain also served as director of the Arts Council of Ireland from 1956 to 1959. He remained first and foremost a creative writer, recognised as one of the major figures of the literary scene of his time.
He published his first book 'Midsummer Night Madness' in 1932. This was a collection of short stories based on his experiences during the Civil War. This was followed by a succession of novels and collections of short stories, both historical and fictional. Seán Ó Faoláin died on 20 April 1991.
This episode of 'Writer in Profile' was broadcast on 29 October 1968.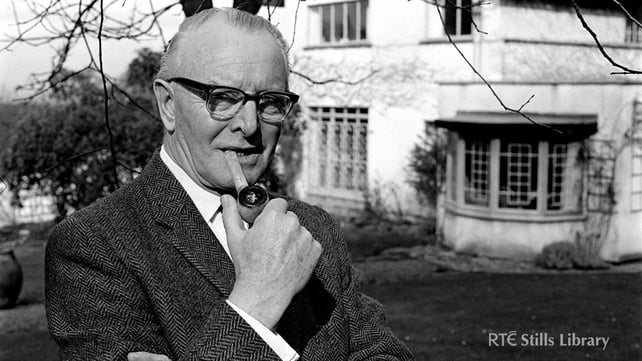 Seán Ó Faoláin