Road bowling veterans Mick Barry and Liam O'Keeffe go head to head in the village of Monkstown, County Cork.
Mick Barry and Liam O'Keeffe between them, have been road bowling for over five decades. Popular in Cork, the sport is played with a 16oz cast iron bowl which fits into palm of the hand. Two contestants throw the bowl along an agreed distance of road and the winner is the player to reach the finishing line using the least number of throws.
Septuagenarian Mick Barry from Waterfall in County Cork is much admired for his road bowling skills. He is in record books for lofting a bowl over the viaduct on the Cork-Bandon railway line in the 1960s. However, he is not complacent about his challenge against Liam O'Keeffe.
One never knows in bowling, it can go anyway like, you make the best efforts in the world and things might go against you, you hope for the best.
Liam O'Keefe's preparations for the game have included an early night and abstaining from alcohol. Overseeing the contest is Bishop John Buckley who is friends with both men. Remaining impartial, he anticipates a marvellous display,
Road bowling is something that is bred in our bones here, entwined in our lives, especially in the people of the area.
Once each man chooses a bowl that feels right, it is time to take to the road and a crowd of spectators have gathered for the event. Noel Magnier cannot tell who will win the contest as both men are playing well on an uphill road. This is difficult terrain for young men let alone men in their sixties and seventies.
Wendy Forde enjoys watching road bowling as it involves walking, fresh air and meeting people.
It's really enjoyable, it doesn't cost you anything, it's cheap entertainment.
Mick threw the winning bowl at the finishing line although he found the match very tough.
I made a lot of mistakes, but eventually I made up for it in the end, with the help of Liam throwing a few bad ones.
A 'Nationwide' report broadcast on 9 May 1997. The reporter is Donna O'Sullivan.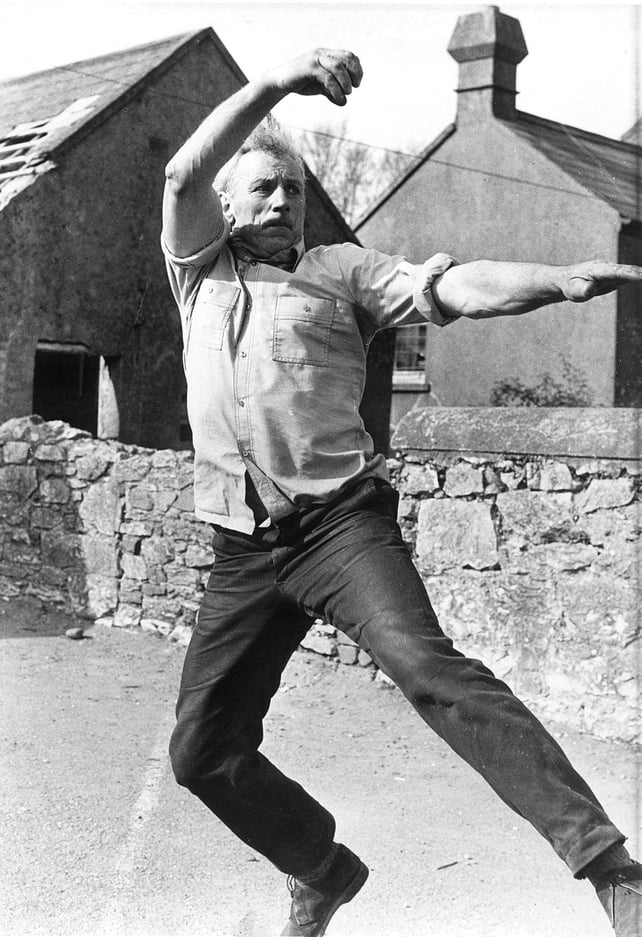 Mick Barry lofting a bowl.