A nervous Johnny Logan is on the verge of a second Eurovision Song Contest win.
When Johnny Logan won the Eurovision Song Contest in 1980 with Shay Healy's song 'What's Another Year' his future looked bright. However protracted difficulties with management meant his career failed to take off as envisaged. A brief brush with fame slipped through his fingers. Seven years later, Johnny Logan realised nothing short of a second Eurovision victory was required to get his career back on track.
His friend Shay Healy admits that Johnny Logan's reputation was on the line.
It was a major decision, and it was a courageous one, but I think he knew he had a good song.
In a brave, last ditch attempt to salvage his career, Johnny Logan entered his own song, the ballad 'Hold Me Now' into the National Song Contest held on 8 March 1987 at the Gaiety Theatre in Dublin. The gamble paid off and he went on to represent Ireland in the Eurovision Song Contest in Brussels.
Backstage at the final dress rehearsal at the Palais Du Centenaire in Brussels the pressure is on as Johnny Logan knows the juries watch and vote on this specific performance, rather than on the final performance.
This is the big one, this is the one that matters most.
Presenter, the singer Viktor Lazlo introduces the song.
Johnny Logan is looking and singing better than ever and represents Ireland in this year's Eurovision Song Contest with his own ballad, 'Hold Me Now'.
Getting ready to go on stage, Johnny Logan deals with last minute jitters, but when he performs, his anxiety seems to have been overcome. The rehearsal goes well, but this still does not calm his nerves.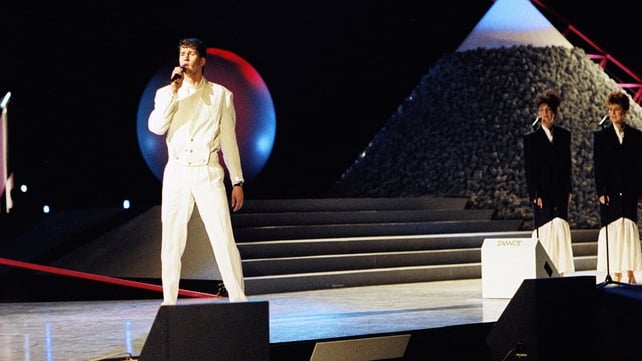 'Evening Extra: Another Year, Another Chance' was broadcast on 8 May 1987. The reporter is Kevin Linehan.
Johnny Logan won the Eurovision Song Contest for the second time on 9 May 1987. 'Hold Me Now' went on to hit the number 1 spot in Ireland and Belgium, and number 2 in the UK. The day after his historic second Eurovision win he spoke to Shane Kenny on the radio programme 'This Week'.

Johnny Logan holds the winning trophy aloft at the 32nd Eurovision Song Contest held in Brussels in 1987.