Ireland's first female entrant to the Eurovision Song Contest in 1969 finished in seventh place in a competition that saw four countries sharing 1st place.
The 14th Eurovision Song Contest took place in Madrid on 29 March 1969. Muriel Day represented Ireland with the song 'The Wages of Love' written by Michael Reade. The song was placed 7th in the competition out of 16 countries. Born in Newtonards, Co. Down, Muriel was the first woman to represent Ireland in the contest.
1969 was the first year that a tie-break situation occurred with France, Netherlands, Spain and the United Kingdom sharing the top position.
Ahead of the Eurovision Song Contest in Madrid, the RTÉ Guide featured a profile of each of the sixteen contestants. Muriel is described as
A lively, happy singer who pays as much attention to her appearance as to her singing, and she certainly had the vast majority of male viewers rooting for her in the national song contest.
RTÉ Guide 28 March 1969, p.4
According to the RTÉ Guide dated 4 April 1969, Muriel came in joint fourth place along with Belgium's Jennifer Jennings, taking into account the fact that four countries shared 1st place.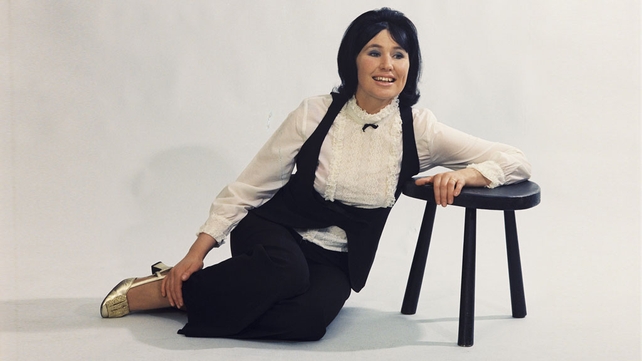 Ireland's First Female Entry to The Eurovision Song Contest, Muriel Day
| | |
| --- | --- |
| Title: | 1st Irish Woman Goes to Eurovision |
| Material Type: | Image |
| Clip Title: | Muriel Day is Ireland's 1st Female Eurovision Contestant |
| Local Keywords: | eurovision song contest, madrid, muriel day, 1969 |
| Coverage: | Ireland |
| Topic: | Arts and Culture |
| Publisher: | RTÉ |
| Production Year: | 1969 |
| Country of Production: | Ireland |
| Original Identifier: | 0024_037 |
| IPR Restrictions: | Rights Reserved - Free Access |
| Rights, Terms and Conditions: | Copyright RTÉ. This material may not be replicated in any form or manner without the prior express permission of RTÉ. Any form of reproduction in print, television, video, multimedia, web site or other electronic media or any form of dissemination for commercial or non-commercial use must be licensed by the RTÉ Archives. If you wish to licence video or audio clips, still images or text, or would like further guidance please contact us. RTÉ Archives are committed to respecting the copyright of others and have attempted to source and credit the copyright owners of all material used here. RTÉ would like to hear from any copyright owners who are not properly identified here so that the necessary corrections can be made. If you feel your copyright has not been respected please contact us. |
| Item Type: | part/extract |