The 37th Eurovision Song Contest was held on 9 May 1992 in Malmö, Sweden.
The winning song 'Why Me?' was written by Johnny Logan, who had won the Eurovision Song Contest in 1980 and 1987.
Linda Martin returned home to Ireland the day following the contest where she was met by RTÉ News at Dublin airport.
At Dublin airport Linda spoke to reporter Adrian Beattie about her win in Malmo. Linda is accompanied by Johnny Logan who states
This is the last time that I will take part in Eurovision. You will never see me in it again.
Linda Martin had previously represented Ireland at the Eurovision Song Contest in 1984 with the song Terminal 3, written by Johnny Logan and was placed second in the competition.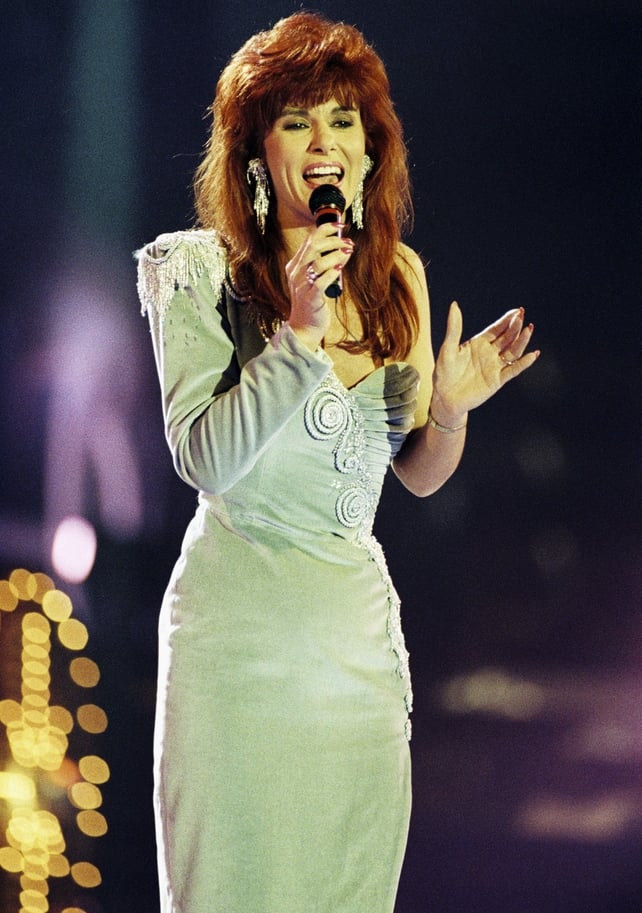 Linda Martin at Eurovision Dress Rehearsal (1992)
| | |
| --- | --- |
| Title: | Linda Martin Is Ireland's Fourth Eurovision Winner |
| Clip Duration: | 00:00:54 |
| Material Type: | Video |
| Clip Title: | Linda Martin Wins Eurovision with Why Me? |
| Series Title: | RTÉ News |
| Information: | An RTÉ News report by Adrian Beattie broadcast on 10 May 1992. Linda Martin had previously represented Ireland at the Eurovision Song Contest in 1984 with the song Terminal 3, written by Johnny Logan and was placed second in the competition. |
| Local Keywords: | eurovision song contest, malmo, dublin airport, linda martin, johnny logan |
| Coverage: | Ireland |
| Topic: | Arts and Culture |
| Contributor(s): | Adrian Beattie (Reporter) |
| Publisher: | RTÉ |
| First Broadcast Channel: | RTÉ One |
| Broadcast Date: | 10/05/1992 |
| Production Year: | 1992 |
| Country of Production: | Ireland |
| Original Identifier: | BN92/131 |
| IPR Restrictions: | Rights Reserved - Free Access |
| Rights, Terms and Conditions: | Copyright RTÉ. This material may not be replicated in any form or manner without the prior express permission of RTÉ. Any form of reproduction in print, television, video, multimedia, web site or other electronic media or any form of dissemination for commercial or non-commercial use must be licensed by the RTÉ Archives. If you wish to licence video or audio clips, still images or text, or would like further guidance please contact us. RTÉ Archives are committed to respecting the copyright of others and have attempted to source and credit the copyright owners of all material used here. RTÉ would like to hear from any copyright owners who are not properly identified here so that the necessary corrections can be made. If you feel your copyright has not been respected please contact us. |
| Item Type: | part/extract |
| Colour: | Colour |
| Sound: | Mono |
| Aspect Ratio: | 4:3 |
| Language: | English (eng) |
| Original Language: | English (eng) |