The 1993 Eurovision Song Contest took place in Millstreet, Co. Cork on 15 May.
This RTÉ News report by Colm Connolly and Tom McSweeney shows the preparations under way in Millstreet, Co. Cork in the week leading up to the event.
In 1993 Niamh Kavanagh represented Ireland with the song 'In Your Eyes' and went on to win the contest. This would be Ireland's fifth Eurovision victory. The United Kingdom's entry 'Better the Devil You Know' sung by Sonia was pipped at the post by Ireland's entry.
Millstreet, with a population of just 1,500, was the smallest town to ever host the Eurovision. The equestrian centre in the town was transformed, in what would be the largest outside broadcast ever undertaken by RTÉ. Hosting the event in such a small town with few amenities presented challenges for the national broadcaster requiring the very latest in television technology. This was the largest ever Eurovision set covering 2,500 square feet. The floor of the set was illuminated by 6,000 lighting strips.
Presenter Fionnuala Sweeney comments on what could potentially go wrong on the night. The shows Director, Anita Notaro also comments on the technical and logistical challenges, with her worst nightmare being that Ireland would win again. Designer Conor Cassidy also comments on the graphics being used for the event.
The contest was presented by Fionnuala Sweeney.
An RTÉ News report broadcast on 9 May 1993.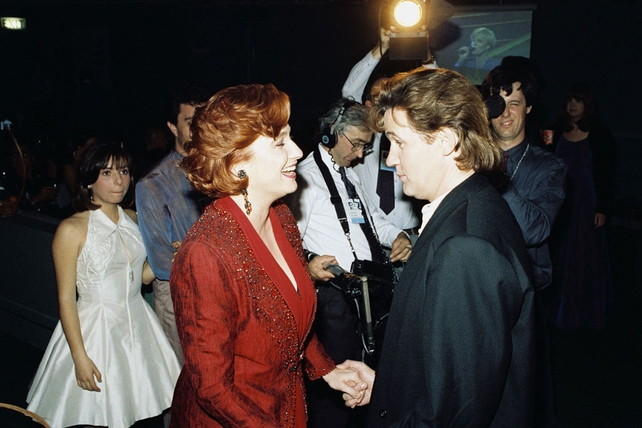 Johnny Logan congratulates Niamh Kavanagh (1993)