Linda Martin represents Ireland at Eurovision and wins with Terminal 3 written by previous winner Johnny Logan.
On 31 March 1984, Linda Martin won the National Song Contest. Linda was chosen following a regional vote to represent Ireland at the Eurovision Song Contest later that year singing the song 'Terminal 3'. The song was written by Seán Sherrard, better known as Johnny Logan.
As Gay Byrne announces the winner Linda is congratulated by Louis Walsh and Shay Healy amongst others. A cheque for £1,000 is presented to Johnny Logan by Niall McCarthy, Head of Light Entertainment and Drama at RTÉ.
The contest was broadcast live with Gay Byrne presenting and Tom McGrath producing and directing.
Linda came second in the Eurovision Song Contest which was held on 5 May 1984 in Luxembourg with Sweden taking the winning spot. Linda Martin went on to win the 1992 Eurovision Song Contest for Ireland with 'Why Me?', which was also written by Johnny Logan.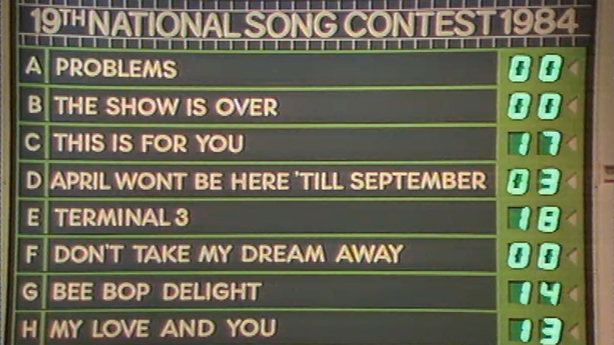 National Song Contest 1984