The interval act at the Eurovision Song Contest 1994 'Riverdance' wows the audience.
In 1994, Paul Harrington and Paul McGettigan won the Eurovision Song Contest for Ireland with 'Rock and Roll Kids'. However, it was the seven-minute interval act 'Riverdance' that stole the show.
'Riverdance', with music and lyrics written by Bill Whelan, mixed traditional and modern music, choral singing and Irish dancing, and presented them in a totally new way. Over 300 million European viewers were watching and from this interval act came 'Riverdance' the show.
In February 1995, the world premiere of 'Riverdance' the show was held at the Point Theatre, Dublin. 'Riverdance' went on to become an international commercial success around the world.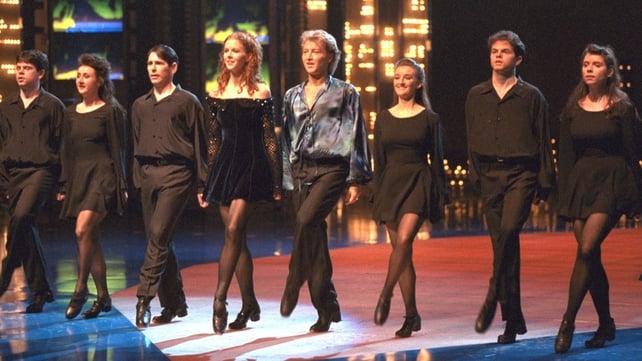 Jean Butler and Michael Flatley perform 'Riverdance' (1994)
The 1994 Eurovision Song Contest was presented by Cynthia Ní Mhurchú and Gerry Ryan.