Paul Harrington and Charlie McGettigan win for Ireland for 6th time and make Ireland the only country to have won 3-in-a-row.
In 1994 Paul Harrington and Charlie McGettigan won the Eurovision Song Contest with the song 'Rock n Roll Kids', making it Ireland's 6th win and third year in a row. Ireland was now the country with the record number of wins at Eurovision.
The winning song was composed by Brendan Graham.
The contest was held at The Point Depot in Dublin and was hosted by Cynthia Ní Mhurchú and Gerry Ryan.
This RTÉ News report from the day of the contest takes a look at preparations under way at the Point Depot ahead of the contest. 25 countries will compete for the title.
For the first time in the history of the contest, viewers will be able to see the juries. The European Broadcasting Union (EBU) Satellite will now transmit pictures from each of the 25 jury centres across Europe.
Charlie McGettigan comments ahead of the show, while sipping on a pint of Guinness
I don't think we're thinking about winning. We're just thinking about doing a good gig
Both Paul and Charlie chat to Colm Connolly about the possibility of winning. Liam Miller, Director of Television Programmes at RTÉ also comments on the importance of the Eurovision. Presenters Cynthia Ní Mhurchú and Gerry Ryan look forward to the task ahead.
What made the 1994 Eurovision even more spectacular was the reception received by the interval act 'Riverdance'. This was the first ever performance by the dance troop lead by Michael Flatley and Jean Butler.
An RTÉ News report by Colm Connolly broadcast on 30 April 1994.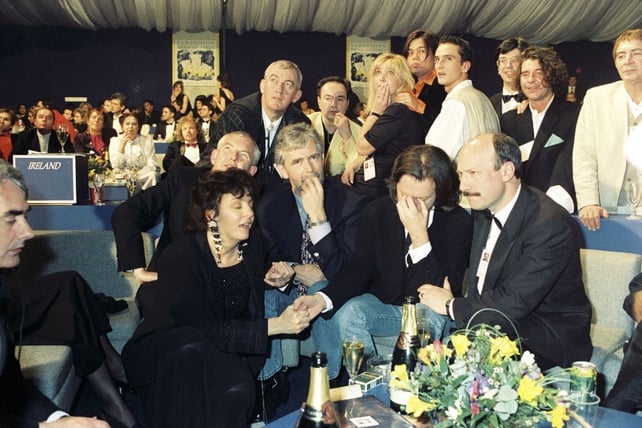 Irish Delegation during Eurovision Voting (1994)
| | |
| --- | --- |
| Title: | 6th Win for Ireland |
| Clip Duration: | 00:02:40 |
| Material Type: | Video |
| Clip Title: | Paul Harrington and Charlie McGettigan Win |
| Series Title: | RTÉ News |
| Information: | An RTÉ News report by Colm Connolly broadcast on 30 April 1994. |
| Local Keywords: | eurovision song contest, 1994, charlie mcgettigan, paul harrington, liam miller, colm connolly, cynthia ni mhurchu, gerry ryan |
| Coverage: | Ireland |
| Topic: | Arts and Culture |
| Contributor(s): | Colm Connolly (Reporter) |
| Publisher: | RTÉ |
| First Broadcast Channel: | RTÉ One |
| Broadcast Date: | 30/04/1994 |
| Production Year: | 1994 |
| Country of Production: | Ireland |
| Original Identifier: | BN94/120 |
| IPR Restrictions: | Rights Reserved - Free Access |
| Rights, Terms and Conditions: | Copyright RTÉ. This material may not be replicated in any form or manner without the prior express permission of RTÉ. Any form of reproduction in print, television, video, multimedia, web site or other electronic media or any form of dissemination for commercial or non-commercial use must be licensed by the RTÉ Archives. If you wish to licence video or audio clips, still images or text, or would like further guidance please contact us. RTÉ Archives are committed to respecting the copyright of others and have attempted to source and credit the copyright owners of all material used here. RTÉ would like to hear from any copyright owners who are not properly identified here so that the necessary corrections can be made. If you feel your copyright has not been respected please contact us. |
| Item Type: | part/extract |
| Colour: | Colour |
| Sound: | Mono |
| Aspect Ratio: | 4:3 |
| Language: | English (eng) |
| Original Language: | English (eng) |