The Eurovision Song Contest is in Dublin for the first time following Dana's win the previous year.
The production for the Eurovision Song Contest was one of the first home produced colour television programmes broadcast by RTÉ. Bernadette Ní Ghallchóir presented the show from Dublin's Gaiety Theatre.
RTÉ made significant investment in the technology required for colour television throughout the late 1960s and early 1970s. While the first colour transmission was broadcast in 1968, it took a further five years before colour television transmissions became a more regular event.
The introduction of colour technology came in stages for RTÉ beginning with sports and other events being taken from the Eurovision network. Investment in colourisation playback equipment allowed for colour transmission of home produced films and video productions. Finally, the studios and Outside Broadcasting Units were converted to full colour.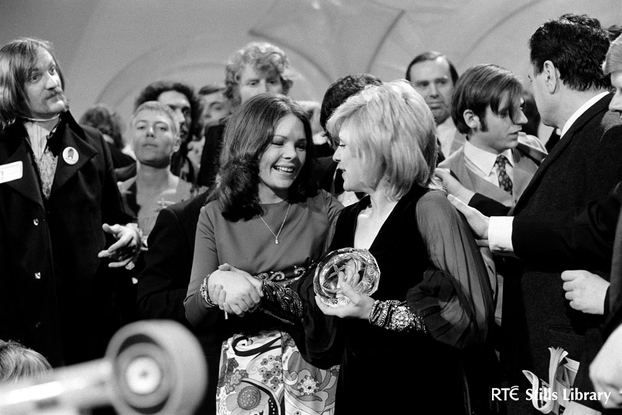 French singer Séverine (right), the winner of the 1971 Eurovision Song Contest
Angela Farrell represented Ireland in the contest with the song 'One Day Love' and came in eleventh place. The Eurovision Song Contest 1971 was won by Monaco with the artist Séverine singing 'Un Banc, Un Arbre, Une Rue".