Broadcaster Larry Gogan is one of many who have provided the commentary for RTÉ for the Eurovision Song Contest over the years.
Eurovision commentators on RTÉ over the years have included Jimmy Greeley, Gay Byrne, Ronan Collins, Pat Kenny, and Marty Whelan.
In 1981 the Eurovision Song Contest was held at the RDS in Dublin following Johnny Logan's win the previous year. The contest was hosted by Doireann Ní Bhriain. The United Kingdom won with the song 'Making Your Mind Up' performed by Bucks Fizz.
Bucks Fizz's performance included a dance routine where the two male members of the band, ripped the skirts off the two females to reveal mini-skirts underneath and is often described as one of the defining and memorable moments in Eurovision history.
Bucks Fizz are presented with the trophy by last year's winners, composer Shay Healy and singer Johnny Logan. Larry Gogan comments on Shay Healy's dress jacket which is covered in money symbols, which he got specially made to show how much money he had made out of composing a winning song for Eurovision.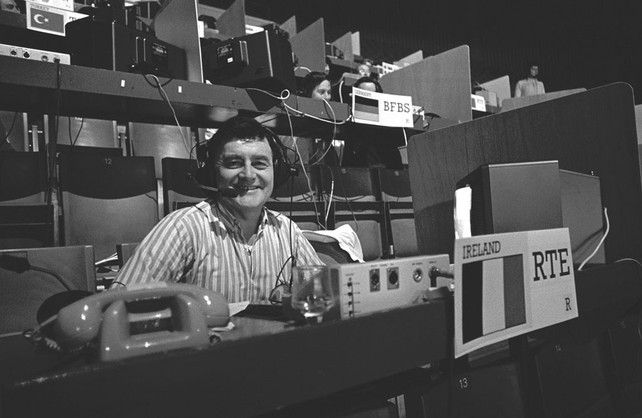 Larry Gogan in Commentator's Box at Eurovision in Gothenburg, Sweden (1985)
| | |
| --- | --- |
| Title: | Larry Gogan on Bucks Fizz |
| Clip Duration: | 00:06:24 |
| Material Type: | Video |
| Clip Title: | Larry Gogan Commentates on Bucks Fizz |
| Local Keywords: | eurovision song contest, larry gogan, bucks fizz, Johnny Logan, shay healy, 1981 |
| Coverage: | Ireland |
| Topic: | Arts and Culture |
| Contributor(s): | Doireann Ní Bhriain (Presenter), Larry Gogan (Commentator) |
| Publisher: | RTÉ |
| First Broadcast Channel: | RTÉ One |
| Broadcast Date: | 04/04/1981 |
| Production Year: | 1981 |
| Country of Production: | Ireland |
| Original Identifier: | LX1340 |
| IPR Restrictions: | Rights Reserved - Free Access |
| Rights, Terms and Conditions: | Copyright RTÉ. This material may not be replicated in any form or manner without the prior express permission of RTÉ. Any form of reproduction in print, television, video, multimedia, web site or other electronic media or any form of dissemination for commercial or non-commercial use must be licensed by the RTÉ Archives. If you wish to licence video or audio clips, still images or text, or would like further guidance please contact us. RTÉ Archives are committed to respecting the copyright of others and have attempted to source and credit the copyright owners of all material used here. RTÉ would like to hear from any copyright owners who are not properly identified here so that the necessary corrections can be made. If you feel your copyright has not been respected please contact us. |
| Item Type: | part/extract |
| Colour: | Colour |
| Sound: | Mono |
| Aspect Ratio: | 4:3 |
| Language: | English (eng) |
| Original Language: | English (eng) |