Charlie Bird reports from the RDS Simmonscourt where preparations are under way for the 1981 Eurovision Song Contest.
For RTÉ staff this is the biggest ever single setting outside broadcast costing over £250,000.
The lighting requirement on the night will be 1.25 million watts. The venue will seat over 1,400 guests. Executive Producer of the show, Noel Greene, speaks to Charlie Bird about the challenges of staging an event of this proportion. Greene says that the biggest problem was finding a suitable venue for the show that could host the audience, media and production crews saying,
You need a massive space
It is estimated that between 400 and 500 million viewers around the world will see the show on the night.
This report shows a model of the set that is being built and is based on the Celtic Torc. The set was designed by RTÉ Head Designer Michael Grogan.
An RTÉ News report by Charlie Bird broadcast on 23 March 1981.
The 1981 Eurovision Song Contest took place on 4 April 1981 at the Simmonscourt Pavillion in the RDS, Dublin. The show was presented by Doireann Ní Bhriain.
Ireland was represented by Sheeba who performed the song 'Horoscopes' coming in fifth place. The United Kingdom won the 1981 contest with Bucks Fizz performing 'Making Your Mind Up'.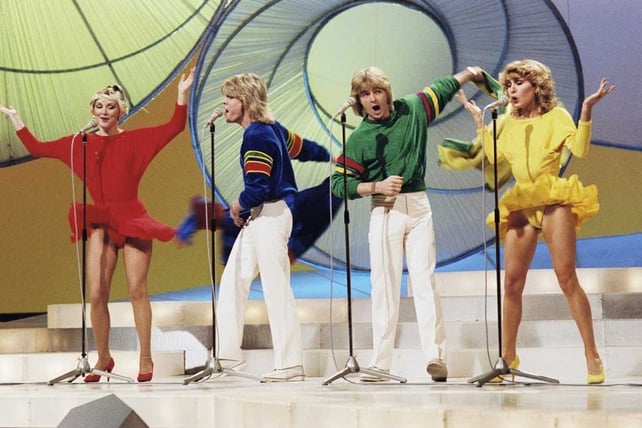 Bucks Fizz Eurovision Winners (1981)