The brightest comet to enter our solar system in over 4,000 years.
The Hale Bopp Comet will be at its brightest and closest to the earth tonight. This is the moment that astronomers around the world have been waiting to see for two years.
The biggest, brightest and most active comet to visit this solar system in our lifetime.
A 25 mile wide ball of ice and dust was discovered by two American astronomers, Alan Hale and Thomas Bopp in 1995. Since its discovery, scientists have been waiting to observe it in detail. As the comet passes the sun, the heat causes the frozen surface to vaporise leaving behind a trail of gas and dust particles that can form a tail millions of miles long.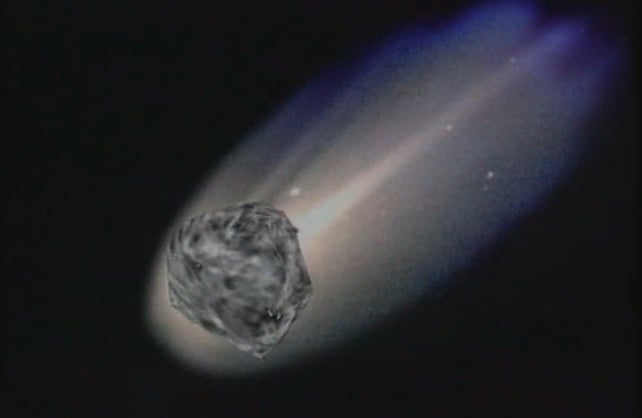 Hale Bopp Comet
William Dumpleton of the Dunsink Observatory in Dublin says
It should make a spectacular object in the night sky.
The comet should be visible between 8.00 and 10.00 pm over the north-western horizon and early in the morning between 4.30 and 5.00 am on the north-eastern horizon.
Gerald Fleming of Met Éireann believes the prospects of seeing the comet in the night sky over Ireland are quite good.
As the comet has not been seen for over 4,000 years, reporter Anne Marie Smyth points out that
You're seeing the same sight as the ancient Egyptians saw when they were building the pyramids.
An RTÉ News report broadcast on 22 March 1997. The reporter is Anne Marie Smyth.