Alleged repeated sightings of a UFO in Carrick-on-Suir.
Following reported sightings of a UFO in Mullinahone, Carrick-on-Suir in 1969, 'Newsbeat' visits the area and meets some of the locals who claim to have witnessed these extraterrestrials.
Reporter Cathal O'Shannon meets Kathleen and John Shelly, and Ellen O'Donnell from Carrick-on-Suir, who all claim to have seen a UFO. John Shelly describes the hovering mass of light that they witnessed as they drove along the road.
It looked like a cloud with two lights shining out of it but they weren't flashing on and off as you would see in an aeroplane.
Frightened of what she had seen as the object descended from the sky, Kathleen remained in the car as John investigated further before being beckoned back to the car by his wife. They discuss possible alternatives to what it might have been, possibly a meteorological balloon or bog mist. John Shelly is keeping an open mind.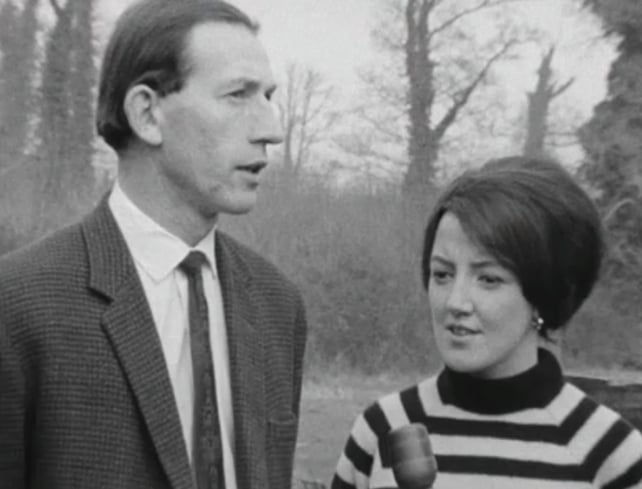 Kathleen and John Shelly (1969)
The Shelly's were not the only ones to make claims of this odd sighting. An hour and a half after the Shelly's claim to have seen this strange object Ellen O'Donnell was on her way home with her boyfriend Teddy when she says she witnessed a similar sighting. Frightened by what she had seen she jumped into Terry's arms.
The Shelly's claim to have seen the unidentified object in a field next to the Mullinahone Creamery. Cathal O'Shannon joins Eddie Bergin, the South Tipperary Civil Defence Officer, and his assistant Eddie O'Neill as they check the field with geiger counters for possible signs of residual radiation. However, there were no signs of radiation found.
This 'Newsbeat' report was broadcast on 26 February 1969.
| | |
| --- | --- |
| Title: | UFO In Mullinahone |
| Clip Duration: | 00.07.38 |
| Material Type: | Video |
| Clip Title: | Unidentified Flying Object |
| Series Title: | Newsbeat |
| Information: | This episode of Newsbeat was broadcast on 26 February 1969. 'Newsbeat' was a half-hour feature programme presented by Frank Hall and ran for 7 years from September 1964 to June 1971. 'Newsbeat' went out from Monday to Friday on RTÉ television and reported on current affairs and issues of local interest from around Ireland. The final programme was broadcast on the 11 June, 1971. |
| Local Keywords: | Tipperary, Mullinahone, UFO, extraterrestrials, Kathleen Shelly, John Shelly, Eddie Bergin, Eddie O'Neill |
| Coverage: | Ireland |
| Topic: | Environment and Nature |
| Contributor(s): | Cathal O'Shannon (Reporter) |
| Publisher: | RTÉ |
| First Broadcast Channel: | Telefís Éireann |
| Broadcast Date: | 26/02/1969 |
| Production Year: | 1969 |
| Country of Production: | Ireland |
| Original Identifier: | P177/00069 |
| IPR Restrictions: | Rights Reserved - Free Access |
| Rights, Terms and Conditions: | Copyright RTÉ. This material may not be replicated in any form or manner without the prior express permission of RTÉ. Any form of reproduction in print, television, video, multimedia, web site or other electronic media or any form of dissemination for commercial or non-commercial use must be licensed by the RTÉ Archives. If you wish to licence video or audio clips, still images or text, or would like further guidance please contact us. RTÉ Archives are committed to respecting the copyright of others and have attempted to source and credit the copyright owners of all material used here. RTÉ would like to hear from any copyright owners who are not properly identified here so that the necessary corrections can be made. If you feel your copyright has not been respected please contact us. |
| Item Type: | part/extract |
| Colour: | Black and White |
| Sound: | Mono |
| Aspect Ratio: | 4:3 |
| Language: | English (eng) |
| Original Language: | English (eng) |