Rutland Street was once an affluent part of north inner city Dublin. Now the area has a reputation of being one of the tougher areas of the city.
The cramped living conditions in the Foley Street and Corporation Place flats, known locally as 'the cage', have brought about a concentration of social problems. Few children in this area finish primary school.
Rutland Street National School is an old building with poor facilities. Four months ago the toilets were smashed by vandals and as a result the children could only attend school for two hours per day. Mrs Christine Mulhall who lives in a Foley Street flat sees no reason to send her children to Rutland Street National as she feels they are not getting a fair deal there.
Official attention is now being paid to the area and an educational experiment has also been set up by the Department of Education with the help of the Bernard van Leer Foundation of Holland. A pre-school for 180 children aged 3-5 years has been established in bright and informal surroundings. It is hoped that proper preparation for the children will help beat the failure rate at the local school.
We are concentrating a lot on pre-number, pre-reading and pre-writing activities for them so that they won't be handicapped when the time comes to go to school.
Eventually 400 pupils will be educated here before attending a new junior school which is being built in the grounds of Rutland Street National School.
A 'Newsbeat' report broadcast on 27 January 1971. The reporter is Michael Ryan.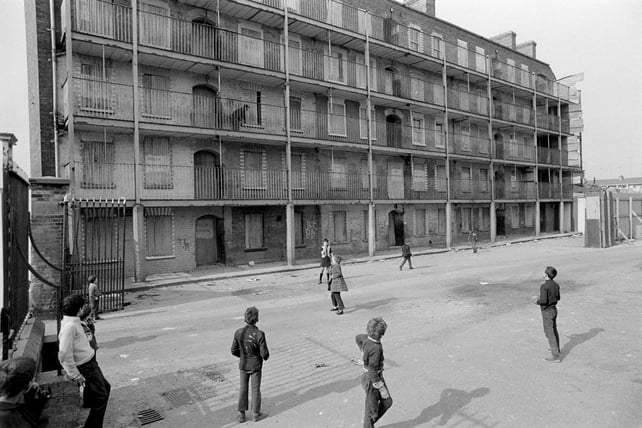 Corporation Place in 1972