The family life, school days and further education that helped to shape Patrick Pearse.
Ruth Dudley Edwards, biographer of Patrick Pearse, traces his life from the early years to the events of the 1916 rising. Ruth Dudley Edwards began her research into Patrick Pearse in the early 1960s reading everything that had been published but found little that was not based on hearsay. There were only half a dozen letters written by Pearse himself available.
Senator Margaret Pearse, Patrick's surviving sister, and others did not admit to having any of his papers and Ruth Dudley Edwards gave up her search.
By the early 1970s, as many of those who had witnessed the Easter Rising had died and the commemorations documents began to appear and Ruth Dudley Edwards reopened her research into Patrick Pearse.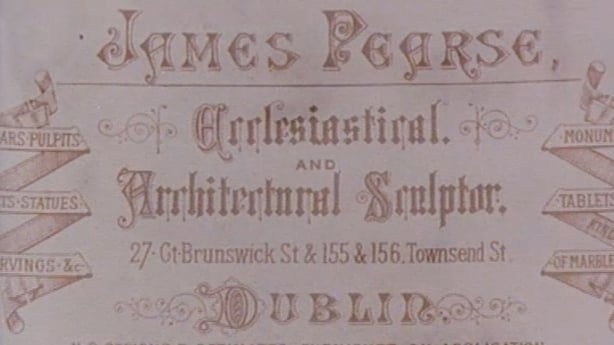 James Pearse
Patrick Pearse's father James was born in London in 1839 into a poor artisan family. They subsequently moved to Birmingham and at the age of eight, he was sent to work in a chain factory. He hated his job and took evening classes in drawing to become a sculptor's apprentice. As a teenager, James Pearse, now a qualified stonemason came to Dublin to decorate the churches that were springing up in the wake of Catholic emancipation. By the age of 35, he was a widowed father of two children and a small but growing business. He found a new wife in shopkeeper Margaret Brady.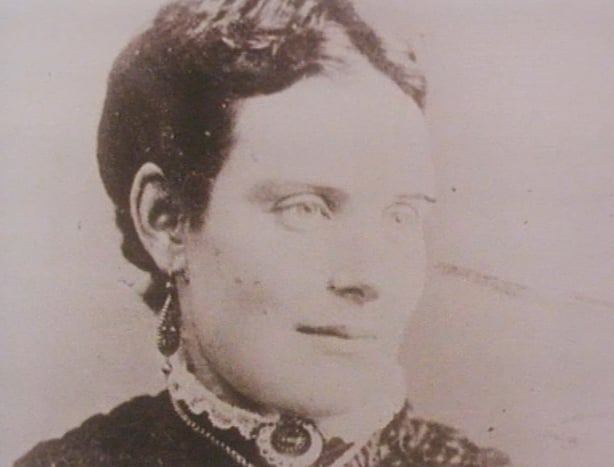 Margaret Brady
Ruth Dudley Edwards found the remnants of Pearse's library in the Board of Works. The collection displays his array of interests and his determination to overcome his disadvantaged upbringing. Following the death of his daughter Margaret, his private papers were released providing further insight into the man as a Catholic convert.
He was a self-made man in the best Victorian tradition.
Research into James Pearse provides a picture of the man that his son Patrick loved, admired and emulated in so many ways.
Patrick was never ashamed of being the son of a Brit. He recognised his virtues too well.

In Patrick Pearse's autobiography, published by his sister Mary Brigid Pearse in 1935, he wrote movingly about the circumstances in which is parents were born into and the way they struggled out of them to make a better life for themselves.
When James and Margaret married, they lived above her shop at 27 Great Brunswick Street (now Pearse Street) with James's two children by his first marriage and four more together - Margaret, Patrick, Willy, and Mary Brigid all born between 1878 and 1884. When the stepchildren married and left, the young family moved to the suburbs. Patrick was sent to a private school and then on to the Christian Brothers on Westland Row. The family returned to live again over the shop on Great Brunswick Street. However, the children did not mix or play with the local children. Instead, they played together in their garden. This sense of isolation led Patrick to take refuge in a world of fantasy.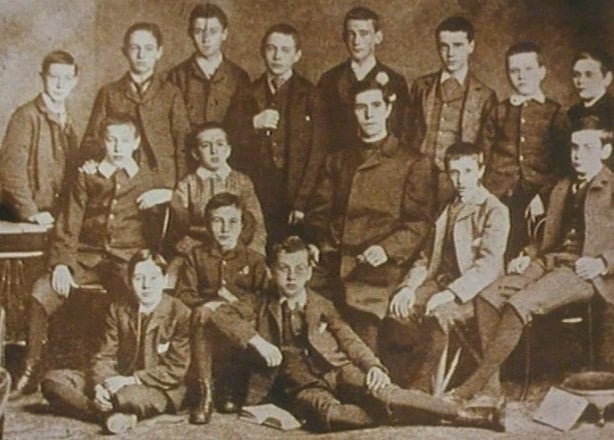 Patrick Pearse at the Christian Brothers on Westland Row
Patrick was cosseted by his devoted mother, admired by his sisters and brother, and indulged by his father.
Patrick Pearse spent a lot of time reading and listening to stories of Gaelic myth and legend.
In 1891, at the age of eleven, Patrick and his brother Willy started school at the Christian Brothers on Westland Row. Patrick read widely at school in both Irish and English. In 1896, he passed the Senior Grade Intermediate, the equivalent of the Leaving Certificate. He described himself as
A respectable but not a brilliant student.
Too young to go to university Patrick Pearse wanted to keep up his interest in literature and founded the New Ireland Literary Society. He later dissolved the society to throw his energies into the Gaelic League where he met with men like Douglas Hyde, Eoin MacNeill, and Dr Michael Patrick O'Hickey.
The studious, introverted, petit bourgeoise seventeen-year-old, fresh from suffocating school and home was to meet men whose names he had only read of.
Like Pearse, these people believed that the most important objective was the revival of the Irish language and its literature.
In 1898, Patrick Pearse enrolled as a student at the Royal University and at the King's Inn. In the same year, he became a member of the central committee of the Gaelic League.
'Insight: Patrick Pearse 1879-1916' was broadcast on 13 November 1979. The programme is presented by Ruth Dudley Edwards.