There were two big shocks at the Oscars in Hollywood on Sunday night as Olivia Colman won Best Actress for her role in Irish co-production The Favourite, and Green Book saw off the challenge of the much-fancied Roma to take Best Picture.
Colman's Best Actress win for The Favourite was the sole award for the dark comedy, which had tied with Roma for the most nominations, ten. On the night in Hollywood's Dolby Theatre, Freddie Mercury biopic Bohemian Rhapsody was the biggest winner with four awards, including Best Actor for star Rami Malek. 
Colman's Best Actress win was a shock because most expected Glenn Close - a seven-time Oscar nominee - to finally take home the award for her performance in The Wife. 
Olivia Colman wins and calls out her "idol" Glenn Close at the #oscars: https://t.co/T3YCU1WzbB pic.twitter.com/Svr7Sr0T0q

— Hollywood Reporter (@THR) February 25, 2019
Colman paid tribute to her fellow nominees, hailing them as "extraordinary women" and describing Close as her "idol for so long". 
Best Picture winner Green Book has divided audiences: loved by many for its warmth, criticised by others for being too simplistic and for what they see as a 'white saviour' narrative. But Green Book won the Producers' Guild award in January, and the guild's winner had gone on to take the Best Picture Oscar on 20 occasions since 1990.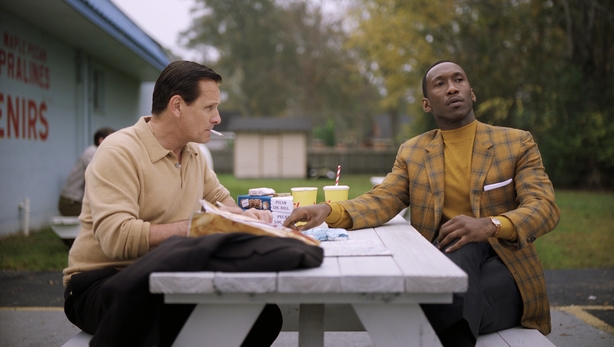 So it proved on Sunday night, with the Best Supporting Actor (Mahershala Ali) and Screenplay awards also going the way of the 1960s-set road movie.
Rami Malek's Best Actor win for his portrayal of Queen frontman Freddie Mercury in Bohemian Rhapsody rounded off a great night for the crowd-pleasing musical drama, which also took three awards in the technical categories. Accepting his Oscar, Malek said: "I may not have been the obvious choice, but I guess it worked out."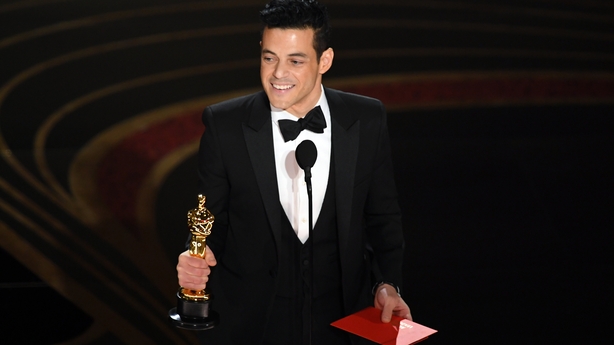 Roma won Best Director and Best Foreign Language Film, with its director Alfonso Cuarón also picking up the Cinematography Oscar for his work on the semi-autobiographical family drama.
Cuarón's cinematography win meant disappointment for The Favourite's Oscar-nominated Irish cinematographer, Robbie Ryan. The black comedy also lost out on Best Original Screenplay to Green Book.
Accepting his Foreign Language Film Oscar, Roma director Cuarón said: "I grew up watching foreign language films and learning so much from them, like Citizen Kane, Jaws, The Godfather."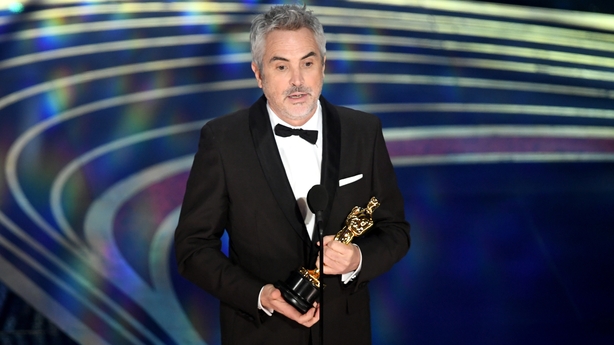 Lady Gaga became an Oscar winner when she shared the Academy Award for Best Original Song for Shallow from A Star is Born. In tears, Gaga told the audience: "It's not about winning, but what it's about is not giving up. If you have a dream, fight for it."
An #oscars winner is born. @LadyGaga thanks Bradley Cooper in her Best Original Song speech: "There is not a single person on the planet that could sing this song but you." https://t.co/s33NYiYKqy pic.twitter.com/CMz3MOzbgR

— Hollywood Reporter (@THR) February 25, 2019
Paying tribute to director and co-star Bradley Cooper, Gaga said: "Bradley, there is not a single person who could have sang this song with me but you. Thank you for believing in me."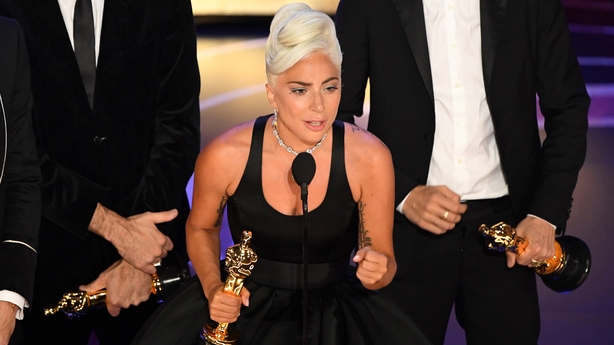 If Beale Street Could Talk star Regina King was the first winner of the night, winning Best Supporting Actress. "I'm an example of what it looks like when support and love is poured into someone," said an emotional King while accepting her first Academy Award.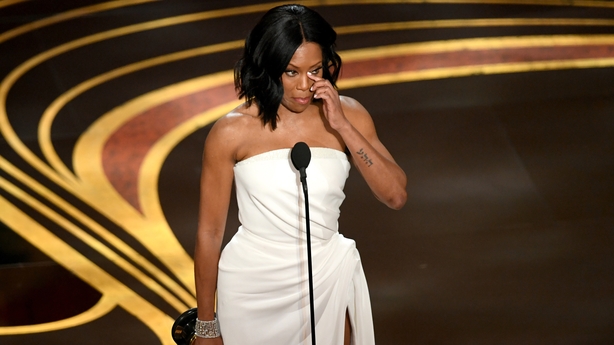 Green Book star Mahershala Ali was named Best Supporting Actor. The award was Ali's second Best Supporting Actor win in three years; he also won for Moonlight in 2017.
In one of the most touching moments of the night, Ali dedicated his win to his grandmother, saying she "has been in my ear my entire life, telling me if I don't at first succeed, try, try again … always pushing me to think positively. She has got me over the hump every step of the way". 
Mahershala Ali dedicates his win to his grandmother, "telling me that if at first I don't succeed, try, try again. I can do anything I put my mind to." https://t.co/JMSVfr5VhY #oscars pic.twitter.com/LDOUrNuFZ7

— Hollywood Reporter (@THR) February 25, 2019
There was joy for BlacKkKlansman director Spike Lee - an honorary Oscar winner in the past - who won his first competitive Oscar with the award for Best Adapted Screenplay.
He jumped into the arms of friend and award presenter Samuel L Jackson, and used his speech to urge people to mobilise ahead of the 2020 presidential election in the US.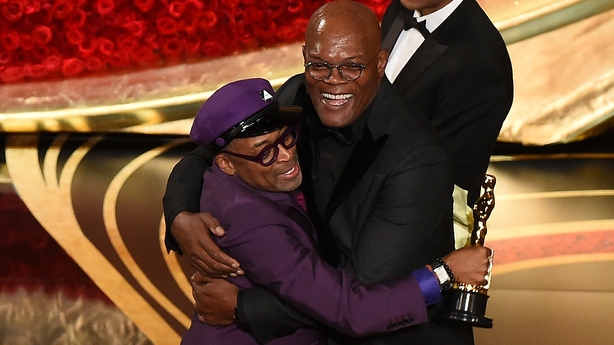 Marvel adventure Black Panther (Costume Design, Production Design, Original Score), Spider-Man: Into the Spider-Verse (Animated Feature) and climbing film Free Solo (Feature Documentary) were also among the winners.
Well said, @iamRuthECarter pic.twitter.com/jT89vEMM8z

— The Academy (@TheAcademy) February 25, 2019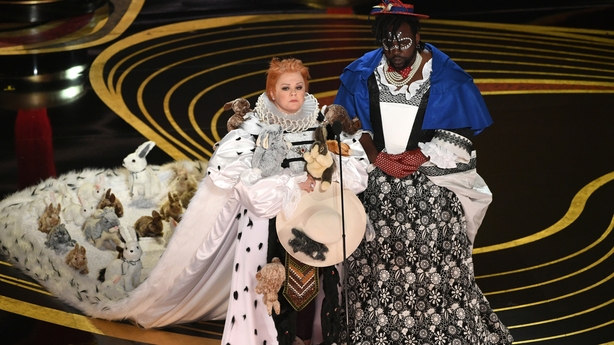 The Irish animation Late Afternoon from Kilkenny's Cartoon Saloon lost out on Best Animated Short to Disney Pixar's Bao. The controversial Irish short Detainment, which is based on the police transcripts from the James Bulger case, lost out to Skin in the Best Live Action Short category. 
Queen + Adam Lambert opened the show, which had no main presenter after the intended host, Kevin Hart, stepped down when offensive tweets, originally posted between 2009 and 2011, resurfaced. 
The Oscars are on RTÉ2 on Monday night from 9:30pm - and the speeches are limited to 90 seconds.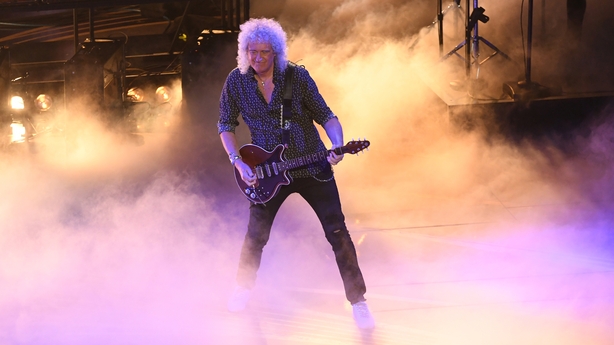 The Winners:
Best Picture
Green Book
"Green Book" has won the 2019 Oscar for Best Picture.

"The whole story is about love. It's about loving each other despite our differences, and finding out the truth about who we are. We're the same people." #Oscars https://t.co/zSrvQG8ZE6 pic.twitter.com/CVEWkboxPK

— ABC News (@ABC) February 25, 2019
Best Director
Alfonso Cuarón - Roma
Best Director winner @alfonsocuaron thanks the #Oscars "for recognizing a film centered around an indigenous woman...As artists, our job is to look where others don't." https://t.co/WrVFTT3sYS pic.twitter.com/WlX9v4NQhM

— Hollywood Reporter (@THR) February 25, 2019
Best Actress
Olivia Colman - The Favourite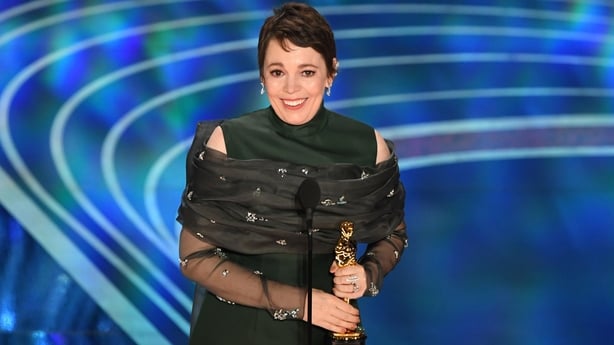 Best Actor
Rami Malek - Bohemian Rhapsody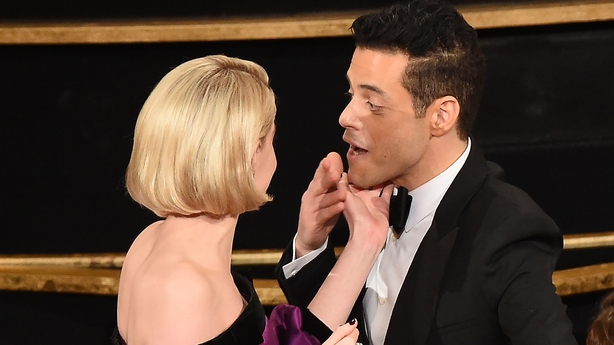 Best Supporting Actress
Regina King - If Beale Street Could Talk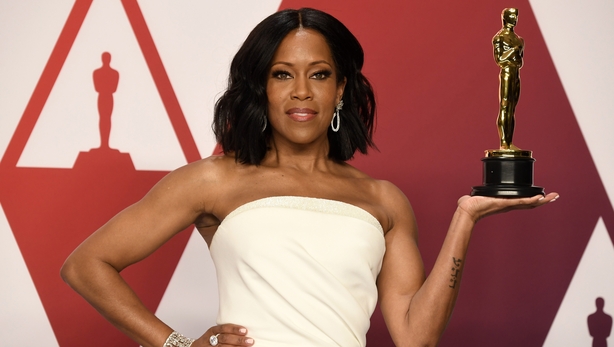 Best Supporting Actor
Mahershala Ali - Green Book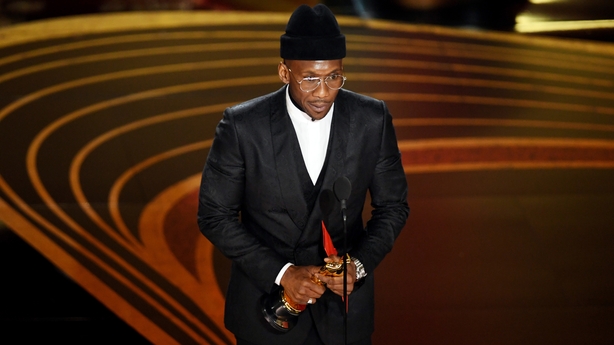 Best Foreign Language Film
Roma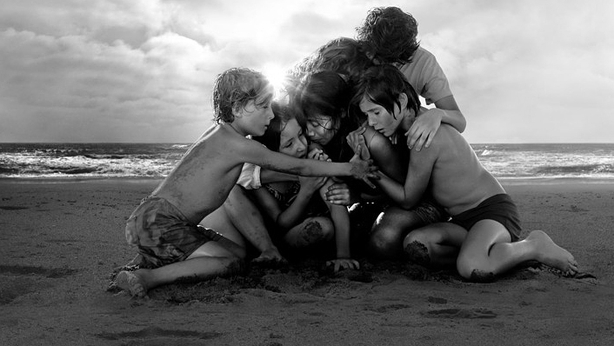 Best Animated Feature
Spider-Man: Into the Spider-Verse (Bob Persichetti, Peter Ramsey, Rodney Rothman, Phil Lord, Christopher Miller)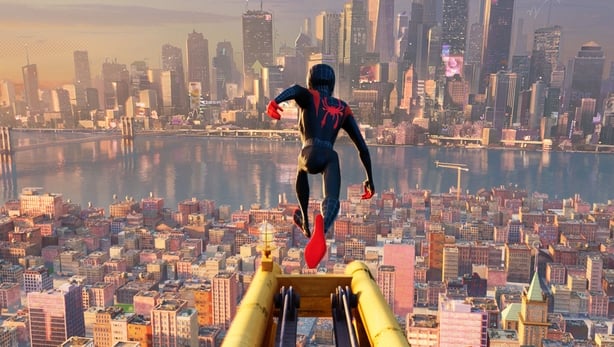 Best Documentary Feature
Free Solo (Elizabeth Chai Vasarhelyi, Jimmy Chin, Evan Hayes, Shannon Dill)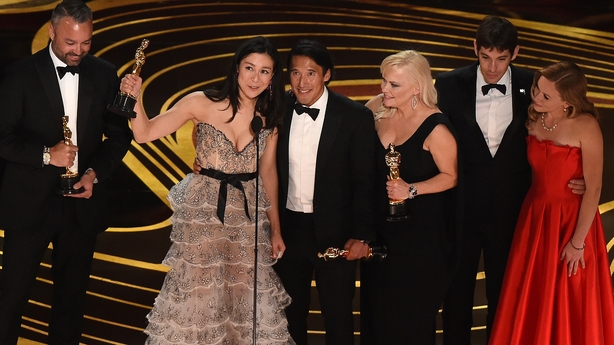 Best Original Screenplay
Green Book (Nick Vallelonga, Brian Hayes Currie, Peter Farrelly)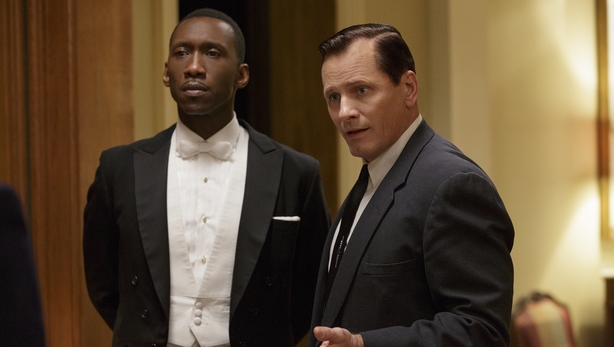 Best Adapted Screenplay
BlacKkKlansman (Charlie Wachtel, David Rabinowitz, Kevin Willmott, Spike Lee)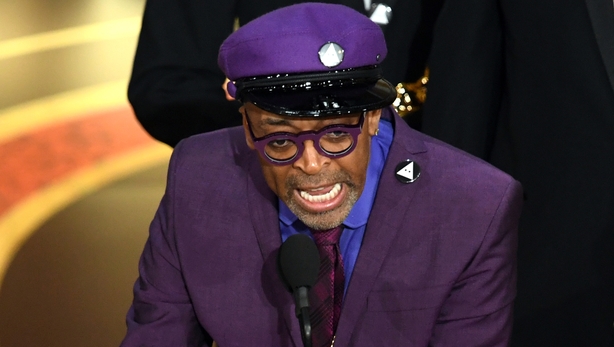 Best Documentary Short 
Period. End of Sentence. (Rayka Zehtabchi, Melissa Berton)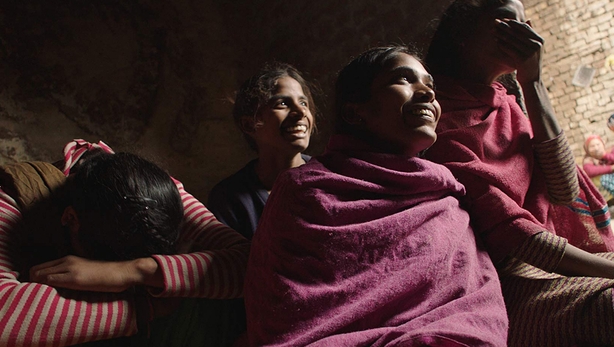 Best Live Action Short
Skin (Guy Nattiv, Jaime Ray Newman) 
Best Animated Short 
Bao (Domee Shi, Becky Neiman)
Best Cinematography
Roma (Alfonso Cuarón)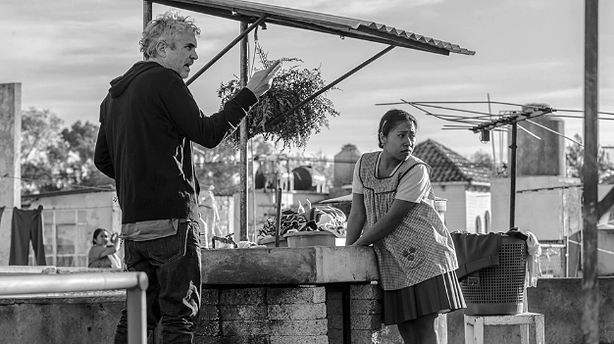 Best Original Score
Black Panther (Ludwig Göransson)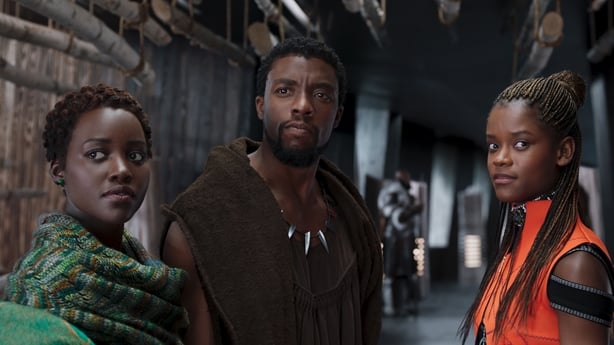 Best Original Song
Shallow from A Star is Born (Lady Gaga, Mark Ronson, Anthony Rossomando, Andrew Wyatt)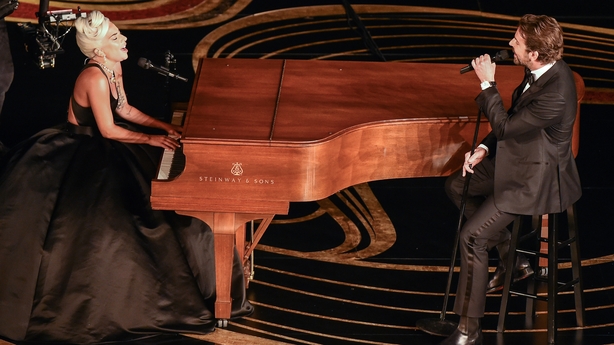 Best Makeup and Hairstyling
Vice (Greg Cannom, Kate Biscoe, Patricia Dehaney)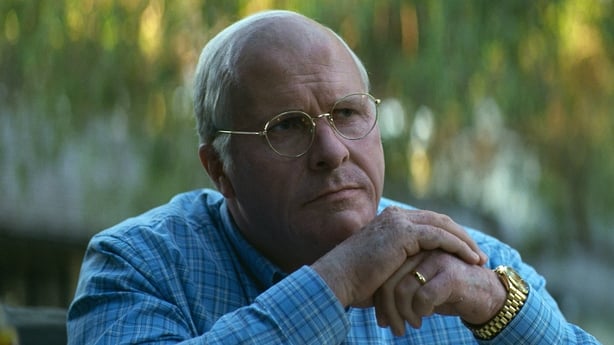 Best Costume Design
Black Panther (Ruth Carter)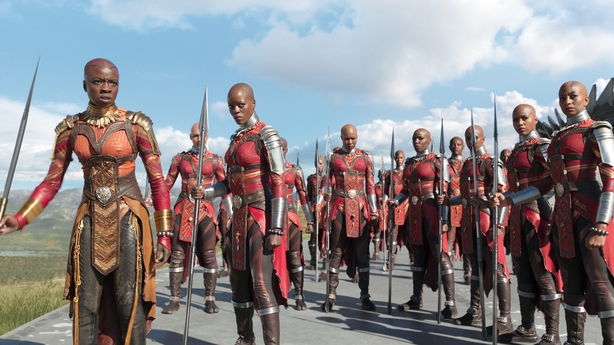 Best Production Design
Black Panther (Hannah Beachler, Jay Hart)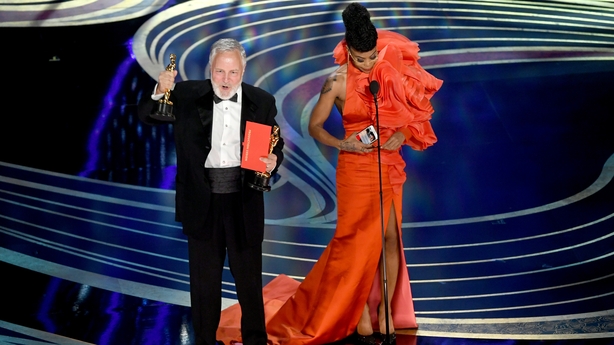 Best Sound Editing
Bohemian Rhapsody (John Warhurst, Nina Hartsone)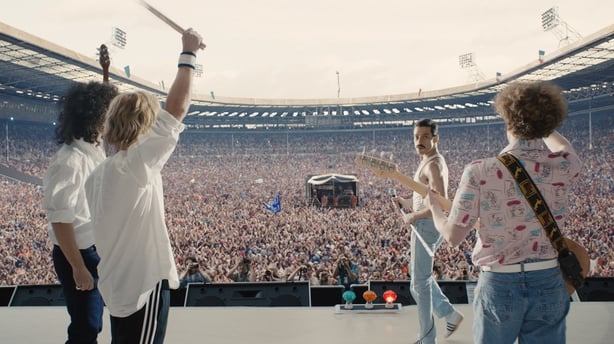 Best Sound Mixing 
Bohemian Rhapsody (Paul Massey, Tim Cavagin, John Casali)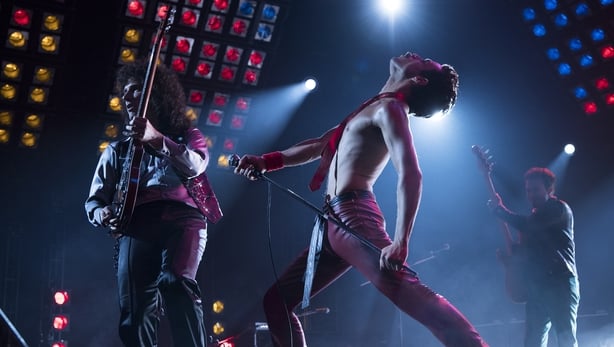 Best Film Editing
Bohemian Rhapsody (John Ottman)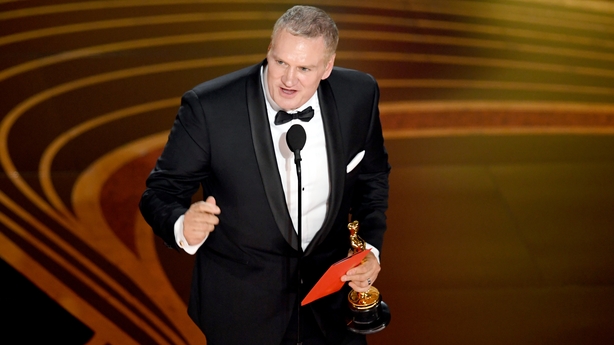 Best Visual Effects
First Man (Paul Lambert, Ian Hunter, Tristan Myles, JD Schwalm)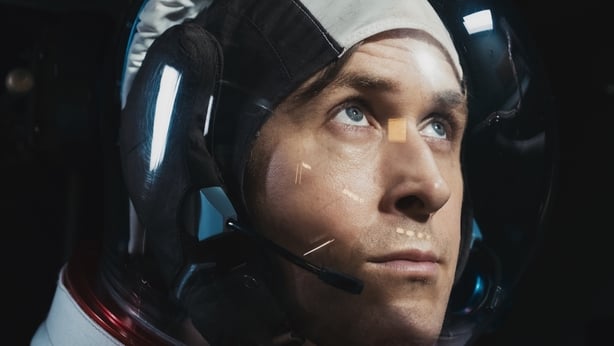 Check out the best moments at this year's Oscars here, and take a look at our red carpet gallery here.