The long-awaiting Queen biopic is a lot like the fall of the Roman Empire as written by Enid Blyton
With music as good as this, Bryan Singer's beleaguered Queen biopic was never going to be a complete disaster, was it? Well, yes and no.
It cruises along in a mix of sheer spectacle and tragic comic storytelling with a soundtrack of pomp rock classics, tongue in cheek decadence, and cartoon machismo for sure but even before the film's release, there has been much premature criticism of how Mercury's notoriously tangled personal life has been portrayed.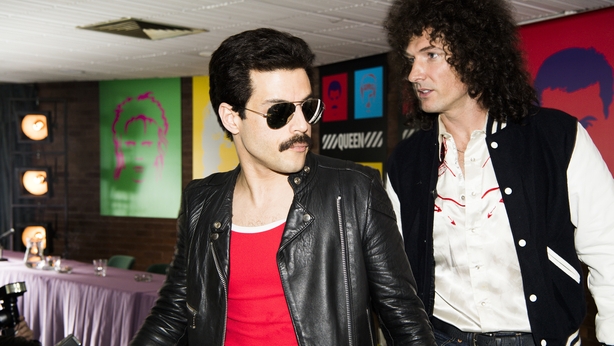 The film wears its 12A cert rather sheepishly and maybe Brian May and Roger Taylor credits as co-producers has a lot to do with that.
However, you cannot fault Mr. Robot star Rami Malek's impersonation of the man. He has perfected Mercury's plumy drawl and stage persona and while the prosthetic he wears for that pronounced overbite looks ridiculous in the pre-moustache era, he settles into the role as the film progresses. Mercury's high camp and imperious fabulousness really do come to life here.
We need your consent to load this YouTube contentWe use YouTube to manage extra content that can set cookies on your device and collect data about your activity. Please review their details and accept them to load the content.Manage Preferences
A similar sense of eerie resemblance applies to Gwilym Lee as Brian May, the diffident student of astrophysics who sounded like he was exploring space with his guitar, and Joseph Mazzello, who looks uncannily like bassist John Deacon.
The film went through a laboured birth with Sacha Baron Cohen departing the leading role over artistic differences and Singer being replaced by Dexter Fletcher toward the end of the shoot. Perhaps that explains the movie's episodic nature and why it falls all too easily into the usual rhythms and clichés of the rock biopic.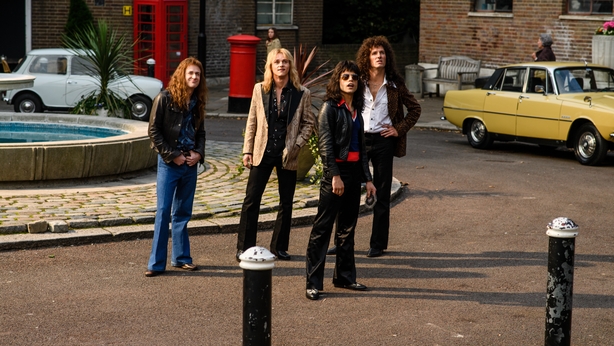 Key events and key songs are covered: The composition of We Will Rock You; MTV's squeamishness about the video for I Want to Break Free . . . However, the band's massive success as a global touring juggernaut is covered in a series of glitzy montages which don't even have the smarts or good grace to send themselves up or attempt to capture the madness of the life on the road.
We first see Mercury as Farrokh Bulsara, the Parsi Indian from Zanizibar, working as a baggage handler in Heathrow and harbouring dreams of rock stardom under the disapproving eye of his strict but not zealous father. Freddie meets the nascent Queen performing in a London club night in 1970 and once he inveigles his way in, the Mercury legend is born with undue haste in a series of rise to top scenes that have a faint whiff of a very bad seventies TV movie.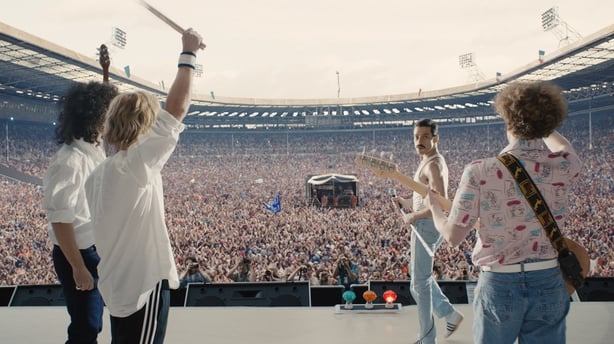 In the age old battle of art versus commerce, Aiden Gillen is merely present as raptor-like manager John Reid, Tom Hollander is wily accountant Jim "Miami" Beach, and Mike Myers (an actor who knows Bohemian Rhapsody all too from Wayne's World) is unrecognisable as EMI executive Ray Foster.
Freddie's relationship with former fiancée and lifelong friend Mary Austin (a very good Lucy Boynton) is handled well and she becomes the one constant in his life as darker influences close in, hangers on circle and fame and success lead to self destruction and self delusion.
The film is book-ended by Queen's fabled Live Aid performance in July 1985 and while most of the portrayals of actual events here are vaguely naff, Singer's decision to recreate the full twenty minute performance at Wembley Stadium as a hyperrealistic concert film within a movie is where Bohemian Rhapsody packs a real emotional punch.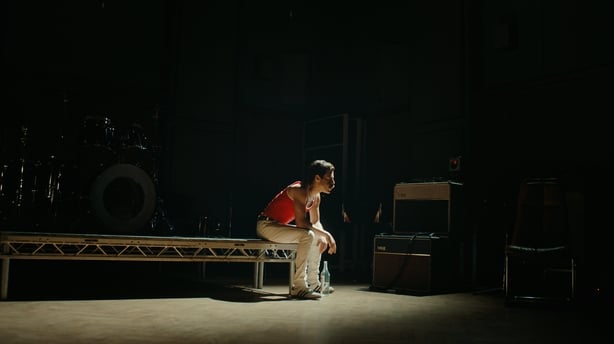 There have been far better rock biopics about less successful and less famous acts, off the wall Ian Dury biopic Sex and Drugs and Rock `n' Roll being one, but for every sanitised scene that looks like the fall of the Roman Empire as written by Enid Blyton, Bohemian Rhapsody does give us some full-blooded performances of rock flamboyance.
Stripped, as it were, of dwarfs with platters of cocaine balanced on their heads during scenes of Babylonian madness and homoerotic excess in clubs all over the world, it is a rather clean and sober telling of one of the great rock performers.
Not quite guaranteed to blow your mind. However, it does have emotional heft and that extended Live Aid scene is worth it alone.
Alan Corr @alancorr