Conquering El Capitan, 3,200 feet of sheer rock in Yosemite National Park in the US, is the ultimate quest for free climber Alex Honnold, as documented in this captivating National Geographic film. If Honnold succeeds, he will have managed what is arguably the greatest feat in rock climbing history.
Alex is obsessed with so-called 'free climbing' - climbing without ropes or safety harness - a particularly dangerous sport which has cost the lives of quite a few climbers. Some of the names of those who have died are recorded in this absorbing new film, which you should not attend if you suffer from severe vertigo. Or maybe yes, in fact - go and face your fear.
The odds are that the somewhat opaque subject of the film will lose his life if he keeps devising gruelling challenges for himself, such as scaling El Capitan. It is dominated by a long and useful crack in its face within which to grapple and claim tiny holds with hands and feet.
That makes things marginally easier for anyone foolhardy enough to want to try to get to the top. It will take well over three hours to climb, should Alex's challenge work out.
It seems there is nothing much that can be done about the young man's obsessive desire to climb rock faces. Because we are fed little tidbits of biography, we look for clues therein as to how such a risky pursuit could so engulf this wide-eyed enigma.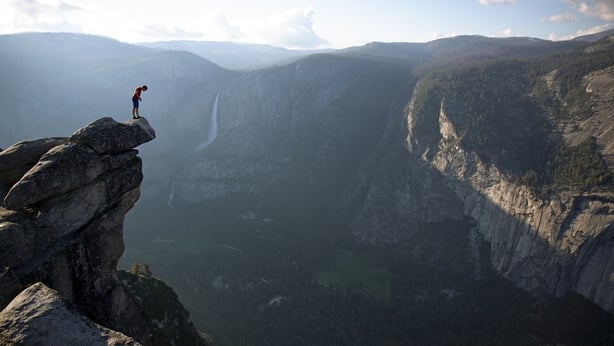 By his own admission, the Sacramento youth was a bright kid at school, but melancholy too, he admits. It is suggested that Alex do an MRI scan, after which it transpires that the fear element in his brain cortex shows no stirrings at all.
As a side test, Alex fills out a questionnaire. One of the questions asks upfront if he is depressed. Sitting in profile, side on to camera, he makes a kind of non-committal sound before making his mark on the page. We do not see it.
For years now, Alex has been living in the truck he drives from rock-face to rock-face, cooking for himself on a grill, eating out of the frying pan and the saucepan. He is a loner but he is also aware of the community of fellow climbers, his only fraternity.
Alex's late father was similarly obsessed, but his obsession was with endless travel. There is a photo of the family on holidays in Hawaii, that grimly grinning and restless dad probably planning the next destination even as he is doing his best to enjoy this one. Alex's mother makes a brief contribution: she thinks that her late ex-husband "might have been what we now call Asperger's".
We need your consent to load this YouTube contentWe use YouTube to manage extra content that can set cookies on your device and collect data about your activity. Please review their details and accept them to load the content.Manage Preferences
Asked by a classroom of kids how much money he has, Alex replies that he earns - presumably in sponsorship deals - about as much "as a moderately successful dentist". He may seem a little intense, but apart from a certain detachment and perhaps lack of emotional display, he seems pretty okay. That probably makes it even more perplexing for his girlfriend, Sanni McCandless, who is trying to figure him out.
Insecure about his commitment to the relationship, she asks her boyfriend if he would put free climbing above their love. He would, is the honest answer, straight up. And it is his honesty that she likes. In the end, you cannot blame her for being swept away and getting caught up in the essential madness of it all. He is so nonchalant that she finds him irresistible; he is a code she is trying to crack. Maybe she will change him for the better if she persists and gets him to put his two feet on the ground. Forever.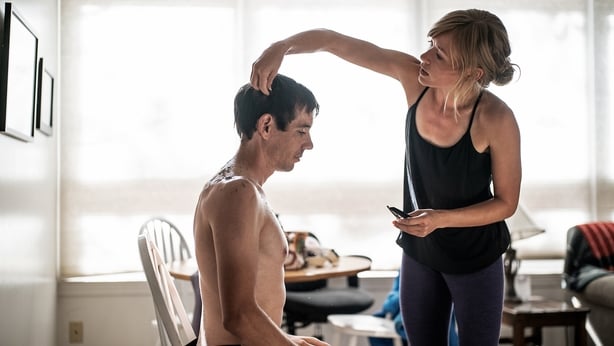 The couple walk around a store and select a small fridge with which to furnish their modest new house in Las Vegas. Vegas, Alex says, will suit him because there are plenty of places to climb in the environs. So they are building a nest for the future and Sanni hopes he might just give it all up. We wouldn't bet on it. Sanni may figure that if and when the kids come along Alex will settle down and stop his rambles around granite crags.
Then there is the film crew, led by directors Jimmy Chin and Elizabeth Chai Vasarhelyi. Chin and some of the team are experienced climbers themselves who may be getting in the way. However, being fellow professionals, they are tactful and are aware that their presence may be surplus to requirements as Alex - who is 33 - prepares himself to scale El Capitan.