Spike Lee's new movie about how a black police officer infiltrated the Klu Klux Klan is his best in years
Spike Lee has really found his mojo again with this thrill ride of a movie based on the true story of how a young black police officer in Colorado went undercover and infiltrated the local chapter of the Klu Klux Klan in the 1970s.
It's a fast-moving genre mash-up of the blaxploitation flicks of the era, a buddy cop movie, and a savage satire of Trump's America. It may be set in the early seventies, but Lee lets rip in a furious fusillade that makes repeated points about modern day USA with chilling accuracy.  
Most of all though, with its abrupt shifts of tone and mood, BlacKkKlansman is also very, very funny.
We need your consent to load this rte-player contentWe use rte-player to manage extra content that can set cookies on your device and collect data about your activity. Please review their details and accept them to load the content.Manage Preferences
Watch our interview with John David Washington
John David Washington - son of Denzel, star of Lee's Malcolm X in 1992 - plays Ron Stallworth, the very first black police officer in Colorado Springs. When he's initially recruited to the force, he's set to work in a dark and dusty records department, where he rises above the casual racism of his fellow officers.
But Stallworth is a resourceful young man who yearns to be a detective. After he's sent undercover to observe the activities of the Colorado College Black Student Union at a stirring address by activist Kwame Ture, he takes matters into his own hands and decides to investigate the other side - the Klu Klux Klan or, as they prefer to style themselves, "The invisible empire."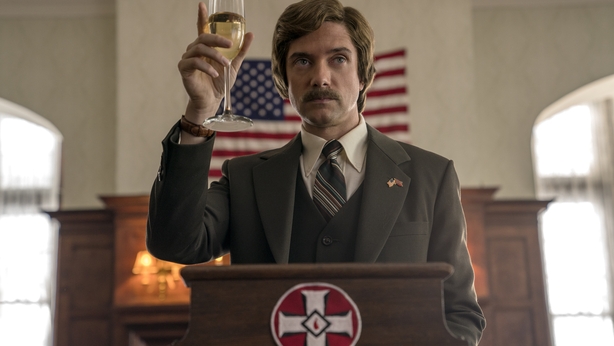 An initial phone call to the local chapter leads to an audacious undercover operation with Ron playing a racist and bigoted white man on the phone, while his Jewish colleague Philip "Flip" Zimmerman (a great Adam Driver) plays Ron in person as he raises in the estimation of the local brotherhood.
It's the perfect canvas for Lee - a popular culture junkie as well as a highly-political filmmaker - to engage with the look, music and culture wars of the era. Ron meets the Angela Davis-like Patrice Dumas (Laura Harrier) at Ture's speech and a mischievous Lee portrays their nascent romance like a blaxploitation movie with split screen cutaways of posters for Foxy Brown and Super Fly.
We need your consent to load this YouTube contentWe use YouTube to manage extra content that can set cookies on your device and collect data about your activity. Please review their details and accept them to load the content.Manage Preferences
He also makes liberal use of The Birth of a Nation, DW Griffith's foundation myth turned KKK recruitment film, and he starts the movie with the dramatic depiction of the aftermath of the Battle of Gettysburg from Gone With The Wind. Alec Baldwin, so great as Trump on SNL, is hilarious as a quack eugenicist in a satire of a white supremacist information film from the 1950s.
As for the local Klan members, they're mostly good old boys obsessed with both the military and their self-appointed Christian mission; as Stallworth has said himself, they were "not the brightest bulbs in the socket." Trump-like slogans litter the script - at one point, a Klansman breaths in awe that they are looking for "the means for America to reclaim its former greatness"; while the blindly loyal wife of the chapter's leader avers that their plans to bomb a local black power meeting with "could be the new Boston Tea Party."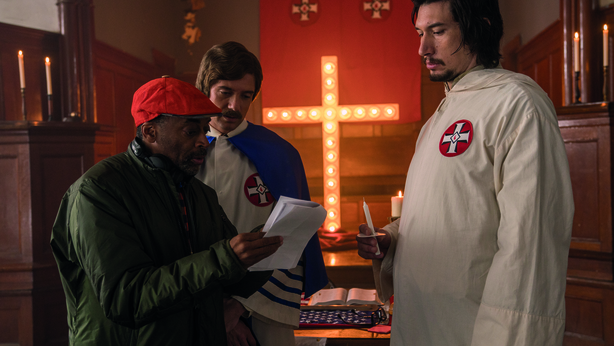 Topher Grace also turns in a great performance as then Grand Marshall David Duke, playing him as a twitchy and preening fantasist who is utterly hoodwinked by Stallworth.
Stallworth's incredible story has provided Lee with his best movie in years and handed John David Washington his breakout role. He is coolly audacious and humble as he goes about what is a very dangerous operation, keeping his anger in check at all times. There's also great work from Driver as Zimmerman and a speech by Harry Belafonte playing an elderly activist chimes through decades upon decades of oppression.
Energetic snappy and sassy, BlacKkKlansman is a rip-roaring period movie that ranges from farce to cop caper with real style, all while making some chilling points about contemporary society.  
Alan Corr @corralan