The Lusitania left New York on 1 May 1915 and was torpedoed by a German U-boat off the southern coast of Ireland six days later.
The RMS Lusitania was sunk off the coast of Cork on 7 May 1915. The British luxury ocean liner was travelling from New York to Liverpool in waters that Germany had declared a war zone. A German U-boat torpedoed the ship, killing approximately 1,200 of the almost 2,000 onboard.
Jerry Murphy of the Courtmacsherry lifeboat crew remembers their efforts to assist survivors in this extract from 'For Those in Peril on the Sea', a documentary about Irish lifeboats. At 93, Murphy was the last surviving crew member when he spoke to Tom MacSweeney in 1983. They sailed some eight miles out to where the Lusitania went down, but when they got there,
Twas nothing but all dead bodies floating around.
'For Those in Peril On the Sea' was broadcast on 26 November 1983. The presenter is Tom MacSweeney.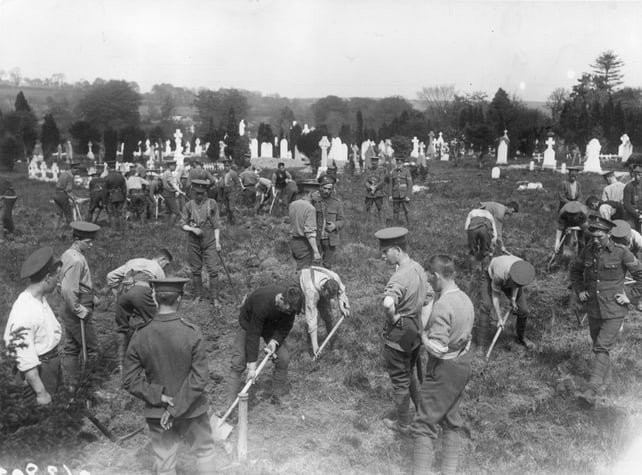 May 1915: Soldiers dig graves for the victims of the Lusitania disaster.