Ireland's first replica famine ship is soon to be launched.
Plans are announced to launch Ireland's first replica famine ship 'The Jeanie Johnston'.
The plan is for the ship to retrace the emigrant route from Ireland to America in the summer of 2000. Construction is almost completed and the Master of the vessel, Captain Mike Forwood, an experienced Tall Ship's Captain from the UK (United Kingdom) has been appointed. As Captain Forwood comments
This vessel will very definitely go across the Atlantic. It will be extremely safe and it will have modern navigational techniques employed and we will also use traditional methods.
Minister Mary O'Rourke is pictured at the launch of a stamp to commemorate the vessel, which never lost a passenger in all its voyages during the famine.
The original ship had sailed from Co. Kerry to North America and back again and again during the years 1847 to 1855.
An RTÉ News report by Tom MacSweeney broadcast on 11 March 2000.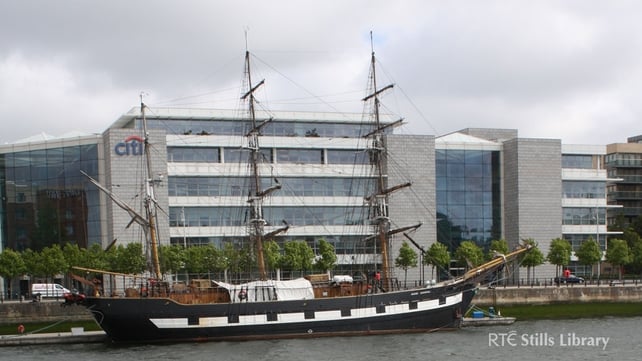 Jeanie Johnston' on North Wall Quay, Dublin (2009)