The famine replica ship the Jeanie Johnston named by President Mary McAleese in Fenit, County Kerry.
The newly-completed ship was unveiled to the public the month before it was due to sail to America to commemorate the 150th anniversary of the famine emigration. The original ship it was modelled on had sailed from Co. Kerry to North America and back again and again during the years 1847 to 1855.
Speaking at the naming, President McAleese said this was a ship of peace and the symbol of a new Ireland.
Far from opening up old wounds, we're learning at last to come to terms with all those old scars.
DUP leader David Irvine was also at the launch and commented on the significance of the occasion.
...we in Northern Ireland are looking at a more positive backdrop than we've ever seen before. We're reminded of the thought that we're on a journey as well. Perhaps not in emigration, but certainly a journey of the mind.
An RTÉ News report broadcast on 7 May 2000. The reporter is Tom MacSweeney.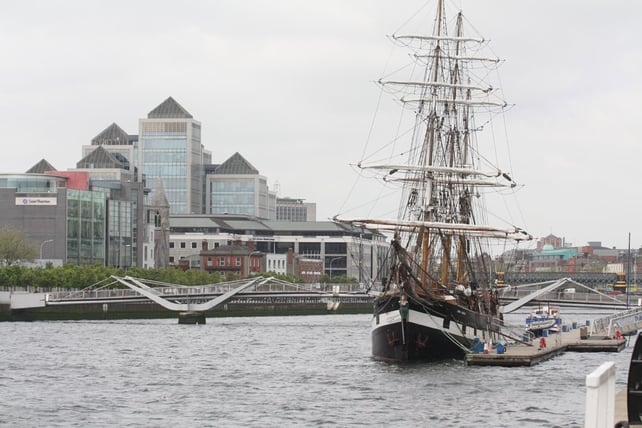 'Jeanie Johnston' on Dublin's North Wall Quay (2009)