Maud Gonne MacBride describes witnessing evictions in her youth and her involvement in the Land War.
Maud Gonne became a supporter of Irish nationalism having witnessed the evictions which took place during the Land War.
Now at the age of 79, Maud Gonne MacBride rarely leaves her home and spends a great deal of her time in bed. Despite these challenges she tells Dr Eileen Dixon about her early memories of land evictions and how she went from dancing with the evictors to fighting them.
In her opening comments Eileen Dixon says,
I know well how much Ireland wants to hear Maud Gonne MacBride.
Having spent eight years on the continent learning foreign languages, Maud Gonne returned to Ireland which was deep in Land War. She was very much enjoying the high life in Dublin attending balls and parties. She only became involved in the Land War when by accident she witnessed some evictions.
Then I didn't want to go to balls and parties anymore for I would have had to dance and eat with the evictors.
Maud Gonne travelled to many areas where evictions were taking place to witness first hand what was actually happening. She travelled by horseback to places where evictions were being carried out by members of the Royal Irish Constabulary and the military.
The war was a one sided affair but spread over all the country.
Ruins of farms and cottages could be seen throughout the country.
To know what evictions were like, you have only to look at the pictures in the papers today at the unhappy refugees in devastating Europe.
Maud Gonne worked to help the poor evicted families who were left devastated by the evictions. She recalls seeing babies born in ditches in 1886 in Limerick. In one week alone, she saw a thousand people evicted and left homeless at the beginning of winter on the mountains of Donegal.
I couldn't remain a mere spectator on such a one-sided battle.
Maud Gonne would on occasion physically tried block those carrying out the evictions and narrowly escaped arrest at the age of 20. Her arrest was avoided with the help of Pat O'Brien, an Irish nationalist MP known as Pat the Builder, who built temporary homes for the evicted. He provided an escape route and a ticket to France for Maud Gonne.
The Irish people in the midst of their own misfortunes always took great care of me.
This interview with Maud Gonne was recorded on 28 December 1945.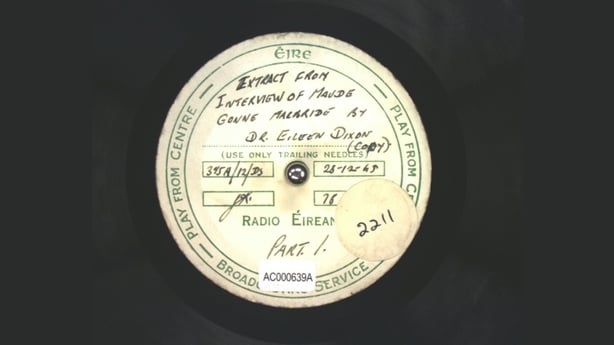 Acetate Disc Collection - Maud Gonne interview, 28 December 1945, QAC000639A
From the RTÉ Archives Acetate Disc Collection which has been digitised with the support of the Broadcasting Authority of Ireland (BAI) Archiving Scheme.